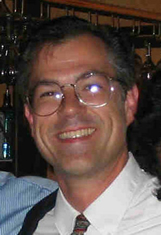 Presented by Richard Kloos, MD
American Thyroid Association
Annual Business Meeting
The Breakers Hotel
Palm Beach, Florida
Thursday, September 24, 2009
It has been a privilege to serve as the ATA Secretary and COO for now half of my 4 year term. In 1 year the next ATA Secretary-Elect will be announced and I welcome suggestions of names to be sent to me or an ATA Board member for consideration.
I wish to thank the many people who have helped me move forward the mission of the ATA including the ATA Staff, the Executive Committee, the Board of Directors, the Committee and Task Force chairs, the Committee and Task Force members, and the ATA membership. Specifically, I would like to thank Ken Burman for his active role as both a thought leader and hard worker during his year as ATA President and I look forward to his continued service on the Executive Committee as the ATA-Past President.
While the Chairs of the many dedicated ATA Committees and Task Forces have updated the membership of their many activities serving the mission of our Association during the ATA Business meeting, I want to now focus on the big-picture financial and service aspects of the organization.
As an Association we are undergoing a sea-change of the Business that the ATA conducts and how this is funded. We are clearly proud of the services and standards of the ATA, yet there is no question that these activities require financial support. As a society focused on the thyroid our prospects for philanthropic and corporate sponsorship remain narrow and each of these partners has suffered in the economic crisis of the past year that has included many job losses and cut-backs. Thus, our funding from external sources has been reduced and, as expected and despite our increased costs for the 2009 successful Annual Meeting, and the expected costs for 2010 membership and registration for our 2010 Spring Meeting, we expect to lose 100-200 thousand dollars both this year and next year.
Why are our meeting registration and membership fees so costly? It is important to note that the ATA is more than just an Association that conducts meetings and publishes a journal. Our charges for meeting registration do not simply cover the costs of the meeting because this would require our membership fees to be much higher and we fear would seriously discourage ATA membership. Together, the revenues derived from our meeting registration and annual membership dues support many important activities in addition to the costs of the meetings. These revenues provide free membership for our young members in training and reduced membership costs for their first 2 years after graduation. We provide Clinical Thyroidology and Clinical Thyroidology for Patients to both members and non-members currently at no charge. Our staff is required to generate extensive documentation for non-profit government reporting, the ATA takes action to influence National policy, we undertake costly maintenance and development of our website featuring our Fellows' Corner and extensive information to the public and members including Find-a-Physician search capabilities. The ATA is active in multiple low-cost Guidelines that influence care, standards, and policy throughout the world. The ATA expenses include activities in Public Relations and the media, we provide a structure and culture that fosters the advance of clinical and basic sciences, we fund and distribute Grants and Awards funded by the ATA and other meritorious organizations utilize our infrastructure of grant reviews and administration to award grants in collaboration with the ATA but at an administrative cost to the ATA. While receiving charitable donations would seem to be simple, this requires administrative effort and registration in multiple states throughout the country to receive these monies including those from the United Way, and Health and Medical Research Charities.
To conduct the activities of the ATA amid these changing financial times the ATA has actively looked to reduce cost and to carefully evaluate the merits of each of our activities. We limited non-members speakers at this meeting to just 3 people while continuing the ATA tradition of members receiving no honoraria, travel support, or waived registration fees for the meeting including the speakers, committee members, board members, and members of the Executive Committee. We eliminated streaming video from this meeting, unfunded meeting bags, eliminated postage costs of mailing Clinical Thyroidology and membership voting. We eliminated the cost of printing a separate Abstract book (and apologize that the electronic abstracts were not available 1-2 weeks ahead of the meeting as planned). We have eliminated our winter Board of Director's meeting and will substitute in its place a conference call, we have changed to an inferior yet less expensive phone conference call system and changed our bank for credit card processing fees, while our home office staff have made due with our small office space by splitting their offices to accommodate the added staff hired to help complete government mandated requirements.
Going forward, I believe that the ATA is financially and philosophically solid and governed by an engaged and dedicated Board of Directors. We are optimistic in our future and mission oriented goals to serve the public and our members. We will continue to contain costs, seek to expand our scope of members and sponsors, carefully consider the value and costs of our endeavors, and scrutinize the value of activities that are not self-sustaining. For example, the Board will consider the role of our future spring meetings. However, while we're cutting costs and we see costs rise, the landscape of professional societies like the ATA is changing and it is likely that our members and guests will continue to more fully share the financial burden of our activities rather than enjoy the more extensive corporate subsidies that we have in the past. I know there will be more discussions on this topic and I ask you to approach me subsequent to the meeting and I will be available to answer your questions at any time.