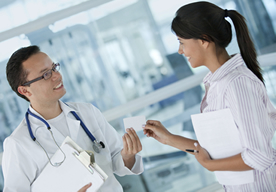 In response to your request for a simple handout, the American Thyroid Association (ATA) is pleased to announce the availability of the Thyroid Patient Awareness and Education business cards. As a member benefit we will be providing these to our physicians at a discounted rate. Many physicians and patients have chosen the ATA page as their number one resource for thyroid information. Save time and paper by providing your patients a practical business card that is easy to hand out, pick up, or even mail. This is a simple way to help your patients learn more about their condition from a reliable source.
The business card will direct them to the ATA website where they will find reliable, accurate, and up to date information on the broad spectrum of thyroid diseases written by your fellow experts in thyroidology.
Our information is specifically designed to educate the patient and their families. We currently have over 10,000 Friends of the ATA (patient subscribers) that visit our page and have signed on to receive monthly news alerts. Your patients will find us useful too!
Patient Referral
Are you an ATA member? Do you see patients? Would you like to be listed on our physician referral page?
If the answer to these questions is yes, please make sure that you are taking advantage of your member benefits and look to see if your office is listed on our thyroid specialists page . Here is how:
Click demographics
Under 2.Physician Referral, check the box next to "List me in Find-A-Specialist".
Update your specialty, clinical and research focus
Add your office website so the ATA can link to your page
Patient Favorites include:
Thyroid Disease and Cancer Brochures
Frequently Asked Questions (FAQs)
Links to thyroid patient groups (ATA's Alliance for Patient Education)
Clinical Practice Guidelines
Summarized Medical Literature Articles (Clinical Thyroidology for Patients)
The front of the business card lists our website link and a few of our resources.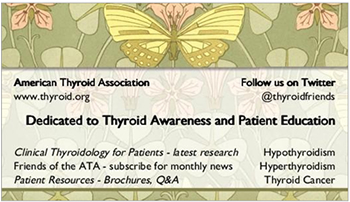 The back is designed for you or the patient to jot down important information and also includes a QR code that instantly brings you to the patient education page.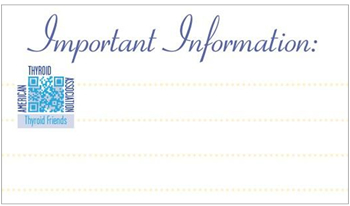 If you are interested in purchasing a batch please complete the form below and the ATA staff will follow up within 48 business hours to process your request.
For any inquiries regarding the business cards please contact Sharleene Cano at 703.998.8890 or scano@thyroid.org