Clinical Thyroidology for Patients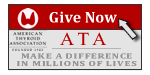 Up-to-date information to help you understand thyroid disease through the latest research.

In this issue, the studies ask the following questions:
Do hyperthyroid patients have an increased risk of death?
Can we predict which hyperthyroid patients with atrial fibrillation are at risk for clots?
What is the appropriate dietary iodine intake during pregnancy?
Can we predict which nodules are likely to have inadequate biopsies?
What types of nodule calcification are associated with thyroid cancer?
Is the fat cell protein adiponectin a risk factor for thyroid cancer?
We welcome your feedback and suggestions. Let us know what you want to see in this publication. I hope you find these summaries interesting and informative.
— Alan P. Farwell, MD
HYPERTHYROIDISM Hyperthyroidism increases the risk of death compared to the population without hyperthyroidism

HYPERTHYROIDISM Transesophageal echocardiograms (TES) can predict risk of blood clots in the heart in hyperthyroid patients with atrial fibrillation

THYROID AND PREGNANCYAppropriate dietary iodine intake during pregnancy and breastfeeding is important for both the mother and the baby

THYROID NODULES Inexperience, cystic nodules and macrocalcifications often result in inadequate thyroid biopsy specimens

THYROID CANCER All forms of thyroid nodule calcification seen on computed tomography (CT) are associated with thyroid cancer

THYROID CANCER Low levels of circulating adiponectin are an independent risk factor for papillary thyroid cancer
Support thyroid research and education today with your donation!

Thyroid Research and Patient Education will benefit with your donation to the ATA! The ATA exists to serve you and the public good by supporting news for patients and clinical management guidelines for physicians. Your contribution supports:
ATA sponsored Clinical Management Guidelines available free online
The latest in Thyroid Health Education for patients and the public
Advocacy for Thyroid Drug Safety and Efficacy
Scientific research dedicated to advancing patient care
Top-notch endocrinologists from around the world listed on physician referral for patients
News publication of the latest clinical research: Clinical Thyroidology and Clinical Thyroidology for Patients
So please, take a moment to Donate Today!

You are appreciated by the American Thyroid Association for your contribution!
Click here to forward this e-mail to a friend!