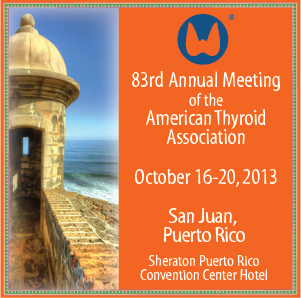 The University of Colorado School of Medicine designated the 83rd Annual Meeting of the American Thyroid Association for a maximum of 31 AMA PRA Category 1 Credits™. Physicians should claim only the credit commensurate with the extent of their participation in the activity. Use the five-digit number (XXXX-X) without the dash printed on your meeting badge along with your name to claim your CME credits, rate the meeting sessions and print your CME certificate for the meeting. Go to this website www.prereg.net/2013/ata/ceu or click HERE FOR CME.
83rd Annual Meeting Education Survey
https://www.surveymonkey.com/s/2013-educ-survey
At the 83rd Annual Meeting of the American Thyroid Association (ATA), attendees experienced top-notch educational sessions, great networking opportunities and unmatched collegiality. Chaired by Drs. Julie Ann Sosa and Ronald Koenig, the ATA meeting delivered the fantastic program that was expected by those who choose the ATA meeting as their most rewarding scientific educational experience year after year. The ATA meeting was designed for the community of endocrinologists, internists, surgeons, basic scientists, nuclear medicine scientists, pathologists, trainees, nurses, physician assistants and other health care professionals who wish to broaden and update their knowledge of the thyroid gland and its disorders. Trainees had customized educational tracks to enhance their meeting experience. The program delivered excellent science, access to key leaders in the field and great camaraderie
The abstracts for the 83rd Annual Meeting of the American Thyroid Association, October 16- 20, 2013, in San Juan, Puerto Rico are available online on the Thyroid website http://online.liebertpub.com/toc/thy/23/S1
Available meeting presentations will be posted to this site as available. Click here to view available speaker presentations approved for release.
The ATA Annual Meeting APP can be accessed by typing http://eventmobi.com/thyroid2013 into any device that contains a web browser.
U.S. Federal Government Shutdown Impact on the ATA
 83rd Annual Meeting Coverage