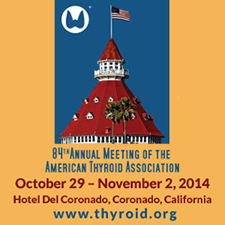 To claim CME credit from the live 84th Annual Meeting of the ATA, please email Pam Welker of the University of Colorado School of Medicine, ATA's joint CME provider, at pam.welker@ucdenver.edu.
For your review and for all those who were unable to attend this year we invite you to see the news releases and video interviews from the meeting.
OncLive.com – Bringing the Oncology Community Together
New Research Presented at the 84th Annual Meeting of the ATA
ATA Awards and Leadership News from the 84th Annual Meeting
Thanks to the program chairs, Drs. R. Michael Tuttle and Fredric Wondisford, who with the Annual Meeting Program Committee, designed an outstanding scientific educational experience for over 1200 attendees in Coronado, California.
Save the Date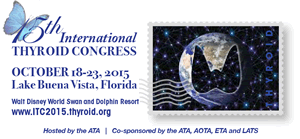 We look forward to seeing all of you at the 15th International Thyroid Congress in October 2015 at the Walt Disney World Swan and Dolphin Resort in Lake Buena Vista, Florida.
Patient Resources
The ATA patient resource pages are designed to provide up-to-date information for thyroid patients,their families and other interested public communities. The American Thyroid Association® is dedicated to serving as an educational resource for the public by supporting thyroid research and promoting the prevention, treatment and cure of thyroid-related diseases and thyroid cancer.