The ATA supports thyroid research through the generosity of members, patients, industry, and workplace donors enabling the ATA to award thyroid research grants since 1996.  ThyCa: Thyroid Cancer Survivors, Inc., a member of the ATA Alliance for Patient Education and Thyroid Head and Neck Cancer Foundation (THANC) contribute significant thyroid research grants establishing additional grants for young investigators that are awarded (in total) by expert reviewers on the ATA Research Committee.  Our thanks to the members of the ATA Research Committee who have contributed their time and expertise over many years to the advancement of thyroidology.
2001 ATA Research Grant Recipients
2001 ATA Grant
Interleukin-12 and Autoimmune Thyroiditis
Patrizio Caturegli, MD
The Johns Hopkins University, Baltimore, Maryland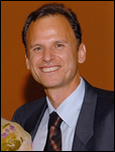 Patrizio Caturegli is an Assistant Professor of Pathology and Endocrinology and Director of the Hypophysitis Research Center at Johns Hopkins He graduated in 1980 from "La Querce College" in Florence, Italy (BA, Letters), and from the University of Pisa Medical School in 1987. He then completed a residency in Endocrinology also in Pisa (Italy), where he was Board-certified in 1992. Since 1993, Dr. Caturegli has been at Johns Hopkins. Here he completed a 3-year fellowship in immunology with Dr. Noel Rose and then a Residency in Pathology (certified by the American Board of Pathology in 1999). Since July 1999 he is a faculty member in the School of Medicine. His research focuses on the autoimmune diseases of the endocrine glands.
2001 ATA Grant
Role of Thyroid Hormone and TRAP230 in Dopaminergic Cell Survival and Differentiation
Robert Philibert, MD, PhD
Neuroscience Program, University of Iowa, Iowa City, Iowa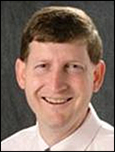 Robert Philibert MD, PhD is a Professor of Psychiatry and a member of both the Neuroscience and Genetics Program at the University of Iowa. He runs the Psychiatric Genetics Laboratory. Dr. Philibert began his career through the Medical Scientist Training Program at the University of Iowa and finished his psychiatry residency at the University of Iowa Hospitals and Clinics. After residency, he completed Pharmacology Research Associate Training Program Fellowship at the National Institutes of Health and then served for four years as a Senior Staff fellow. In 1998, he returned to the University of Iowa to establish a program in psychiatric genetics participates in the training of medical students and graduate students from a wide variety of disciplines including Neuroscience and Engineering. He has a broad research portfolio that includes 1) work on the effects of MED12 variation on transcriptional regulation and vulnerability to behavioral illness, 2) the role of DNA methylation and other epigenetic phenomena in moderating or mediating vulnerability to behavioral health outcomes, and 3) gene environment interactions.
Back to Research Grant Listing by Year