Roles of surgery
The initial approach to patients with stage IVA or IVB disease depends on whether the tumor is resectable (Fig. 2) or unresectable (Fig. 3) at the time of diagnosis.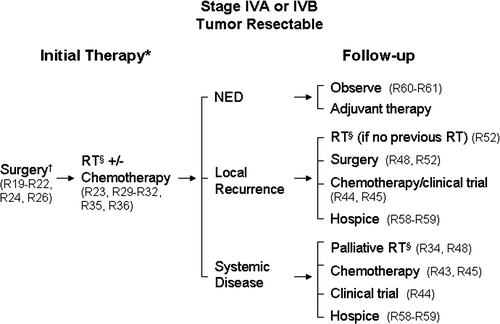 FIG. 2.  Patients with anaplastic thyroid carcinoma, resectable disease, and no distant metastases should be considered for surgery and locoregional radiation therapy (with or without systemic therapy). Follow-up management options depend on whether the patient has no evidence of disease or local recurrence, or progresses to systemic disease. *Patient may decline surgery and/or RT ± chemotherapy (Recommendation 34) and prefer palliative/hospice care. †Neoadjuvant RT ± chemotherapy may precede surgery (Recommendation 33). §Intensity-modulated radiation therapy (IMRT) is preferred if possible. RT, radiation therapy; NED, no evidence of disease.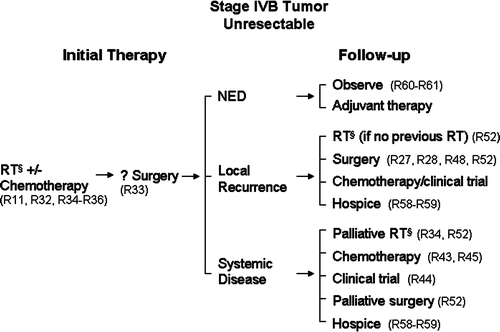 FIG. 3.  Patients with anaplastic thyroid carcinoma who present with locoregionally confined but unresectable disease should consider radiotherapy with or without systemic therapy. Some patients may subsequently be deemed to have resectable tumor. Follow-up therapy options depend on patient responses to the initial therapy. §IMRT is preferred if possible.
Criteria for resectability. In patients with a preoperative diagnosis of ATC, the two criteria used to determine whether the tumor is resectable for curative intent are (i) distinguishing between locoregional disease and distant metastatic disease, and (ii) extent of local invasion and the structures involved. In patients with locoregional disease, the determination of whether the tumor is resectable should be based on what structures are involved, whether a satisfactory resection can be achieved (R0/R1), and whether resection of the involved structure results in significant morbidity or mortality. Gross tumor resection, not debulking, is the goal of surgery.
ATC can invade structures in the central and lateral neck and mediastinum by direct tumor invasion or by lymphatic invasion. Locoregional invasion into the internal jugular vein, carotid artery, nerves (e.g., recurrent laryngeal, vagus, spinal accessory, and phrenic), sternocleidomastoid muscle, esophagus, trachea, and/or superior vena cava is not uncommon and needs to be evaluated to determine resectability. Therefore, routine preoperative imaging in all patients should be performed to evaluate the extent of disease locally and to exclude the presence of distant metastasis. A high-resolution ultrasound of the neck should be obtained to evaluate the primary thyroid tumor and to assess for involvement of the central and lateral lymph node basins. Cross-sectional imaging of the neck and chest with MRI and/or CT scan is also imperative to determine the presence of regional disease and exclude distant metastasis. For better evaluation of the extent of disease, CT scan with intravenous contrast will be helpful. In patients with symptoms suggesting recurrent laryngeal nerve invasion, tracheal and/or esophageal invasion, a direct laryngoscopy, bronchoscopy, and esophagoscopy, respectively, should be performed. Patients with locoregional disease should be offered a resection if gross tumor resection can be achieved with minimal morbidity. This is because most studies suggest complete resection (R0/R1) is associated with prolonged disease-free survival and/or overall survival with or without combination chemotherapy and radiotherapy (2,58,101,112,155–162). There are insufficient data to determine if there is a difference in disease-free survival rates between patients who have grossly negative margins (R1 resection) versus microscopic negative margins (R0 resection). In patients with systemic disease, resection of locoregional disease for palliation may be considered if there is impending airway or esophageal obstruction.
RECOMMENDATION 19 Resectability of ATC should be determined by routine preoperative imaging studies (ultrasound, CT, MRI, and/ or PET scan of the neck and chest). If locoregional disease is present and a grossly negative margin (R1 resection) can be achieved, surgical resection should be considered. In patients with systemic disease, resection of the primary tumor for palliation should be considered to avoid current or eventual airway or esophageal obstruction.

Strength of Recommendation: Strong

Quality of Evidence: Moderate
Optimal extent of surgery and control/survival. Approximately 10% of patients with ATC present with only an intrathyroidal tumor, whereas 40% have extrathyroidal invasion and/or lymph node metastasis, with the remainder of patients presenting with widely metastatic disease (58,163). Total or near-total thyroidectomy with therapeutic lymph node dissection of the central and lateral neck lymph node compartments should be considered in patients with resectable disease. The rationale for a total or near-total thyroidectomy is that approximately 20% of patients with ATC have coexisting DTC, and a complete resection (R0/R1) is associated with improved disease-free survival and overall survival with or without combination chemotherapy and radiotherapy (2,58,71,101,112,155–162,164). Although there are insufficient data regarding the outcome from thyroid lobectomy in patients with localized and resectable ATC, it is reasonable to consider this procedure when there is concern for or documented injury to the ipsilateral recurrent laryngeal nerve, or removal of or no identification of the ipsilateral parathyroid glands. If there is extrathyroidal invasion, an en bloc resection (but not total laryngectomy) with the goal of achieving gross negative margins should be considered. The aggressiveness of the operative resection should be considered in the context of morbidities that may occur from resecting adjacent involved structures. If complete resection (R0/R1) can technically be achieved with minimal morbidity, it should be performed and may be associated with improved survival (114,164). Total laryngectomy is not likely to be beneficial given the morbidity associated with this procedure and the high likelihood of recurrent and or persistent disease. Similarly, incomplete resection or tumor debulking (R2) should also not be performed because it is unlikely to be beneficial for local control and/or survival.
RECOMMENDATION 20 A total lobectomy or total or near-total thyroidectomy with a therapeutic lymph node dissection should be performed in patients with intrathyroidal ATC.

Strength of Recommendation: Strong

Quality of Evidence: Moderate

RECOMMENDATION 21 In patients with extrathyroidal invasion, an en bloc resection should be considered if grossly negative margins (R1 resection) can be achieved.

Strength of Recommendation: Strong

Quality of Evidence: Moderate
Need for surgery after up-front radiotherapy and/or chemotherapy in initially unresectable ATC. Some patients with ATC who receive initial radiotherapy with or without chemotherapy will have a PR—or rarely a CR—to treatment (112,155,156,165,166). In such cases, the tumor may become resectable even if initially unresectable. Although external beam radiation may result in significant fibrosis and scarring making surgical resection difficult, patients who have a durable response and who have residual disease may be considered operative candidates if there is no other disease outside the neck. There are, however, limited data in the literature to determine if such an aggressive approach results in improved disease-free survival and overall survival. One of the main rationales for such an approach is that the relapse rate after PR or CR to radiotherapy is high, and operative resection may reduce the risk of local relapse (112).
Incidental ATC: surgical management. At the time of diagnosis, ATC is confined to the thyroid (T4a) in 2%–15% of patients (58,110,157,163,167,168). Even more uncommonly (2%–6% of cases), the ATC is identified as a small, incidental finding after surgical resection of a predominantly non-anaplastic tumor (155,169,170). Although there are unfortunately no meaningful data to define the best approach in this context, completely resected intrathyroidal ATC is clearly associated with a better prognosis (109,110). Expert opinion therefore differs with regard to whether patients with small, incidentally detected ATC contained within more differentiated neoplasms might benefit from adjuvant therapy beyond initial surgical resection. Likewise, the role for completion thyroidectomy (if only an initial lobectomy was performed) is based more upon the characteristics of the non-anaplastic malignancy than on the incidental finding of anaplastic microcarcinoma, including the findings of preoperative imaging studies evaluating the contralateral lobe for the initial lobectomy. There are insufficient data to demonstrate a difference in disease-free survival or cause-specific mortality based on the extent of thyroidectomy for an incidental (microscopic) focus of ATC.
There are recently emerged data indicating apparent clinical benefit and possible improvement in survival from the application of adjuvant combined modality chemotherapy and radiation therapy in locoregionally confined ATC, after complete/near complete resections or in patients with unresected disease, as discussed in the later sections on radiotherapy. The question remains open, therefore, as to whether intrathyroidal incidentally detected ATC is best treated with surgery alone, surgery followed by radiotherapy, or surgery followed by chemotherapy plus radiation therapy.
RECOMMENDATION 22 A total lobectomy or total or near-total thyroidectomy should be performed in most patients with an incidental area of ATC within a DTC. This is based primarily on treatment recommendations related to the non-anaplastic component of the malignancy.

Strength of Recommendation: Strong

Quality of Evidence: Low

RECOMMENDATION 23 The data are inadequate to definitively recommend either for or against local or systemic adjuvant therapy for small, intrathyroidal ATCs. A majority of the authors would favor cautious observation with frequent anatomic imaging studies for at least the first year of follow-up, while a minority would recommend adjuvant therapy.

Strength of Recommendation: Weak

Quality of Evidence: Low
Surgical risk to recurrent laryngeal nerve. If a patient presents with ipsilateral recurrent laryngeal nerve palsy, one needs to be extremely careful in the operating room to avoid injury to the opposite recurrent laryngeal nerve. Any injury to the opposite side may lead to airway-related issues and may precipitate airway distress requiring reintubation or a tracheostomy. In most cases, the need for elective tracheostomy can be determined by evaluating the integrity of the recurrent laryngeal nerve using a nerve stimulator at the time of the operation. However, such a problem intraoperatively or postoperatively is rare. If there is any concern regarding the recurrent laryngeal nerve, one may consider leaving some thyroid tissue on the nerve on the other side. Occasionally, if the tumor involves a single lobe and there is concern about resecting the normal contralateral lobe, one may consider leaving normal thyroid tissue behind as these patients do not respond to radioactive iodine (RAI). The need for tracheostomy on an emergent basis postoperatively is quite rare (58,110,171,172). However, during the course of postoperative follow-up, the patient's tumor may grow, causing involvement of the opposite recurrent laryngeal nerve, which generally happens over a period of time, and the patient will present with progressive dyspnea or stridor.
RECOMMENDATION 24 Every attempt should be made to identify the contralateral recurrent laryngeal nerve, especially if the ipsilateral nerve is paralyzed, to protect the nerve from injury, which may lead to bilateral vocal cord paralysis and requirement for tracheostomy. A nerve monitor may be quite helpful to confirm nerve function.

Strength of Recommendation: Strong

Quality of Evidence: Low
Airway management and indications for tracheostomy. Tracheostomy in patients with ATC is performed to support an airway in extreme circumstances of life-threatening asphyxia. Most patients who require a tracheostomy in ATC have an extremely guarded prognosis and progression of disease. Tracheostomy is best avoided as long as possible. However, if the patient is in severe airway distress, he or she should be brought to the operating room since tracheostomy is best performed under anesthesia with preoperative intubation. Additionally, some patients will require an isthmusectomy or debulking of the pretracheal tumor to obtain adequate access for a tracheostomy. An attempt to perform the tracheostomy either on the ward or in the emergency room under local anesthesia should be avoided (172,173).
RECOMMENDATION 25 Patients with ATC may require tracheostomy to avoid asphyxia. It should be done in an operating room setting, unless acute airway distress demands immediate action.

Strength of Recommendation: Strong

Quality of Evidence: Low
Securing the airway after surgery. After the surgical procedure, the patient should remain intubated for a short period of time and extubated either in the operating room itself or in the recovery room with close observation. If the airway was secure preoperatively, most patients will not have postoperative airway-related issues. However, if there is an airway-related issue the patient should have direct laryngoscopy evaluation and be reintubated, and extubated under optimal circumstances with close observation. If there is any continued major concern about stridor or shortness of breath, the patient will require revaluation and possible semi-elective tracheostomy, which should be performed in the operating room (172,173).
RECOMMENDATION 26 The patient's airway should be closely monitored in the recovery room during the postoperative period and throughout radiation therapy. Elective tracheostomy is best avoided unless there are acute airway issues.

Strength of Recommendation: Strong

Quality of Evidence: Low
Benefits of tracheostomy. This continues to be a subject of considerable controversy in the management of patients with ATC. Tracheostomy does prolong life, as it overcomes acute airway distress and impending mortality. However, the patients with ATC who require tracheostomy have advanced local disease, and the chances of long-term survival are quite small. Under these circumstances, the tracheostomy may prolong some suffering. Tracheostomy does lead to secretions, need for frequent suctioning, and overall discomfort that the patient may experience. However, it does overcome acute airway distress with some prolongation of life. Whether that is meaningful or not remains controversial (58,110,171–173).
RECOMMENDATION 27 Tracheostomy may be temporarily beneficial in patients with impending airway loss.

Strength of Recommendation: Strong

Quality of Evidence: Low
Surgical airway and unresectable disease. Most patients with ATC will not require surgical airway intervention unless the patient has severe stridor or acute airway distress. The presence of a tracheostomy tube and secretions will lead to considerable discomfort on the part of the patient, and there is generally no need for creation of a surgical airway, even in patients with unresectable ATC.
RECOMMENDATION 28 Tracheostomy or stent placement is best avoided unless there is impending airway compromise.

Strength of Recommendation: Strong

Quality of Evidence: Low
Radiotherapy and systemic chemotherapy in locoregional ATC
The application of radiotherapy and/or systemic chemotherapy in locoregionally confined (IVA/B) ATC should be tailored to the capabilities and directives of the patient in coordination with the treatment team in accord with the intended goals. Critical in defining approaches to be used are (i) the wishes or directives of the patient, (ii) the fitness of the patient to undergo candidate therapeutic approaches, (iii) the availability of treatment approaches at intended treatment site(s), and (iv) the intended goals of therapy merged with discussions of the patient's aversion to risks of candidate therapeutic approaches.
In general, initial treatment goals first need to be established as either palliative or curative in intention, realizing that interval developments in terms of tumor response and progression and also in terms of interval adverse events will necessarily shape therapy once underway. Typically, the mainstays of therapy in addition to surgery can involve locoregional approaches, most commonly radiotherapy (but sometimes also interventional radiological approaches), and systemic approaches, most commonly cytotoxic chemotherapy (but sometimes also novel targeted therapeutics).
Radiotherapy after complete or near-complete (R0 or R1) resection. The best results in terms of both local control and survival from numerous studies appear to result from surgical resection followed by radiation therapy, usually in combination with chemotherapy. However, there is always an element of case selection bias because, invariably, patients with better performance status, younger age, and less extensive disease receive more aggressive combination therapy than older patients with extensive unresectable or metastatic disease. The SEER data of 516 patients revealed in a multivariate analysis that, along with age, only the combined uses of surgical resection and external beam radiotherapy were identified as independent predictors of survival (110). Given the large numbers and that this was a population-based study, these data provide the strongest evidence available that the combination of surgery and radiation is important.
Similarly, in another smaller population-based study from British Columbia analyzing 75 patients, survival was better in patients who had more extensive surgery and had high-dose radiation with or without chemotherapy (158). In contrast, a large single-institution review of 134 patients from the Mayo Clinic found that the extent of surgery did not correlate with survival. In the Mayo Clinic series, postoperative radiation was associated with an improvement in median survival from 3 to 5 months, but this was not statistically significant (p=0.08) (58). In general, however, most single-institution studies report improved results due to the combination of surgery and radiation with or without chemotherapy (2,15,62,104,114,155–157,159–162,169,174–178).
In the majority of series, radiation is given after surgery; however, in a few, preoperative radiation has been given, and in some series radiation is performed pre- and postoperatively. Brignardello et al. (159) reported best results in their series after maximum surgical debulking and postoperative chemoradiation therapy. They reported that radiation therapy was of unlikely benefit in terms of permitting subsequent surgical resection in patients who had initially unresectable disease because in only one out of five cases was resection subsequently possible. In contrast, Besic et al. (169) concluded that preoperative therapy was preferable to postoperative therapy. Ninety-nine patients were considered initially unresectable and treated with up-front chemotherapy and/or radiotherapy followed by surgery if possible, although it is not clear how many had subsequent surgery. Busnardo et al. (176) reported that preoperative chemoradiation improved operability. Tennvall et al. (166) used a sandwich approach with preoperative chemoradiation followed by surgery then further chemoradiation, but more recently have given preoperative chemoradiation then surgery, then more chemotherapy without radiation. In this latest series, 17 out of 23 patients were able to undergo some form of surgery, two with gross residual disease. Despite this approach, the median survival was only 2 months.
In patients with initially resectable disease, there does not appear to be any substantive evidence that preoperative is preferable to postoperative radiation therapy. Surgical resection may therefore reasonably be performed first, with postoperative chemoradiation therapy given subsequently depending upon outcome. However, in patients with initially unresectable disease, chemoradiation may rarely enable subsequent resection and should be considered in patients with good performance status and without metastatic disease. However, the potential benefit in a few must be weighed against the risk of toxicity in a population of patients, the majority of whom still have a poor survival.
RECOMMENDATION 29 Following an R0 or R1 resection (excluding an incidental intrathyroidal microscopic lesion; see Recommendation 23), patients with good performance status with no evidence of metastatic disease who wish an aggressive approach should be offered definitive radiation therapy (with or without concurrent chemotherapy, see Recommendation 36).

Strength of Recommendation: Strong

Quality of Evidence: Moderate
Timing and sequencing of perioperative radiation and/or systemic chemotherapy. There are no definitive data that indicate when radiation and systemic therapy should start or how they should be sequenced. Some physicians may prefer sequential therapy. However, given that ATC grows very rapidly, it is probably prudent to start as soon as feasible. Radiotherapy can generally begin after preliminary postoperative healing has transpired and when the patient has recovered sufficiently to lie supine and enable immobilization. In particular, radiation treatment planning should begin expeditiously when postoperative swelling has gone down,

2–3 weeks after surgery. Depending on the time required for treatment planning with three-dimensional (3D) conformal radiation or intensity-modulated radiotherapy (IMRT), treatment may start with a parallel pair beam arrangement until the final treatment plan is available, which should be ≤1 week. In terms of time of initiation of systemic therapy if elected, this too should begin expeditiously. However, systemic chemotherapy can often be initiated more quickly after surgery than can radiotherapy because less postoperative healing is required for its safe administration.
RECOMMENDATION 30 Treatment should be planned and radiation started as soon as the patient is sufficiently recovered from neck surgery, usually within 2 to 3 weeks after surgery.

Strength of Recommendation: Strong

Quality of Evidence: Low

RECOMMENDATION 31 Systemic chemotherapy can begin as soon at the patient is sufficiently recovered from surgery, potentially even within 1 week of surgery, depending upon postoperative course and treatment goals.

Strength of Recommendation: Strong

Quality of Evidence: Low
Locoregional radiotherapy and/or systemic therapy in patients with unresected disease. Even in patients with unresected disease (after an R2 resection or if surgery is not performed), radiation therapy can achieve long-term local control. Several series show better response rates with higher dose radiation. However, these data must be interpreted with caution since all such studies are retrospective, and patients with less extensive disease and better performance status are more likely to be given high-dose radiation therapy. Levendag et al. (167) reported that patients who received <30 Gy had a median survival of 1 month compared with 3.3 months if >30 Gy was given. Pierie et al. (155) also reported that patients who had ≥45 Gy had a better survival. Swaak-Kragten et al. (156) reported that the median survival was 5.4 months if patients were given >40 Gy but only 1.7 months if <40 Gy was given. Wang et al. (168) reported the median survivals were 3 months if <40 Gy and 11 if >40 Gy was prescribed. In a recent report on the experience with radiation and weekly doxorubicin a median survival of 6 months was reported (179). When the radiation dose was ≥50 Gy, median survival was 8.5 months, and if >60 Gy was given, median survival increased to 14.1 months. Levendag et al. (167) reported that median survival in patients with metastatic disease was improved if local control was achieved (8 vs. 2 months). This must be tempered by the overall poor survival of patients with metastatic disease. These studies collectively suggest that high-dose radiation therapy is seemingly of value. How to select patients is uncertain, but patients with good performance status and no metastases should probably be offered high-dose radiation therapy. There is, however, also the suggestion that patients with limited metastatic disease may benefit from an aggressive approach to the neck to ensure long-term local control.
RECOMMENDATION 32 Patients who have undergone R2 resection or have unresected disease with good performance status and who wish an aggressive approach should be offered definitive radiation (with or without concurrent chemotherapy; see Recommendation 36).

Strength of Recommendation: Strong

Quality of Evidence: Moderate

RECOMMENDATION 33 Surgical resection may be reconsidered in patients when radiation (with or without chemotherapy) renders the tumor potentially resectable.

Strength of Recommendation: Strong

Quality of Evidence: Low
For patients with poor performance status who decline or who would not tolerate high-dose radiation, low-dose radiation may be of palliative benefit in controlling pain and possibly obstructive symptoms, but there are few data to support this. Junor et al. (112) reported a 40% CR rate from radiotherapy and a 42% PR rate for an overall response rate of 82% and a trend to increased survival with higher doses. Higher doses of radiation, however, did not improve response rate (doses of <20 Gy were excluded). Thus, there is probably a reasonable chance of response to less than radical doses of radiotherapy or to palliative radiation with modest doses. Lessened toxicity in response to a palliative radiotherapy program could therefore prompt consideration of such an approach in symptomatic patients not considered appropriate for high-dose radiation either because of performance status, widespread metastatic disease, or patient wishes.
RECOMMENDATION 34 Patients with local symptoms and poor performance status should be offered palliative radiotherapy.

Strength of Recommendation: Strong

Quality of Evidence: Low
Radiation dose, field, and techniques (conventional, altered fractionation, IMRT). The clinical target required to optimally manage irradiation with acceptable toxicity in the setting of either unresected or postoperative ATC has historically been difficult, often requiring a degree of compromise which can lead to undesirable dose reductions and/or increased treatment morbidity. A variety of conventional two-dimensional (2D) and 3D planning techniques have been used over the years, but with IMRT it is possible to generate concave dose distributions and dose gradients with narrow margins so that complex volumes can be treated and adjacent normal structures such as spinal cord and salivary glands can be spared. There is strong evidence of the benefit of IMRT in improving outcome and reducing toxicity in other head and neck cancers (180,181).
In a comparison of conventional radiation, 3D conformal radiation therapy (3DCRT) and IMRT plans to the thyroid bed, and to the thyroid bed and locoregional lymph nodes, Nutting et al. (182) reported that 3DCRT reduced normal tissue irradiation compared with conventional techniques but did not improve tumor coverage or reduce dose to the spinal cord. In contrast, IMRT improved the tumor coverage and reduced the spinal cord dose (182). In a clinical comparison of conventional radiation and IMRT, Schwartz et al. (183) reported less late morbidity in 56 patients treated with IMRT compared with 76 treated with conventional radiation, but the difference was not statistically different. This study was in patients with DTC, not ATC. In a study of patients with ATC, with smaller numbers and shorter follow-up, the same group was unable to show a similar improvement in late morbidity (177). Cancer Care Ontario Program in Evidenced-Based Care has recently reviewed the evidence in support of IMRT for a variety of tumors (184). Although there was insufficient evidence in a systematic review to propose evidence-based recommendations for thyroid cancer, based on the data presented above the Ontario group concluded that there are compelling reasons why IMRT should be offered to patients with thyroid cancer as an alternative to conventional treatment planning. Because of the improved dose distribution and the ability to reduce toxicity, where available, patients should be irradiated with IMRT (177).
RECOMMENDATION 35 Patients who are to receive radiation for unresectable thyroid cancer or in the postoperative setting should, where available, be treated with IMRT; however, treatment should not be delayed because of lack of availability of IMRT.

Strength of Recommendation: Strong

Quality of Evidence: Low
Role of systemic therapy combined with radiation. In the past when chemoradiation has been given for thyroid cancer, radiation has been most often combined with doxorubicin. Tennvall et al. (166), using hyperfractionated radiation and doxorubicin with surgery when feasible, reported 9% 2-year overall survival; however, Pierie et al. (155) reported no improvement in disease-specific survival with the addition of chemosensitization (usually doxorubicin). Although the Mayo Clinic reported no improvement in median survival in patients receiving chemotherapy (generally also doxorubicin) and radiation, a greater proportion of patients survived >1 year (23% vs. <10%), suggesting perhaps that systemic chemotherapy might have potential to treat micrometastatic disease and affect long-term survival (58). However, the addition of chemotherapy to radiation therapy also has potential to increase morbidity and potentially mortality (see also Recommendation 41).
Several more recent reports support the hypothesis that the addition of both radiosensitizing and adjuvant chemotherapy to surgery and radiotherapy may improve ATC outcomes. Among 30 patients treated with surgery, radiation therapy, and doxorubicin administered concurrently with radiation therapy and continued thereafter, Swaak-Kragten et al. (156) reported better 1-year survival (23% vs. 9%). Other agents such as cisplatin, which is a better established clinical head and neck radiosensitizing agent, have also been used, often in combination with doxorubicin, but no study has prospectively compared radiation alone to radiation and cisplatin. Haigh et al. (157) reported 75% 2-year survival in eight patients undergoing complete surgical resection and adjuvant radiation therapy and chemotherapy using a variety of different agents. Tan et al. (101) reported 5-year survival in three of five patients who underwent complete resection, four receiving postoperative radiation therapy and three receiving post-radiation doxorubicin chemotherapy.
There is increasing evidence that taxanes, which are also radiosensitizing agents, may be more effective chemotherapeutic agents than those traditionally used in ATC. In particular, Ain et al. (185) reported that single agent paclitaxel had a 53% transient response rate in 19 patients with advanced disease. Higashiyama et al. (104) reported a 33% response rate (including one CR) to paclitaxel when given preoperatively and a 44% 1-year survival in nine patients with stage IVB ATC treated with induction paclitaxel in comparison with 5.9% in a historical control group. Bhatia et al. (177) have reported as part of a larger cohort of 53 patients, six treated with continuous-infusion paclitaxel and twice-daily radiation in three separate week-long cycles. Of the 53 there were five long-term survivors, one treated with radiation and paclitaxel and the other four with cisplatin or carboplatin.
The taxane docetaxel has also been reported to produce encouraging results in ATC, especially when combined with radiation therapy. Troch et al. (186) reported four CRs and two PRs among six patients treated with combined docetaxel and IMRT, with five of six patients surviving >21 months. Similarly, among 10 consecutively treated ATC patients with locoregional disease, Foote et al. (187) reported that five patients were alive and cancer-free having been followed >32 months with a median overall Kaplan–Meier survival of 60 months (overall survival at 1 and 2 years was 70% and 60%, respectively) in response to IMRT combined with adjuvant and radiosensitizing chemotherapy. However, Kawada et al. (188) reported a somewhat discouraging response rate of only 14% in response to docetaxel monotherapy in advanced ATC.
Compared with conventional radiotherapy, hyperfractionation may also increase radiation response rate at the cost of increased toxicity with the advantage of shorter overall treatment time, which can reduce the risk of tumor repopulation. This latter effect may be important in rapidly growing tumors such as ATC and has been used in combination with chemotherapy in several studies. Wang et al. (168) found in a study of radiation alone that hyperfractionated radiotherapy resulted in improved median survival (13.6 months) compared with conventional fractionation (10.3 months), although the difference was not significant. In contrast, Dandekar et al. (189) reported that with a hyperfractionated accelerated protocol with larger fraction sizes than usually given, there was no survival advantage but significant toxicity; altered fractionation was abandoned. There has been no comparison of altered fractionation alone compared with chemoradiation; therefore, either may be considered.
The toxicities associated with high-dose radiotherapy concurrent with chemotherapy are seen both in the acute and late setting. During chemotherapy and radiotherapy, patients' major complaints are dysphagia and odonophagia. Severe mucous production giving rise to a "choking" sensation and desquamation of the skin are also common side effects. The difficulty in swallowing can result in the placement of a percutaneous gastrostomy (PEG) tube. At this time, the treating physician should continue to counsel patients to swallow because the discontinuation of swallowing can result in PEG tube dependence. This is the major late complication associated with high-dose radiotherapy, and hence every effort to counsel patients to continue swallowing during radiotherapy is warranted. Examples of adjuvant or radiosensitizing chemotherapy regimens are listed in Table 5.
RECOMMENDATION 36 The use of cytotoxic chemotherapy involving some combination of taxane (paclitaxel or docetaxel), and/or anthracyclines (doxorubicin) and/or platin (cisplatin or carboplatin) therapy should be considered in combination with radiation therapy or altered fractionated radiotherapy in good performance status patients with nonmetastatic ATC who desire aggressive therapy.

Strength of Recommendation: Strong

Quality of Evidence: Moderate
TABLE 5. EXAMPLES OF ADJUVANT/RADIOSENSITIZING CHEMOTHERAPY REGIMENS IN ANAPLASTIC THYROID CARCINOMA

Regimen
Agents/dosages
Frequency
Paclitaxel/carboplatin
Paclitaxel 50 mg/m2, carboplatin AUCa 2 mg/m2 IV
Weekly
Docetaxel/doxorubicin
Docetaxel 60 mg/m2 IV, doxorubicin 60 mg/m2 IV (w/pegfilgrastim)

or

Every 3–4 weeks
Docetaxel 20 mg/m2 IV, doxorubicin 20 mg/m2
Weekly
Paclitaxel
Paclitaxel 30–60 mg/m2 IV
Weekly
Cisplatin
Cisplatin 25 mg/m2 IV
Weekly
Doxorubicin
Doxorubicin 60 mg/m2 IV
Every 3 weeks
Doxorubicin
Doxorubicin 20 mg/m2 IV
Weekly
Supportive care during active therapy
ATC itself poses imminent risk to patients both in terms of the threat to airway and esophagus due to local disease in the neck and potentially also consequent risk of metastatic disease. Moreover, during active treatment some existing patient risks are increased, while other new risks arise. The patient, family, and involved health care providers must be fully informed about these risks, with risk mitigation plans articulated.
It is critical that all involved be aware of the potential risks so as to identify and act on any emerging problems as they arise and without delay. Patients should be educated to be proactive in bringing emerging issues to the attention of their caregivers, and caregivers should be educated as to how to respond in the best interests of the patient given the unusual context of ATC under active therapy.
Airway management. Patients with ATC undergoing radiation therapy require close monitoring. The airway may become narrowed from the effect of ATC, vocal cord paralysis, or endolaryngeal edema due to radiation therapy.
RECOMMENDATION 37 In the absence of impending airway compromise, minor airway-related issues can be overcome with humidity, rest, and occasional use of short-term corticosteroids.

Strength of Recommendation: Strong

Quality of Evidence: Low
Maintenance of nutrition (PEG/feeding tube). Most patients with ATC, providing their nutritional status is good, can tolerate adequate oral nutrition and do not require enteral feeding. However, patients with esophageal obstruction who cannot tolerate adequate oral nutrition may benefit from enteral nutrition. Enteral nutrition may also be considered for patients prior to chemoradiation, depending on the protocol used, the degree of expected pharyngitis and esophagitis, and their nutritional status (179). Depending on the local expertise, gastrostomy for enteral feeding may be placed by one of the following specialists: gastroenterologist, interventional radiologist, or surgeon.
Placement of a PEG tube in a patient with ATC may be a challenge if there is considerable narrowing of the esophagus due to tumor invasion or obstruction, and the gastroscope may be difficult to pass through. Radiologically directed placement of the tube may be undertaken. When irritation by the gastroscope may lead to airway compromise, PEG tube placement with controlled intubation in the operating room or radiologically directed placement of the tube may be necessary.
RECOMMENDATION 38 If the patient with ATC has difficulty swallowing and treatment with surgery, radiation, or chemoradiation therapy is planned, gastrostomy for enteral nutrition should be considered.

Strength of Recommendation: Strong

Quality of Evidence: Low

RECOMMENDATION 39 A PEG tube may be difficult to place if the patient has involvement or obstruction of the esophagus. A percutaneous radiologically directed gastrostomy may be indicated in these patients.

Strength of Recommendation: Strong

Quality of Evidence: Low
Parenteral nutrition in perioperative management. Total parenteral nutrition (TPN) is rarely necessary or indicated in patients with ATC. The majority of patients will obtain adequate nutrition through the placement of a percutaneous gastrostomy tube. The practical need for TPN in patients with ATC is rare and should be considered only in extenuating circumstances. For instance, if the patient has responded to chemoradiation but the patient's nutritional status is deteriorating and either a gastrostomy tube cannot be inserted or enteral feeding is not tolerated, TPN may allow time to recover from the side effects of treatment.
RECOMMENDATION 40 Total parenteral nutrition is rarely necessary in patients with ATC.

Strength of Recommendation: Strong

Quality of Evidence: Low
Growth factor support during chemoradiation therapy. Adding chemotherapy to radiation therapy, with the aims of improving disease control in irradiated areas and, in parallel, preemptively treating microscopic metastatic disease, has the potential to increase toxicity. Among the most serious potential toxicities from chemotherapy is that of infection complicating chemotherapy-induced neutropenia; this risk is heightened by the concomitant use of chemotherapy and radiation. Further, mucositis or esophagitis is commonly induced by intensive radiotherapy, resulting in disruption of some of the usual mucosal defenses against infection. Collectively, these factors result in an inordinate risk of serious infection when combining chemotherapy with radiotherapy in ATC. Such risks can be lessened in several ways. First, any planned chemotherapy should take into account these risks, to use either a weekly administration strategy (so as to allow hiatus from therapy in the event of neutropenia) or alternatively use preemptive granulocyte colony-stimulating growth factor/pegfilgrastim support so as to minimize treatment-related neutropenia. Second, patients must additionally be made aware of the risks and cautioned to present immediately to medical attention upon attaining a fever of >101°F (38.3°C) so as to allow rapid palliation of neutropenic fever by prompt institution of intravenous antibiotics.
RECOMMENDATION 41 The use of preemptive granulocyte colony-stimulating growth factor/pegfilgrastim or weekly chemotherapy dosing regimens should be strongly considered when combining chemotherapy and radiotherapy in ATC so as to minimize the risks of treatment-related neutropenia and neutropenic infections.

Strength of Recommendation: Strong

Quality of Evidence: Low