[D] Initial evaluation and treatment of postoperative patients
[D1] Postoperative staging systems. Postoperative staging is helpful in separating low-risk from high-risk patients with MTC. The updated (2002) American Joint Committee on Cancer (AJCC)/International Union Against Cancer (UICC) staging system has been applied to MTC by a number of investigators. The TNM system utilizes tumor size, extrathyroidal invasion, nodal metastasis, and distant spread of the cancer (Table 4). However, the TNM classification lacks important prognostic factors such as gradations of age, the postoperative Ct level, or the postoperative Ct and CEA DTs. Indeed, Barbet et al. (228) reported that only the Ct DT remained an independent predictor of survival by multivariate analysis.
[D2] Completion thyroidectomy and lymph node dissection after hemithyroidectomy (Fig. 4). Occasionally, a patient undergoes a hemithyroidectomy and the diagnosis of MTC is made postoperatively. Patients with (or at risk) of residual metastatic or contralateral MTC are likely to benefit from completion thyroidectomy, including (bilateral) central compartment lymph node dissection. The incidence of multifocal MTC in heritable MEN 2 is about 75% (116–119), while in sporadic MTC the incidence is 0–22% (116,119–121). Additional patients likely to benefit from further surgery would include those treated with a hemithyroidectomy who have an elevated postoperative basal serum Ct value. However, the ideal postoperative Ct cut-off value is unknown. Pelizzo et al. (12) advocated for completion thyroidectomy and lymphadenectomy if the postoperative serum Ct remained detectable; however, the outcome of this procedure in their patients was not reported. Using the Advantage system (Nichols Institute Diagnostics), Basuyau et al. (144) found the 95th percentile of adult serum Ct to be 5.2 and 11.7 ng/L in women and men, respectively (144). In the setting of a hemithyroidectomy, one may expect the normal range in women and men to be approximately half of these values. For simplicity, the upper normal value of the reference range may be a reasonable cut-off value. Patients with a post-hemithyroidectomy serum Ct levels above this cut-off should likely be evaluated and treated according to Fig. 2. However, there is an absence of data on which to base these conclusions, and the decision to follow a patient with sporadic MTC after hemithyroidectomy without central lymph node dissection should be made on an individual basis weighing the potential risks and benefits of additional surgery. During follow-up, a rise in the basal serum Ct should prompt additional imaging (Fig. 5).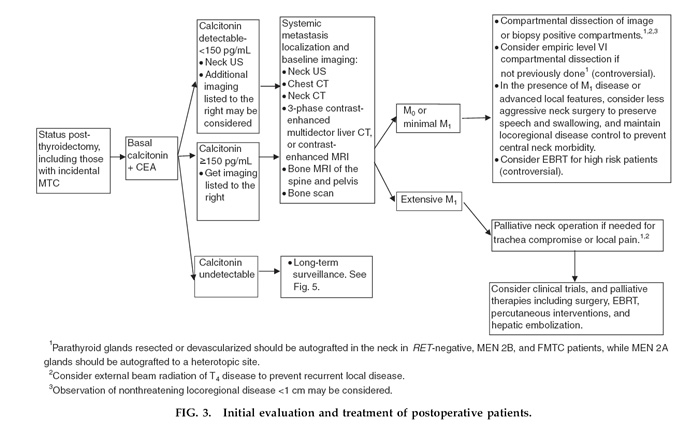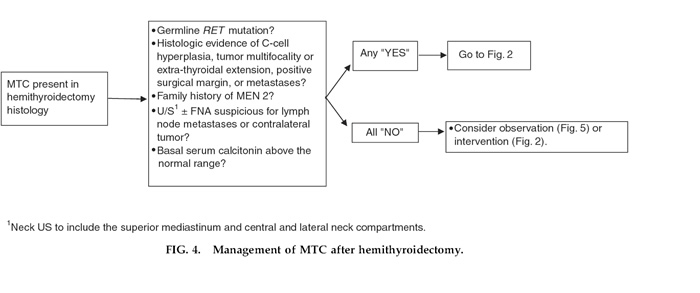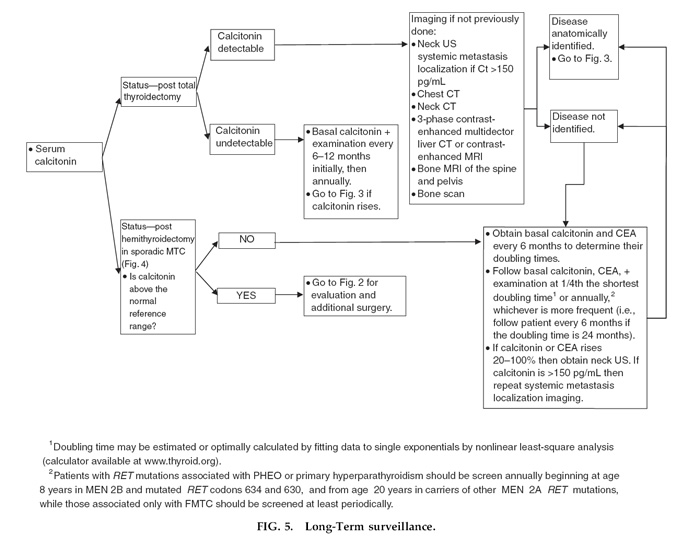 RECOMMENDATION 70
Patients with MTC diagnosed after hemithyroidectomy (including those with microscopic MTC) should undergo RET oncogene testing, measurement of serum Ct, and neck US. Grade: A Recommendation

RECOMMENDATION 71
Additional testing and therapy (to likely include completion thyroidectomy and central lymph node dissection) should be offered if histology shows multicentric tumor, CCH, extra-thyroidal extension, or positive surgical margin; when neck US is suspicious for persistent local disease in the contralateral thyroid lobe, or central or lateral neck compartments; when RET mutation is positive; or when family history is positive for MEN 2. See Fig. 2. Grade: B Recommendation

RECOMMENDATION 72
Patients treated with hemithyroidectomy who demonstrate unifocal intrathyroidal sporadic MTC confined to the thyroid who have no CCH, negative surgical margin, and no suspicion for persistent disease on neck US may be considered for additional surgery or follow-up without additional surgery if the basal serum Ct is below the upper normal of the reference range more than 2 months after surgery (Fig. 5). Those with a basal serum Ct above the normal reference range should undergo additional testing and therapy (to often include completion thyroidectomy and central lymph node dissection) per Fig. 2. Grade: B Recommendation
[D3] Laboratory testing after resection of MTC (Fig. 3). Measurements of the serum markers Ct and CEA are important in the follow-up of patients with MTC, and reliably reflect the presence and volume of disease in the vast majority of patients (229). These tumor markers typically require several months after surgery to achieve their nadir, although even longer time frames have been reported (229,230).
RECOMMENDATION 73
MTC serum tumor markers (Ct and CEA) should be measured 2–3 months postoperatively. Grade: B Recommendation
[D4] Testing and treatment of patients with undetectable postoperative basal serum Ct (Fig. 5). Serum Ct is a sensitive marker of residual MTC. In a study of 214 athyreotic patients following thyroidectomy for differentiated thyroid carcinoma, the Ct concentrations were below the detection limit in all patients (231). In addition to basal serum Ct, a pentagastrin (or calcium when pentagastrin is not available) stimulated* Ct level may be obtained (232). When both the basal and the stimulated serum Ct are undetectable the patient is in complete biochemical remission and has about a 3% chance of biochemical recurrent disease during follow-up (213). Modigliani et al. (40) reported that biochemical cure (using a less stringent definition) was predicted solely by disease stage, rather than type of surgery, and predicted a survival rate of 97.7% at 10 years.
Pentagastrin is not available in the United States and calcium stimulation testing is widely held to be inferior. The role of stimulation testing has diminished in recent years in the absence of pentagastrin and the improved sensitivity of basal serum Ct. Currently, when only the stimulated Ct level is detectable, the volume of residual disease is very low, unlikely to be found by imaging, and unlikely to be resolved with additional therapy.
RECOMMENDATION 74
When the postoperative basal serum Ct is undetectable (along with an undetectable stimulated serum Ct if performed, although the majority of the Task Force felt it was unnecessary), the risk of persistent or recurrent residual disease is low, and other tests or imaging techniques are not immediately required and the patient may enter into long-term follow-up. A neck US may be considered to establish a baseline. Grade: E Recommendation
[D5] Testing and treatment of patients with a detectable, but modestly elevated postoperative basal serum Ct (Fig. 3). Modest Ct levels after surgery are considered detectable, yet <150 pg/mL. These levels may be associated with only locoregional disease. Distant metastases are also possible (212), but when associated with modest serum Ct levels they are usually of small size or in limited number, and are difficult to detect (210,233). An example of the average relationship between tumor volume and serum Ct concentration is the report by Wells and colleagues (79) that 1 cm3 of MTC primary tumor was associated with a serum Ct level of approximately 1000 pg/mL (79). However, there are rare patients with poorly differentiated MTC that is associated with limited Ct levels despite large tumor deposits. They may be suspected based on their disproportionately high CEA levels and rapid CEA DTs, although even more rare MTC patients are described that lack elevation of both serum Ct and CEA (234).
Localization of disease should start with careful examination by neck US (235). If suspicious lymph nodes are detected, FNA should typically be performed to confirm the diagnosis. Recently, several studies have suggested that measurement of Ct in the FNA washout fluid from suspected local recurrences and lymph node metastases may have higher sensitivity and specificity (203).
Other optional imaging techniques include neck and chest CT, liver three-phase contrast-enhanced CT or contrast-enhanced MRI, liver US, bone scintigraphy, bone MRI of the spine and pelvis, 18F-dihydroxyphenylalanine (DOPA) PET, and FDG-PET (206,207,209,233,236–241). The sensitivity of these tests range between 50% and 80% in localizing the disease, but is likely to be significantly lower in the setting of modest serum Ct values (233,240,241). Anti-CEA antibodies have been used for imaging and therapy (207,242), while scintigraphy with several tracers—such as somatostatin analogs (243–247), metaiodobenzylguanidine (MIBG), dimercaptosuccinic acid (DMSA), and gastrin—are usually less sensitive (233,248,249), and have also been used for therapy (250,251).
RECOMMENDATION 75
Postoperative MTC patients with detectable serum Ct levels <150 pg/mL should be evaluated with neck US. Grade: B Recommendation

RECOMMENDATION 76
In addition to neck US, postoperative MTC patients with detectable serum Ct levels that are <150 pg/mL may be considered for additional imaging to serve as baseline examinations for future comparison even though these studies are usually negative. Alternatively, this additional imaging can be deferred and subsequently implemented should the serum Ct rise over time. Grade: C Recommendation
Regarding treatment, the surgical principles outlined for initial surgical therapy largely apply. Whenever the residual or recurrent disease has been localized in the neck, there is the opportunity for a second surgical procedure. Several series have reported experience with repeat neck surgery for MTC (252–257); however, there have been no randomized trials whereby patients have been staged and randomized to treatment versus observation alone cohorts. In most of the series, about one third of patients have their basal or stimulated plasma Ct levels in the ''normal range'' after re-operation, while the number achieving an undetectable serum Ct level using a sensitive assay is less clear. Long-term outcomes in these patients have been fairly good, with excellent prevention of recurrence in the central neck, and durable reductions in Ct levels reported by some groups. Perhaps the most encouraging results were reported by Fialkowski et al. (258) from a series of 148 patients who had re-operations for recurrent or residual MTC. Compartmental ''microdissection'' was performed on all patients, as described by Tissel et al. (255). Four patients died of their disease while 50 patients were alive with 8–10 year follow up data available; 23 of 50 patients (46%) had basal Ct levels greater than or equal to their basal Ct levels prior to reoperation. Thirteen of 50 (26%) had basal Ct levels at least 30% lower than their basal preoperative levels, and 14 of the 50 (28%) had basal Ct levels of <10 pg/mL. Overall, 6 of 54 patients (11%) had an undetectable basal serum Ct level at their last follow-up evaluation. A total of 25 of the 54 (46%) patients had a basal serum Ct level <100 pg/mL at their last evaluation and none had any radiologic evidence of recurrence. Kebebew et al. (253) reported on 33 MTC patients who underwent 46 reoperations for locoregional residual MTC, and only two (6%) had postoperative undetectable basal Ct levels. These two patients had relatively low preoperative basal Ct levels of only 53 ng/L and 322 ng/L, and only three of their resected lymph nodes demonstrated metastases. On balance, re-operation with curative intent has a place in the management of patients with persistent or recurrent MTC localized to the neck which may prevent clinical or radiographic tumor recurrence; however, the majority of these patients will not become biochemically free of disease.
RECOMMENDATION 77
Surgical resection of locoregional recurrent or persistent MTC in patients without distant metastases or with minimal distant metastases should include compartmental dissection of image or biopsy positive disease in the central (level VI) or lateral (levels IIA, III, IV, V) neck compartments. Removal of only grossly metastatic lymph nodes, or other limited procedures, should be avoided in the absence of extensive prior surgery in that compartment. Grade: B Recommendation
When there is no anatomic evidence of disease, despite detectable serum Ct, the best option is observation (259). Empiric surgical procedures aimed to remove all the lymph nodes of the neck and the mediastinum have been proposed, but the results have largely been disappointing. These procedures may yield no tumor resection and are unlikely to provide a biochemical remission (80).
RECOMMENDATION 78
In the absence of residual anatomically identifiable disease (neck US and CT) in a thyroidectomized patient with a measurable Ct level who has not previously undergone a level VI compartmental dissection, an empiric central compartment dissection may be considered but remains controversial. Grade: C Recommendation
In case of distant metastases (M1), observation or palliative therapy (including surgery) may be considered. It is important to remember that these patients are incurable, and the risks and benefits of any procedure should be carefully considered. Considerations typically include the location of the lesion(s), their risk for harm, and their rate of growth (if known). These issues are further addressed below under the heading Management of persistent or recurrent MTC.
[D6] Testing and treatment of patients with a significantly elevated postoperative basal serum Ct (Fig. 3). Significantly elevated Ct levels after surgery are defined as >150 pg/mL. The higher the Ct level, the greater the chance that the patient has demonstrable distant metastases (212). The evaluation of these patients is similar to when the basal postoperative Ct is detectable but limited (<150 pg/mL); however, a search for distant metastases is now emphasized (Fig. 3).Machens et al. (94) reported that distant metastases began appearing at preoperative basal serum Ct levels of 150 pg/mL in patients undergoing re-operation. The cumulative risks of identifiable distant metastases exceeded 50% at preoperative basal serum Ct levels of 5000 pg/mL in the re-operative setting. In the re-operative setting, distant metastases were almost always found when the preoperative basal serum Ct level exceeded 20,000 pg/mL. Similarly, Giraudet et al. (212) reported that in patients with one, or two to four sites of distant metastases the median Ct values were 1510 pg/mL (21–6000 pg/mL) and 18,450 pg/mL (276–247,000 pg/mL), respectively (212).
RECOMMENDATION 79
In addition to neck US, postoperative MTC patients with serum Ct levels ≥150 pg/mL should undergo additional imaging techniques to evaluate for distant metastases (see Fig. 3). Grade: Recommendation B
The concepts regarding therapy for postoperative MTC patients with serum Ct levels ≥150 pg/mL are similar to those outline for initial therapy (Fig. 2) (260).However, these patients typically require consideration of locoregional disease control and may require palliation of distant metastases that ideally would benefit from an effective systemic therapy. Unfortunately, while several chemotherapeutic protocols have been proposed, all of them have limited value, with remission (usually partial) reported in no more than 30%of the cases, and usually short lasting. Stabilization of the disease has been reported in several series, but due to the slow evolution of the disease, it is difficult to definitively attribute the stabilization to the therapy rather than to the natural history of the disease alone. In many MTC patients with metastatic disease, the locoregional disease is small (<1 cm) and nonthreatening, and distant metastases are asymptomatic and stable. For these patients, immediate intervention is of unknown benefit and they may be observed. Current highly sensitive neck imaging is increasingly identifying small lymph node metastases that can be challenging for the surgeon to find and remove in their entirety, especially from neck compartments that have previously been operated. Many surgeons have arbitrarily considered 1 cm as a clinically appropriate size for lymph node metastases to consider re-operation. Percutaneous ethanol injection of locoregional MTC has been utilized (261) and may be a useful tool for locoregional disease control, although it is unclear exactly where and when it is best utilized. Rapid progress in drug development may allow more meaningful systemic therapy for MTC patients in the future should they demonstrate progressive disease. Treatment with somatostatin analogs or interferon has shown no convincing evidence of tumor stabilization or regression (262).
RECOMMENDATION 80
In postoperative MTC patients with serum Ct levels ≥150 pg/mL with small (<1 cm) locoregional lymph node metastases that are nonthreatening, and with no evidence of distant metastases, immediate intervention is of unknown benefit and such lymph nodes may be observed or undergo re-operative compartmental dissection of image or biopsy-positive compartments. Grade: C Recommendation

RECOMMENDATION 81
In postoperative MTC patients with serum Ct levels ≥150 pg/mL with small (<1 cm) locoregional metastatic disease that is asymptomatic and nonthreatening, and with distant metastases, immediate intervention towards the locoregional disease is of unknown benefit and such lymph nodes may be observed. Grade: C Recommendation

RECOMMENDATION 82
Postoperative MTC patients with serum Ct levels ≥150 pg/mL with symptomatic and/or progressive locoregional disease >1 cm should be considered for locoregional therapy (e.g., surgery), while those with symptomatic distant metastases should be considered for clinical trials and palliative therapies such as surgery, EBRT, percutaneous interventions, and hepatic embolization. Grade: B Recommendation

RECOMMENDATION 83
The routine use of cytotoxic chemotherapy should be discouraged in patients with MTC. It may be considered for selected patients with rapidly progressive disease not amenable to clinical trials or other palliative therapies discussed below under Management of persistent or recurrent metastatic MTC. Grade: E Recommendation

RECOMMENDATION 84
Somatostatin analogs are ineffective to control tumor growth and typically should not be considered for this purpose. Grade: F Recommendation
[D7] Role of postoperative radioiodine ablation. In the past a few reports suggested that metastatic MTC could be identified by radioactive iodine (RAI) scanning and, therefore, could be treated by RAI. However, it seems likely that metastatic differentiated epithelial cell–derived thyroid carcinoma may have been erroneously diagnosed as MTC. Others considered the possibility that RAI uptake into nearby follicular cells may provide therapy to adjacent MTC via a ''bystander effect'' (263,264). However, recent studies do not confirm that RAI treatment plays a role in the postoperative management of patients with MTC, either as remnant ablation or treatment of residual, recurrent, or metastatic disease (248).
RECOMMENDATION 85
Postoperative radioactive iodine is not recommended for patients with MTC in the absence of concomitant epithelial cell–derived differentiated thyroid cancer. Grade: E Recommendation
[D8] Role of empiric liver or lung biopsy, hepatic vein sampling, systemic vascular sampling, or hepatic angiography. Sampling procedures have most commonly been considered for one of two reasons. One reason is that a suspicious anatomic lesion was identified and positive sampling of the lesion would alter therapy towards it. Empiric sampling or empiric biopsies were also used to exclude distant occult metastases before embarking on extensive locoregional surgery with curative intent. Previously, routine direct liver examination by laparoscopy was found to be helpful in staging patients with elevated Ct levels, and no anatomic evidence of MTC metastases by routine imaging. Diagnostic laparoscopy enabled the surgeon to examine the surface of the liver with magnification, and small liver metastases were detected in 25% of these patients (265). Re-operation with ''microdissection'' in these patients was avoided in these Ct-positive patients who typically had previously undergone thyroidectomy without node dissection (266). Now, however, most patients have a lymph node dissection done as part of their primary operation, so the opportunity to apply this method is less frequent. In addition, it is recognized that many of these patients undergoing re-operation are still not biochemically rendered free of disease despite their negative liver evaluations, so that enthusiasm for re-operation in the absence of anatomically identified neck disease is diminished and the goals of therapy have shifted to more palliative rather than curative approaches. Further, radiological evaluation of the neck has become much more sensitive (especially US). Thus, patients with elevated serum Ct levels and negative imaging may be observed. Recent natural history studies indicate that such patients have a good prognosis (39,62,118,214,228,267). This approach can likely be extended to similar patients with small (<1cm) locoregional metastases, especially if the Ct and CEA DTs are >2 years (62,212,228,268,269) (see section below on Management of persistent or recurrent metastatic MTC).
Concomitantly, enthusiasm for hepatic vein sampling (270) and hepatic angiography (271) have also diminished. These methods have been used to identify otherwise occult hepatic metastases, and improve preoperative staging in patients considering re-operation (270). Similarly, systemic vascular Ct sampling searching for Ct gradients from the neck or lungs have attempted to localize residual disease (272–274). However, biological cure was obtained in only a small percentage, if any, of these operated patients (272). Furthermore, recurrence rate and death rate were not significantly lower than those observed in patients treated by surgery without venous sampling (252–257,259,273).
RECOMMENDATION 86
We do not recommend the routine use empiric liver or lung biopsies, hepatic vein sampling, systemic vascular sampling, or hepatic angiography prior to re-operation. These diagnostic procedures should be used sparingly, if at all. Grade: D Recommendation