[C2] What are the appropriate features of long-term management?
Accurate surveillance for possible recurrence in patients thought to be free of disease is a major goal of long-term follow-up. Tests with high negative predictive value allow identification of patients unlikely to experience disease recurrence, so that less aggressive management strategies can be used that may be more cost effective and safe. Similarly, patients with a higher risk of recurrence are monitored more aggressively because it is believed that early detection of recurrent disease offers the best opportunity for effective treatment. A large study (280), found that the residual life span in disease-free patients treated with total or near-total thyroidectomy and 131I for remnant ablation and, in some cases, high dose 131I for residual disease, was similar to that in the general Dutch population. In contrast, the life expectancy for patients with persistent disease was reduced to 60% of that in the general population but varied widely depending upon tumor features. Age was not a factor in disease-specific mortality when patients were compared with aged matched individuals in the Dutch population. Treatment thus appears safe and does not shorten life expectancy. Although an increased incidence of second tumors in thyroid cancer patients has been recognized (157,281) this elevated risk was not found to be associated with the use of 131I in another study (282), and RAI therapy in low-risk patients did not affect median overall survival in another (210). Patients with persistent or recurrent disease are offered treatment to cure or to delay future morbidity or mortality. In the absence of such options, therapies to palliate by substantially reducing tumor burden or preventing tumor growth are utilized, with special attention paid to tumors threatening critical structures.
A second goal of long-term follow-up is to monitor thyroxine suppression or replacement therapy, to avoid under-replacement or overly aggressive therapy (283).
[C3] What is the appropriate method for following patients after surgery with or without remnant ablation?
See Fig. 4 for an algorithm for the first 6–12 months of management.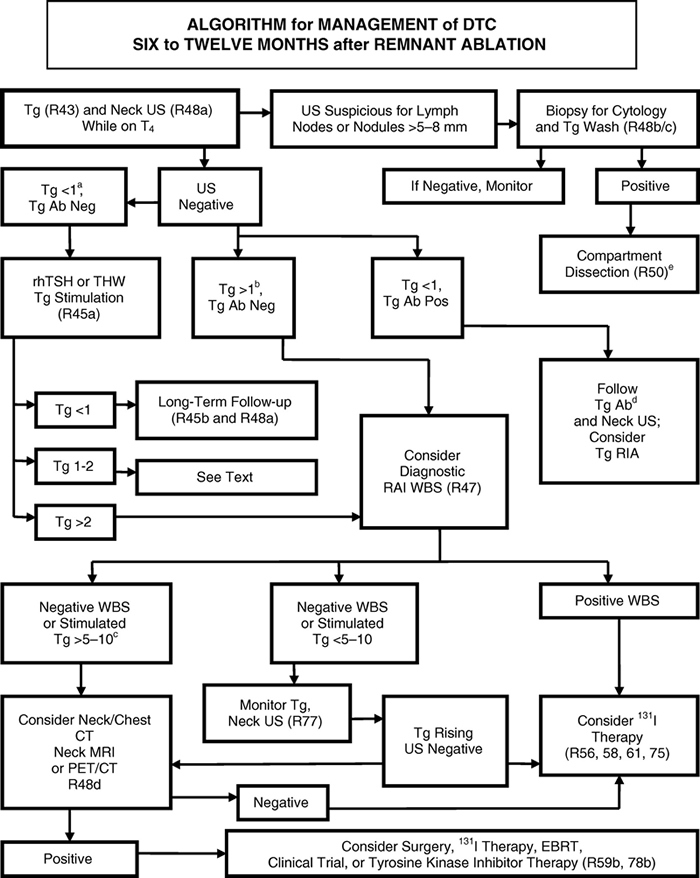 FIG. 4. Longer term follow-up of patients with differentiated thyroid carcinoma.

aTgAb is anti-thyroglobulin antibody usually measured by immunometric assay.
bHeterophile antibodies may be a cause of falsely elevated serum Tg levels (436,437). The use of heterophile blocking tubes or heterophile blocking reagents have reduced, but not completely eliminated this problem. Tg that rises with TSH stimulation and falls with TSH suppression is unlikely to result from heterophile antibodies.
cSee text concerning further information regarding levels of Tg at which therapy should be considered.
dTg radioimmunoassay (RIA) may be falsely elevated or suppressed by TgAb. Tg results following TSH stimulation with rhTSH or thyroid hormone withdrawal are invalidated by TgAb in the serum even when Tg is measured by most RIA tests. TgAb levels often decline to undetectable levels over years following surgery (306). A rising level of TgAb may be an early indication of recurrent disease (305).
eSee text for decision regarding surgery versus medical therapy, and surgical approaches to locoregional metastases. FNA confirmation of malignancy is generally advised. Preoperative chest CT is recommended as distant metastases may change management
[C4] What are the criteria for absence of persistent tumor   In patients who have undergone total or near-total thyroidectomy and thyroid remnant ablation, disease-free status comprises all of the following:
no clinical evidence of tumor,
no imaging evidence of tumor (no uptake outside the thyroid bed on the initial posttreatment WBS, or, if uptake outside the thyroid bed had been present, no imaging evidence of tumor on a recent diagnostic scan and neck US), and
undetectable serum Tg levels during TSH suppression and stimulation in the absence of interfering antibodies.
[C5] What is the role of serum Tg assays in the follow up of DTC?   Measurement of serum Tg levels is an important modality to monitor patients for residual or recurrent disease. Most laboratories currently use immunometric assays to measure serum Tg, and it is important that these assays are calibrated against the CRM-457 international standard. Despite improvements in standardization of thyroglobuin assays, there is still a twofold difference between some assays (149), leading to the recommendation that measurements in individual patients over time be performed in the same assay. Immunometric assays are prone to interference from Tg autoantibodies, which commonly cause falsely low serum Tg measurements. Radioimmunoassays may be less prone to antibody interference, but are not as widely available, and their role in the clinical care of patients is uncertain. In the absence of antibody interference, serum Tg has a high degree of sensitivity and specificity to detect thyroid cancer, especially after total thyroidectomy and remnant ablation, with the highest degrees of sensitivity noted following thyroid hormone withdrawal or stimulation using rhTSH (284). Serum Tg measurements obtained during thyroid hormone suppression of TSH, and, less commonly during TSH stimulation, may fail to identify patients with relatively small amounts of residual tumor (197,285,286). Conversely, even TSH-stimulated Tg measurement may fail to identify patients with clinically significant tumor, due to anti-Tg antibodies or less commonly to defective or absent production and secretion of immunoreactive Tg by tumor cells (286). Tg levels should be interpreted in light of the pretest probability of clinically significant residual tumor. An aggressive or poorly differentiated tumor may be present despite low basal or stimulated Tg; in contrast, a minimally elevated stimulated Tg may occur in patients at low risk for clinically significant morbidity (287). Nevertheless, a single rhTSH-stimulated serum Tg 288,289).
Follow-up of low-risk patients who have undergone total or near-total thyroidectomy alone without 131I remnant ablation or hemithyroidectomy alone may represent a challenge. A cohort of 80 consecutive patients with very low-risk papillary thyroid microcarcinoma who had undergone near-total thyroidectomy without postoperative RAI treatment was studied over 5 years (290). The rhTSH-stimulated serum Tg levels were ≤1 ng/mL in 45 patients (56%) and >1 ng/mL in 35 (44%) patients in whom rhTSH-stimulated Tg levels were as high as 25 ng/mL. The diagnostic WBS (DxWBS) revealed uptake in the thyroid bed but showed no pathological uptake in any patient, and thyroid bed uptake correlated with the rhTSH-stimulated serum Tg levels (p < 0.0001). Neck ultrasonography identified lymph node metastases in both Tg-positive and Tg-negative patients. The authors concluded that for follow-up of this group of patients: 1) WBS was ineffective in detecting metastases; 2) neck ultrasonography as the main surveillance tool was highly sensitive in detecting node metastases; and 3) detectable rhTSH-stimulated serum Tg levels mainly depended upon the size of thyroid remnants.
Initial follow-up for low-risk patients (about 85% of postoperative patients) who have undergone total or near-total thyroidectomy and 131I remnant ablation should be based mainly on TSH-suppressed Tg and cervical US, followed by TSH-stimulated serum Tg measurements if the TSH-suppressed Tg testing is undetectable (197,285). However, a Tg assay with a functional sensitivity of 0.1 ng/mL may reduce the need to perform TSH-stimulated Tg measurements during the initial follow-up of some patients. In one study of this assay, a T4-suppressed serum Tg 2 ng/mL; however, 61.5% of the patients had baseline Tg elevation >0.1 ng/mL, but only one patient was found to have residual tumor (291). In another study of the same assay (292), a TSH-suppressed serum Tg level was >0.1 ng/mL in 14% of patients, but the false-positive rate was 35% using an rhTSH-stimulated Tg cutoff of >2 ng/mL, raising the possibility of unnecessary testing and treatment. The only prospective study also documented increased sensitivity of detection of disease at the expense of reduced specificity (293).
Approximately 20% of patients who are clinically free of disease with serum Tg levels 285) will have a serum Tg level >2 ng/mL after rhTSH or thyroid hormone withdrawal at 12 months after initial therapy with surgery and RAI. In this patient population, one third will have identification of persistent or recurrent disease and of increasing Tg levels, and the other two thirds will remain free of clinical disease and will have stable or decreasing stimulated serum Tg levels over time (294). There is good evidence that a Tg cutoff level above 2 ng/mL following rhTSH stimulation is highly sensitive in identifying patients with persistent tumor (285,295–300). However, the results of serum Tg measurements made on the same serum specimen differ among assay methods (149). Therefore, the Tg cutoff may differ significantly among medical centers and laboratories. Further, the clinical significance of minimally detectable Tg levels is unclear, especially if only detected following TSH stimulation. In these patients, the trend in serum Tg over time will typically identify patients with clinically significant residual disease. A rising unstimulated or stimulated serum Tg indicates disease that is likely to become clinically apparent (294,301).
The presence of anti-Tg antibodies, which occur in approximately 25% of thyroid cancer patients (302) and 10% of the general population (303), will falsely lower serum Tg determinations in immunometric assays (304). The use of recovery assays in this setting to detect significant interference is controversial (201,304). Serial serum anti-Tg antibody quantification using the same methodology may serve as an imprecise surrogate marker of residual normal thyroid tissue or tumor (305, 306).
RECOMMENDATION 43
Serum Tg should be measured every 6–12 months by an immunometric assay that is calibrated against the CRM457 standard. Ideally, serum Tg should be assessed in the same laboratory and using the same assay, during follow-up of patients with DTC who have undergone total or near total thyroidectomy with or without thyroid remnant ablation. Thyroglobulin antibodies should be quantitatively assessed with every measurement of serum Tg. Recommendation rating: A
RECOMMENDATION 44
Periodic serum Tg measurements and neck ultrasonography should be considered during follow-up of patients with DTC who have undergone less than total thyroidectomy, and in patients who have had a total thyroidectomy but not RAI ablation. While specific cutoff levels during TSH suppression or stimulation that optimally distinguish normal residual thyroid tissue from persistent thyroid cancer are unknown, rising Tg values over time are suspicious for growing thyroid tissue or cancer. Recommendation rating: B
 
RECOMMENDATION 45
(a) In low-risk patients who have had remnant ablation and negative cervical US and undetectable TSH-suppressed Tg within the first year after treatment, serum Tg should be measured after thyroxine withdrawal or rhTSH stimulation approximately 12 months after the ablation to verify absence of disease. Recommendation rating: A
The timing or necessity of subsequent stimulated testing is uncertain for those found to be free of disease, because there is infrequent benefit in this patient cohort from repeated TSH-stimulated Tg testing (289).
(b) Low-risk patients who have had remnant ablation, negative cervical US, and undetectable TSH-stimulated Tg can be followed primarily with yearly clinical examination and Tg measurements on thyroid hormone replacement. Recommendation rating: B
[C6] What are the roles of diagnostic whole-body RAI scans, US, and other imaging techniques during follow-up of DTC?
[C7] Diagnostic whole-body RAI scans.   There are two main issues that affect the use of DxWBS during follow-up: stunning (described above) and accuracy. A DxWBS is most useful during follow-up when there is little or no remaining normal thyroid tissue. Disease not visualized on the DxWBS, regardless of the activity of 131I employed, may occasionally be visualized on the RxWBS images done after larger, therapeutic amounts of 131I (285,307–310). Following RAI ablation, when the posttherapy scan does not reveal uptake outside the thyroid bed, subsequent DxWBS have low sensitivity and are usually not necessary in low-risk patients who are clinically free of residual tumor and have an undetectable serum Tg level on thyroid hormone and negative cervical US (197,285,309,311).
RECOMMENDATION 46
After the first RxWBS performed following RAI remnant ablation, low-risk patients with an undetectable Tg on thyroid hormone with negative antithyrogolublin antibodies and a negative US do not require routine DxWBS during follow-up. Recommendation rating: F 
 
RECOMMENDATION 47
DxWBS, either following thyroid hormone withdrawal or rhTSH, 6–12 months after remnant ablation may be of value in the follow-up of patients with high or intermediate risk of persistent disease (see risk stratification system under AJCC/UICC TNM staging), but should be done with 123I or low activity 131I. Recommendation rating: C
[C8] Cervical ultrasonography.    Cervical ultrasonography is highly sensitive in the detection of cervical metastases in patients with DTC (139,290,312). Recent data suggest that measurement of Tg in the needle washout fluid enhances the sensitivity of FNA of cervical nodes that are suspicious on US (313,314). Cervical metastases occasionally may be detected by neck ultrasonography even when TSH-stimulated serum Tg levels remain undetectable (201,296).
RECOMMENDATION 48

Following surgery, cervical US to evaluate the thyroid bed and central and lateral cervical nodal compartments should be performed at 6–12 months and then periodically, depending on the patient's risk for recurrent disease and Tg status. Recommendation rating: B
If a positive result would change management, ultrasonographically suspicious lymph nodes greater than 5–8 mm in the smallest diameter should be biopsied for cytology with Tg measurement in the needle washout fluid. Recommendation rating: A
Suspicious lymph nodes less than 5–8 mm in largest diameter may be followed without biopsy with consideration for intervention if there is growth or if the node threatens vital structures. Recommendation rating: C
 [C9] 18FDG-PET scanning.   For many years, the primary clinical application of 18FDG-PET scanning in thyroid cancer was to localize disease in Tg-positive (>10 ng=mL), RAI scan–negative patients (315). When used for this indication, insurance providers have usually required documentation that the patient had a follicular derived thyroid cancer with suppressed or stimulated Tg >10 ng=mL in the setting of a negative DxWBS. Still, the impact of 18FDG-PET imaging on biochemical cure, survival, or progression-free survival in this setting are not well defined.
More recently, publications provide data that support the use of 18FDG-PET scanning for indications beyond simple disease localization in Tg-positive, RAI scan–negative patients (315,316).
Current additional clinical uses of 18FDG-PET scanning may include:
Initial staging and follow-up of high-risk patients with poorly differentiated thyroid cancers unlikely to concentrate RAI in order to identify sites of disease that may be missed with RAI scanning and conventional imaging.
Initial staging and follow-up of invasive or metastatic Hürthle cell carcinoma.
As a powerful prognostic tool for identifying which patients with known distant metastases are at highest risk for disease-specific mortality.
As a selection tool to identify those patients unlikely to respond to additional RAI therapy.
As a measurement of posttreatment response following external beam irradiation, surgical resection, embolization, or systemic therapy.
As can be seen from the list of indications above, low-risk patients are very unlikely to require 18FDG-PET scanning as part of initial staging or follow-up. Additionally, inflammatory lymph nodes, suture granulomas, and increased muscle activity are common causes of false-positive 18FDG-PET findings. Therefore, cytologic or histologic confirmation is required before one can be certain that an 18FDG-positive lesion represents metastatic disease.
The sensitivity of 18FDG-PET scanning may be marginally improved with TSH stimulation (especially in patients with low Tg values), but the clinical benefit of identifying these additional small foci is yet to be proven (316).
In addition to its proven role in the localization of disease in Tg-positive, RAI scan–negative patients, 18FDG-PET scanning may be employed 1) as part of initial staging in poorly differentiated thyroid cancers and invasive Hürthle cell carcinomas, especially those with other evidence of disease on imaging or because of elevated serum Tg levels, and 2) as a prognostic tool in patients with metastatic disease to identify those patients at highest risk for rapid disease progression and disease-specific mortality, 3) and as an evaluation of posttreatment response following systemic or local therapy of metastatic or locally invasive disease. Recommendation rating: C
[C10] What is the role of thyroxine TSH suppression during thyroid hormone therapy in the long-term follow-up of DTC?   A meta-analysis has suggested an association (269) between thyroid hormone suppression therapy and reduction of major adverse clinical events. The appropriate degree of TSH suppression by LT4 is still unknown, especially in high-risk patients rendered free of disease. One study found that a constantly suppressed TSH (≤0.05 mU/L) was associated with a longer relapse-free survival than when serum TSH levels were always 1 mU/L or greater, and that the degree of TSH suppression was an independent predictor of recurrence in multivariate analysis (270). Conversely, another large study found that disease stage, patient age, and 131I therapy independently predicted disease progression, but that the degree of TSH suppression did not (127). A third study showed that during LT4 therapy the mean Tg levels were significantly higher when TSH levels were normal than when TSH levels were suppressed (317). A fourth study of 2936 patients found that overall survival improved significantly when the TSH was suppressed to 214). Another recent study found that a serum TSH threshold of 2 mU/L differentiated best between patients free of disease and those with relapse or cancer-related mortality (271). No prospective studies have been performed examining the risk of recurrence and death from thyroid cancer associated with varying serum TSH levels, based on the criteria for the absence of tumor at 6–12 months postsurgery and RAI ablation outlined above in [C3].
RECOMMENDATION 49

In patients with persistent disease, the serum TSH should be maintained below 0.1 mU/L indefinitely in the absence of specific contraindications. Recommendation rating: B
In patients who are clinically and biochemically free of disease but who presented with high risk disease, consideration should be given to maintaining TSH-suppressive therapy to achieve serum TSH levels of 0.1–0.5 mU/L for 5–10 years. Recommendation rating: C
In patients free of disease, especially those at low risk for recurrence, the serum TSH may be kept within the low normal range (0.3–2 mU/L). Recommendation rating: B
In patients who have not undergone remnant ablation who are clinically free of disease and have undetectable suppressed serum Tg and normal neck US, the serum TSH may be allowed to rise to the low normal range (0.3–2 mU/L). Recommendation rating: C
[C11] What is the most appropriate management of DTC patients with metastatic disease?
Metastases discovered during follow-up are likely manifestations of persistent disease that has survived initial treatment. Some patients will have a reduction in tumor burden with additional treatments that may offer a survival or palliative benefit (318–322). The preferred hierarchy of treatment for metastatic disease (in order) is surgical excision of locoregional disease in potentially curable patients, 131I therapy for RAI-avid disease, external beam radiation, watchful waiting with patients with stable or slowly progressive asymptomatic disease, and experimental trials, especially for patients with significantly progressive macroscopic refractory disease. Experimental trials may be tried before external beam radiation in special circumstances, in part because of the morbidity of external beam radiation and its relative lack of efficacy. A small fraction of patients may benefit from radiofrequency ablation (323), ethanol ablation (324), or chemo-embolization (325). Additionally, surgical therapy in selected incurable patients is important to prevent complications in targeted areas, such as the central nervous system (CNS) and central neck compartment. Conversely, watchful waiting may be appropriate for selected patients with stable asymptomatic local metastatic disease, and most patients with stable asymptomatic non-CNS distant metastatic disease.
[C12] What is the surgical management of locoregional metastases?   Surgery is favored for locoregional (i.e., cervical lymph nodes and/or soft tissue tumor in the neck) recurrences, when distant metastases are not present. Approximately one third to one half of patients may become free of disease in short-term follow-up (288). It is not clear that treatment of locoregional disease is beneficial in the setting of untreatable distant metastases, except for possible palliation of symptoms or prevention of airway or aerodigestive obstruction. Impalpable metastatic lymph nodes, visualized on US or other anatomic imaging modality, that have survived initial 131I therapy should be considered for resection. Conversely, the benefit to removing asymptomatic small (0.8 cm in diameter,) while sparing vital structures (e.g., ipsilateral central neck dissection [level VI], selective neck dissection levels II–IV, or modified neck dissection [levels II–V sparing the spinal accessory nerve, the internal jugular vein, and sternocleidomastoid muscle] (326) as opposed to "berry picking," limited lymph node resection procedures, or ethanol ablation (324), because microscopic lymph node metastases are commonly more extensive than would appear from imaging studies alone (183,327,328). Conversely, compartmental surgical dissections may not be feasible in the setting of compartments that have been previously explored due to extensive scarring, and only a more limited or targeted lymph node resection may be possible.
RECOMMENDATION 50

Therapeutic comprehensive compartmental lateral and/or central neck dissection, sparing uninvolved vital structures, should be performed for patients with persistent or recurrent disease confined to the neck. Recommendation rating: B
Limited compartmental lateral and/or central compartmental neck dissection may be a reasonable alternative to more extensive comprehensive dissection for patients with recurrent disease within compartments having undergone prior comprehensive dissection and/or external beam radiotherapy. Recommendation rating: C
[C13] What is the surgical management of aerodigestive invasion?   For tumors that invade the upper aerodigestive tract, surgery combined with additional therapy such as 131I and/or external beam radiation is generally advised (329,330). Patient outcome is related to complete resection of all gross disease with the preservation of function, with techniques ranging from shaving tumor off the trachea or esophagus for superficial invasion, to more aggressive techniques when the trachea is more deeply invaded (e.g., direct intraluminal invasion) including tracheal resection and anastomosis (331–333) or laryngopharyngoesophagectomy. Patients who are not curable may undergo less aggressive local treatment in cases of asphyxia or significant hemoptysis, and as a preliminary step prior to subsequent radical or palliative treatments (330).
RECOMMENDATION 51
When technically feasible, surgery for aerodigestive invasive disease is recommended in combination with RAI and/or external beam radiotherapy. Recommendation rating: B
[C14] What is the nature of RAI therapy for locoregional or distant metastatic disease?   For regional nodal metastases discovered on DxWBS, RAI may be employed, although surgery is typically used in the presence of bulky disease or disease amenable to surgery found on anatomic imaging such as US, CT scanning, or MRI. Radioiodine is also used adjunctively following surgery for regional nodal disease or aerodigestive invasion if residual RAI avid disease is present or suspected.
[C15] Dose and methods of administering 131I for locoregional or metastatic disease.   Despite the apparent effectiveness of 131I therapy in many patients, the optimal therapeutic activity remains uncertain and controversial (334). There are three approaches to 131I therapy: empiric fixed amounts, therapy determined by the upper bound limit of blood and body dosimetry, and quantitative tumor dosimetry (335). Dosimetric methods are often reserved for patients with distant metastases or unusual situations such as renal insufficiency (336,337) or when therapy with rhTSH stimulation is deemed necessary. Comparison of outcome among these methods from published series is difficult (334). No prospective randomized trial to address the optimal therapeutic approach has been published. Arguments in favor of higher activities cite a positive relationship between the total 131I uptake per tumor mass and outcome (225), while others have not confirmed this relationship (338). In the future, the use of 123Ior 131I with modern SPECT/CT or 124I PET-based dosimetry may facilitate whole-body and lesional dosimetry (339,340).
The maximum tolerated radiation absorbed dose (MTRD), commonly defined as 200 rads (cGy) to the blood, is potentially exceeded in a significant number of patients undergoing empiric treatment with various amounts of 131I. In one study (341) 1–22% of patients treated with 131I according to dosimetry calculations would have theoretically exceeded the MTRD had they been empirically treated with 100–300 mCi of 131I. Another study (342) found that an empirically administered 131I activity of 200 mCi would exceed the MTRD in 8–15% of patients younger than age 70 and 22–38% of patients aged 70 years and older. Administering 250 mCi empirically would have exceeded the MTRD in 22% of patients younger than 70 and 50% of patients 70 and older.
RECOMMENDATION 52

In the treatment of locoregional or metastatic disease, no recommendation can be made about the superiority of one method of RAI administration over another (empiric high dose vs. blood and/or body dosimetry vs. lesional dosimetry.) Recommendation rating: I
Empirically administered amounts of 131I exceeding 200 mCi that often potentially exceed the maximum tolerable tissue dose should be avoided in patients over age 70 years. Recommendation rating: A
No randomized trial comparing thyroid hormone withdrawal therapy to rhTSH-mediated therapy for treatment of metastatic disease has been reported but there is, despite a growing body of nonrandomized studies regarding this use (343–352), one small comparative study that showed the radiation dose to metastatic foci is lower with rhTSH than that following withdrawal (353). Many of these case reports and series report disease stabilization or improvement in some patients following rhTSH-mediated 131I therapy. The use of rhTSH does not eliminate and may even increase the possibility of rapid swelling of metastatic lesions (348,354–356).
RECOMMENDATION 53
There are currently insufficient outcome data to recommend rhTSH-mediated therapy for all patients with metastatic disease being treated with 131I. Recommendation rating: D
RECOMMENDATION 54
Recombinant human TSH–mediated therapy may be indicated in selected patients with underlying comorbidities making iatrogenic hypothyroidism potentially risky, in patients with pituitary disease who are unable to raise their serum TSH, or in patients in whom a delay in therapy might be deleterious. Such patients should be given the same or higher activity that would have been given had they been prepared with hypothyroidism or a dosimetrically determined activity. Recommendation rating: C
[C16] Use of lithium in 131I therapy.   Lithium inhibits iodine release from the thyroid without impairing iodine uptake, thus enhancing 131I retention in normal thyroid and tumor cells (357). One study (358) found that lithium increased the estimated 131I radiation dose in metastatic tumors an average of more than twofold, but primarily in those tumors that rapidly cleared iodine. On the other hand, another more recent study was unable to document any clinical advantage of lithium therapy on outcome in patients with metastatic disease, despite an increase in RAI uptake in tumor deposits (359).
RECOMMENDATION 55
Since there are no outcome data that demonstrate a better outcome of patients treated with lithium as an adjunct to 131I therapy, the data are insufficient to recommend lithium therapy. Recommendation rating: I
[C17] How should distant metastatic disease to various organs be treated?   The overall approach to treatment of distant metastatic thyroid cancer is based upon the following observations and oncologic principles:
Morbidity and mortality are increased in patients with distant metastases, but individual prognosis depends upon factors including histology of the primary tumor, distribution and number of sites of metastasis (e.g., brain, bone, lung), tumor burden, age at diagnosis of metastases, and 18FDG and RAI avidity (320,351, 360–366).
In the absence of demonstrated survival benefit, certain interventions can provide significant palliation or reduce morbidity (325,367–369).
In the absence of improved survival, palliative benefit, or reduced potential morbidity, the value of empiric therapeutic intervention is significantly limited by the potential for toxicity.
Treatment of a specific metastatic area must be considered in light of the patient's performance status and other sites of disease; e.g., 5–20% of patients with distant metastases die from progressive cervical disease (366,370).
Longitudinal re-evaluation of patient status and continuing re-assessment of potential benefit and risk of intervention is required.
The overall poor outcome of patients with radiographically evident or symptomatic metastases that do not respond to RAI, the complexity of multidisciplinary treatment considerations and the availability of prospective clinical trials should encourage the clinician to refer such patients to tertiary centers with particular expertise.
[C18] Treatment of pulmonary metastases.   In the management of the patient with pulmonary metastases, key criteria for therapeutic decisions include 1) size of metastatic lesions (macronodular typically detected by chest radiography; micronodular typically detected by CT; lesions beneath the resolution of CT); 2) avidity for RAI and, if applicable, response to prior RAI therapy; and 3) stability (or lack thereof ) of metastatic lesions. Pulmonary pneumonitis and fibrosis are rare complications of high-dose radioactive iodine treatment. Dosimetry studies with a limit of 80 mCi whole-body retention at 48 hours and 200 cGy to the red bone marrow should be considered in patients with diffuse 131I pulmonary uptake (371). If pulmonary fibrosis is suspected, then appropriate periodic pulmonary function testing and consultation should be obtained. The presence of pulmonary fibrosis may limit the ability to further treat metastatic disease with RAI.
RECOMMENDATION 56
Pulmonary micrometastases should be treated with RAI therapy, and repeated every 6–12 months as long as disease continues to concentrate RAI and respond clinically, because the highest rates of complete remission are reported in these subgroups (360,365,372,373). Recommendation rating: A
Macronodular pulmonary metastases may also be treated with RAI if demonstrated to be iodine avid. How many doses of RAI to give and how often to give it is a decision that must be individualized based on the disease response to treatment, the rate of disease progression in between treatments, age of the patient, the presence or absence of other metastatic lesions, and the availability of other treatment options including clinical trials (360,365).
RECOMMENDATION 58
Radioiodine-avid macronodular metastases should be treated with RAI and treatment should be repeated when objective benefit is demonstrated (decrease in the size of the lesions, decreasing Tg), but complete remission is not common and survival remains poor. The selection of RAI activity to administer can be made empirically (100–200 mCi) or estimated by lesional dosimetry or dosimetry to limit whole-body retention to 80 mCi at 48 hours and 200 cGy to the red bone marrow. Recommendation rating: B
[C19] Non–RAI-avid pulmonary disease.   Radioiodine is of no benefit in patients with non–RAI-avid disease. In the setting of a negative diagnostic RAI scan, micronodular pulmonary metastases may demonstrate a positive posttreatment scan and measurable benefit to RAI therapy, whereas this is unlikely in the setting of macronodular metastases. In one study, administration of 200–300 mCi of RAI to 10 patients with pulmonary macrometastases who had negative 3 mCi diagnostic scans was associated with a fivefold increase in the median TSH-suppressed Tg, and death was reported in several patients within 4 years of treatment (374). Although not specifically limited to pulmonary lesions, patients with increasing volumes of 18FDG-avid disease seen on PET scans were less likely to respond to RAI and more likely to die during a 3-year follow-up compared with 18FDGnegative patients (375). Another study found that RAI therapy of metastatic lesions that were positive on 18FDG-PET scanning was of no benefit (376). In other studies of 18FDGPET imaging, however, insufficient details exist in patients known to have pulmonary metastases to assess the utility of this modality to predict treatment response or prognosis (377). A study (378) that retrospectively examined the clinical course of 400 thyroid cancer patients with distant metastases who had undergone 18FDG-PET scanning found that although age, initial tumor stage, histology, Tg level, RAI uptake, and PET outcomes all correlated with survival by univariate analysis, only age and PET results were strong predictors of survival. There were significant inverse relationships between survival and both the glycolytic rate of the most active lesion and the number of 18FDG-avid lesions. The study found tumors that did not concentrate 18FDG had a significantly better prognosis after a median follow-up of about 8 years than did tumors that avidly concentrated 18FDG.
Most studies evaluating systemic therapy for metastatic disease have focused on patients with pulmonary metastases. Traditional cytotoxic chemotherapeutic agents, such as doxorubicin and cisplatin, are generally associated with no more than 25% partial response rates, complete remission has been rare, and toxicities from these treatments are considerable (379). Doxorubicin monotherapy, which remains the only treatment for metastatic thyroid carcinoma approved by the U.S. Food and Drug Administration, is occasionally effective when dosed appropriately (60–75 mg/m2 every 3 weeks) (380–383), but durable responses are uncommon. Most studies of combination chemotherapy show no increased response over single agent doxorubicin and increased toxicity (384). Some specialists recommend consideration of single agent doxorubicin or paclitaxel, or a combination of these agents, based on limited data in anaplastic thyroid carcinoma (385). One recent study evaluated the effect of combination chemotherapy (carboplatinum and epirubicin) under TSH stimulation (endogenous or rhTSH) (386), demonstrating an overall rate of complete and partial response of 37%. These data need to be confirmed prior to consideration for general use. Recently published phase II trials suggest that anti-angiogenic therapies may produce partial response rates of up to 31% and stabilize another 40–50% of patients with progressive metastatic disease (387–391). Clinical benefit lasting at least 24 weeks was observed in about half of patients. The orally available anti-angiogenic tyrosine kinase inhibitors (axitinib, motesanib, and sorafenib) have numerous common side effects, including hypertension, diarrhea, fatigue, skin rashes and erythema, and weight loss, and various drug-specific toxicities have been reported as well. These side effects, although often mild and responsive to supportive care measures, justify suggesting that treatment with these agents should be limited to specialists experienced in their use. Similar results are also being reported with use of sunitinib, but phase II studies are still ongoing. Serum TSH levels may increase with the use of these agents. Serum TSH should be monitored, and the thyroxine dose increased as needed. Multiple other agents are in clinical trials, targeting pathways involved in angiogenesis, cell cycle regulation, and tumor differentiation.
If the patient qualifies for a clinical trial, they should consider bypassing traditional chemotherapy and moving directly to clinical trials. However, often patients cannot participate in clinical trials because of the time and expense required, or failure to meet strict eligibility criteria. Most available trials can be found listed at www.clinicaltrials.gov, www.nci.nih.gov, www.centerwatch.com, or www.thyroid.org.
RECOMMENDATION 59

Evidence of benefit of routine treatment of non–RAI-avid pulmonary metastases is insufficient to recommend any specific systemic therapy. For many patients, metastatic disease is slowly progressive and patients can often be followed conservatively on TSH-suppressive therapy with minimal evidence of radiographic or symptomatic progression. For selected patients, however, other treatment options need to be considered, such as metastasectomy, endobronchial laser ablation, or external beam radiation for palliation of symptomatic intrathoracic lesions (e.g., obstructing or bleeding endobronchial masses), and pleural or pericardial drainage for symptomatic effusions. Referral for participation in clinical trials should be considered. Recommendation rating: C
Referral for participation in clinical trials should be considered for patients with progressive or symptomatic metastatic disease. For those patients who do not participate in clinical trials, treatment with tyrosine kinase inhibitors should be considered. Recommendation rating: B
[C20] Treatment of bone metastases.   In the management of the patient with bone metastases, key criteria for therapeutic decisions include 1) the presence of or the risk for pathologic fracture, particularly in a weight-bearing structure; 2) risk for neurologic compromise from vertebral lesions; 3) presence of pain; 4) avidity of RAI uptake; and 5) potential significant marrow exposure from radiation arising from RAI-avid pelvic metastases.
RECOMMENDATION 60
Complete surgical resection of isolated symptomatic metastases has been associated with improved survival and should be considered, especially in patients 320,363). Recommendation rating: B 
RECOMMENDATION 62
When skeletal metastatic lesions arise in locations where acute swelling may produce severe pain, fracture, or neurologic complications, external radiation and the concomitant use of glucocorticoids to minimize potential TSH-induced and/or radiation-related tumor expansion should be strongly considered (392). Recommendation rating: C
RECOMMENDATION 63
Painful lesions that cannot be resected can also be treated by several options individually or in combination, including RAI, external beam radiotherapy, intra-arterial embolization (325,393), radiofrequency ablation (394), periodic pamidronate or zoledronate infusions (with monitoring for development of possible mandibular osteonecrosis) (369), or verteboplasty or kyphoplasty (395). While many of these modalities have been shown to relieve bone pain in cancer, they have not necessarily been reported to have been used in thyroid cancer patients. Recommendation rating: C
RECOMMENDATION 64 Evidence is insufficient to recommend treatment of asymptomatic, non–RAI-responsive, stable lesions that do not threaten nearby critical structures. Recommendation rating: I
[C21] Treatment of brain metastases.   Brain metastases typically occur in older patients with more advanced disease and are associated with a poor prognosis (351). Surgical resection and external beam radiotherapy traditionally have been the mainstays of therapy (351,396). There are few data showing efficacy of RAI.
RECOMMENDATION 65
Complete surgical resection of CNS metastases should be considered regardless of RAI avidity, because it is associated with significantly longer survival. Recommendation rating: B
RECOMMENDATION 66
CNS lesions that are not amenable to surgery should be considered for external beam irradiation. Optimally, very targeted approaches (such as radiosurgery) are employed to limit the radiation exposure of the surrounding brain tissue. Whole brain and spine irradiation could be considered if multiple metastases are present. Recommendation rating: C
RECOMMENDATION 67
If CNS metastases do concentrate RAI, then RAI could be considered. If RAI is being considered, prior external beam radiotherapy and concomitant glucocorticoid therapy are strongly recommended to minimize the effects of a potential TSH-induced increase in tumor size and the subsequent inflammatory effects of the RAI (392). Recommendation rating: C
[C22] What is the management of complications of RAI therapy?   While RAI appears to be a reasonably safe therapy, it is associated with a cumulative dose-related low risk of early-and late-onset complications such as salivary gland damage, dental caries (397), nasolacrimal duct obstruction (398), and secondary malignancies (157,281,399,400). Therefore, it is important to ensure that the benefits of RAI therapy, especially repeated courses, outweigh the potential risks. There is probably no dose of RAI that is completely safe nor is there any maximum cumulative dose that could not be used in selected situations. However, with higher individual and cumulative doses there are increased risks of side effects as discussed previously.
For acute transient loss of taste or change in taste and sialadentitis, recommended measures to prevent damage to the salivary glands have included amifostine, hydration, sour candies, and cholinergic agents (401), but evidence is insufficient to recommend for or against these modalities. One recent study suggested sour candy may actually increase salivary gland damage when given within 1 hour of RAI therapy, as compared to its use until 24 hours posttherapy (402). For chronic salivary gland complications, such as dry mouth and dental caries, cholinergic agents may increase salivary flow (401).
RECOMMENDATION 68
The evidence is insufficient to recommend for or against the routine use of preventive measures to prevent salivary gland damage after RAI therapy. Recommendation rating: I
RECOMMENDATION 69
Patients with xerostomia are at increased risk of dental caries and should discuss preventive strategies with their dentists. Recommendation rating: C
RECOMMENDATION 70
Surgical correction should be considered for nasolacrimal outflow obstruction, which often presents as excessive tearing (epiphora) but also predisposes to infection. Recommendation rating: B
[C23] What is the risk of second malignancies and leukemia from RAI therapy?   Most long-term follow-up studies variably report a very low risk of secondary malignancies (bone and soft tissue malignancies, including breast, colorectal, kidney, and salivary cancers, and myeloma and leukemia) in long-term survivors (157,281). A meta-analysis of two large multicenter studies showed that the risk of second malignancies was significantly increased at 1.19 (95% CI: 1.04–1.36; p < 0.010), relative to thyroid cancer survivors not treated with RAI (403). The risk of leukemia was also significantly increased in thyroid cancer survivors treated with RAI, with a relative risk of 2.5 (95% CI: 1.13–5.53; p < 0.024) (403). The risk of secondary malignancies is dose related (157), with an excess absolute risk of 14.4 solid cancers and of 0.8 leukemias per gigabecquerel of 131I at 10,000 person-years of follow-up. Cumulative 131I activities above 500–600 mCi are associated with a significant increase in risk. There appears to be an increased risk of breast cancer in women with thyroid cancer (281,399,404). It is unclear whether this is due to screening bias, RAI therapy, or other factors. An elevated risk of breast cancer with 131I was not observed in another study (282). The use of laxatives may decrease radiation exposure of the bowel, and vigorous oral hydration will reduce exposure of the bladder and gonads (15).
RECOMMENDATION 71
Because there is no evidence demonstrating a benefit of more intensive screening, all thyroid cancer patients should be encouraged to seek age-appropriate screenings for cancer according to routine health maintenance recommendations. Patients who receive a cumulative 131I activity in excess of 500–600 mCi should be advised that they may have a small excess risk of developing leukemia and solid tumors in the future. Recommendation rating: C
[C24] What are other risks to the bone marrow from RAI therapy?   Published data indicate that when administered activities are selected to remain below 200 cGy to the bone marrow, minimal transient effects are noted in white blood cell and platelet counts (371). However, persistent mild decrements in white blood cell count and/or platelets are not uncommon in patients who have received multiple RAI therapies. Further, radiation to the bone marrow is impacted by several factors, including renal function.
RECOMMENDATION 72
Patients receiving therapeutic doses of RAI should have baseline CBC and assessment of renal function. Recommendation rating: C
[C25] What are the effects of RAI on gonadal function and in nursing women? Women about to receive radioactive iodine therapy should first undergo pregnancy testing. Gonadal tissue is exposed to radiation from RAI in the blood, urine, and feces. Temporary amenorrhea/oligomenorrhea lasting 4–10 months occurs in 20–27% of menstruating women after 131I therapy for thyroid cancer. Although the numbers of patients studied are small, long-term rates of infertility, miscarriage, and fetal malformation do not appear to be elevated in women after RAI therapy (405–407). One large retrospective study suggested that pregnancy should be postponed for 1 year after therapy because of an increase in miscarriage rate (408), although this was not confirmed in another similarly designed study (409). Ovarian damage from RAI therapy may result in menopause occurring approximately 1 year earlier than the general population, but this result was not associated with cumulative dose administered or the age at which the therapy was given (410). In men, RAI therapy may be associated with a temporary reduction in sperm counts and elevated serum follicle-stimulating hormone (FSH) levels (411,412). Higher cumulative activities (500–800 mCi) in men are associated with an increased risk of persistent elevation of serum FSH levels, but fertility and risks of miscarriage or congenital abnormalities in subsequent pregnancies are not changed with moderate RAI activities (~ 200 mCi) (413,414). Permanent male infertility is unlikely with a single ablative activity of RAI, but theoretically there could be cumulative damage with multiple treatments. It has been suggested that sperm banking be considered in men who may receive cumulative RAI activities ≥400 mCi (412). Gonadal radiation exposure is reduced with good hydration, frequent micturition to empty the bladder, and avoidance of constipation (415).
RECOMMENDATION 73
Women receiving RAI therapy should avoid pregnancy for 6–12 months. Recommendation rating: C
RECOMMENDATION 74

Radioactive iodine should not be given to nursing women. Depending on the clinical situation, RAI therapy could be deferred until a time when lactating women have stopped breast-feeding for at least 6–8 weeks. Recommendation rating: B
Dopaminergic agents might be useful in decreasing breast exposure in recently lactating women, although caution should be exercised given the risk of serious side effects associated with their routine use to suppress postpartum lactation. Recommendation rating: C
[C26] What is the management of Tg-positive, RAI scan–negative patients?
If the unstimulated Tg is or becomes detectable, or increases over time, or if stimulated Tg levels rise to greater than 2 ng/mL, imaging of the neck and chest should be performed to search for metastatic disease, typically with neck US and with thin cut (5–7 mm) helical chest CT. Iodinated contrast should be avoided if RAI therapy is planned within the subsequent few months, although intravenous contrast may aid in identification of cervical and mediastinal disease. In addition, for patients with a prior history of metastatic cervical lymph nodes in the anterior compartments, cross-sectional imaging with either neck CT or MRI should be considered to evaluate the retropharyngeal lymph nodes that cannot be imaged by sonography. If imaging is negative for disease that is potentially curable by surgery, or the serum Tg appears out of proportion to the identified surgically resectable disease, then whole-body 18FDG-PET imaging may be obtained if the stimulated serum Tg is >10 ng/mL. If the 18FDG PET scan is negative, then empiric therapy with RAI (100–200 mCi) should be considered to aid localization or for therapy of surgically incurable disease (Fig. 5). This approach may identify the location of persistent disease in approximately 50% of patients (307,416) with a wide range of reported success. Some investigators have reported a fall in serum Tg after empiric RAI therapy in patients with negative DxWBS (417,418), but there is no evidence for improved survival with empiric therapy in this setting (374,418). On the other hand, Tg levels may decline without specific therapy during the first years of follow-up (418).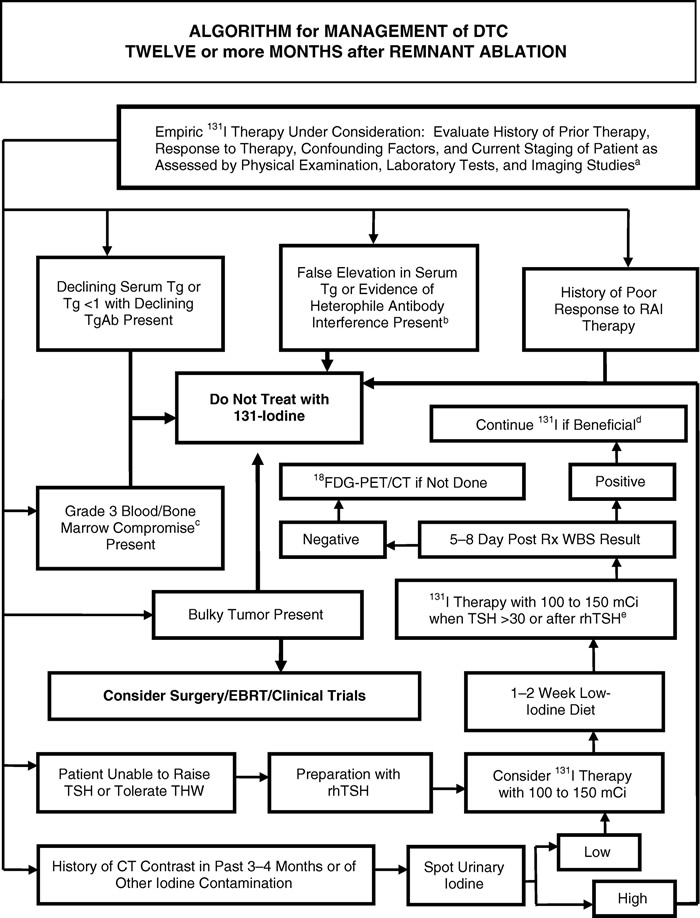 FIG. 5.
Considerations for empiric treatment with radioiodine.
aEmpiric 131I therapy should be done with meticulous patient preparation, including low-iodine diet and, if iodine contamination is a possibility, urinary iodine measurements. If the RxWBS is negative or subsequent follow-up studies show no therapeutic benefit, further empiric 131I should not be administered.
bTg that rises with TSH stimulation and falls with TSH suppression is unlikely to result from heterophile antibodies.
cNational Cancer Institute Common Terminology Criteria for Adverse Events, Version 3.0, (http://ctep.cancer.gov).
dDosimetry could be considered to allow administration of maximum radioiodine activity if the tumor is life-threatening.
eA dose of 200
mCi could exceed the maximum tolerable dose in older individuals (see Recommendation 52b).
When the RxWBS after empiric 131I therapy is negative, 18FDG-PET scanning is indicated if not already obtained. Integrated 18FDG-PET/CT is able to improve diagnostic accuracy of 18FDG-PET in patients with iodine-negative tumors. In a study of 40 such patients, in whom PET and CT images were scored blindly, the diagnostic accuracy was 93% for integrated 18FDG-PET/CT and 78% for PET alone (p < 0.5) (419). In 74% of the patients with suspicious 18FDG foci, integrated 18FDG-PET/CT added relevant information to the side-by-side interpretation of PET and CT images by precisely localizing the lesions. 18FDG-PET/CT fusion studies led to a change of therapy in 48% of the patients. In another study, 18FDG-PET/CT changed the clinical management of 44% of 61 patients, including surgery, radiation therapy, or chemotherapy (420). The rate of PET scan positivity is low (11–13%) in patients with stimulated Tg levels 421,422). Some have argued that 18FDG-PET scanning should be performed prior to empiric RAI therapy (423), since tumors that are 18FDG-PET positive do not generally concentrate RAI (376), and RAI therapy is unlikely to alter the poorer outcome in such patients (378).
A cutoff value of Tg above which a patient should be treated with an empiric dose of RAI is difficult to determine, due in part to the wide variation in available Tg assays (including those used in reports suggesting benefit of such therapy) and the differences in Tg levels based on method and degree of TSH stimulation or suppression. Recent studies have reported primarily on patients with Tg levels after T4 withdrawal of 10 ng/mL or higher, and it has been suggested that a corresponding level after rhTSH stimulation would be 5 ng/mL (308,374,416,418,424). A Tg level that is rising may warrant greater concern for the need for empiric therapy, although data regarding the appropriate rate of change are minimal (301). However a detectable but low Tg level at 9–12 months following remnant ablation may not warrant further therapy.
RECOMMENDATION 75
Empiric radioactive iodine therapy (100–200 mCi) might be considered in patients with elevated (Tg levels after T4 withdrawal of 10 ng/mL or higher, or a level of 5 ng/mL or higher after rhTSH stimulation) or rising serum Tg levels in whom imaging has failed to reveal a potential tumor source. If the posttherapy scan is negative, no further RAI therapy should be administered. Recommendation rating: C
RECOMMENDATION 76
If persistent nonresectable disease is localized after an empiric dose of RAI, and there is objective evidence of significant tumor reduction, then RAI therapy should be repeated until the tumor has been eradicated or the tumor no longer responds to treatment. The risk of repeated therapeutic doses of RAI must be balanced against uncertain long-term benefits. Recommendation rating: C
RECOMMENDATION 77
In the absence of structurally evident disease, stimulated serum Tg
[C27] What is the management of patients with a negative RxWBS?
RECOMMENDATION 78

If an empiric dose (100–200 mCi) of RAI fails to localize the persistent disease, 18FDG-PET/CT scanning should be considered, especially in patients with unstimulated serum Tg levels >10–20 ng/mL or in those with aggressive histologies, in order to localize metastatic lesions that may require treatment or continued close observation (425,426). Recommendation rating: B

Stimulation with endogenous TSH following thyroxine withdrawal or rhTSH (316) and CT fusion (427) may minimally enhance the sensitivity and specificity of 18FDG-PET scanning.

Tg-positive, RxWBS-negative patients with disease that is incurable with surgery and is structurally evident or visualized on 18FDG-PET/CT scan can be managed with thyroid hormone suppression therapy, external beam radiotherapy, chemotherapy, radio-frequency ablation, chemo-embolization, or monitoring without additional therapy if stable. Clinical trials should also be considered. Recommendation rating: C
 

RECOMMENDATION 79
Tg-positive, RxWBS-negative patients with no structural evidence of disease can be followed with serial structural imaging studies and serial Tg measurements, with both performed more frequently if the Tg level is rising. When and how often to repeat 18FDG-PET/CT imaging in this setting is less certain. Recommendation rating: C
[C28] What is the role of external beam radiotherapy in treatment of metastatic disease?
RECOMMENDATION 80
External beam radiation should be used in the management of unresectable gross residual or recurrent cervical disease, painful bone metastases, or metastatic lesions in critical locations likely to result in fracture, neurological, or compressive symptoms that are not amenable to surgery (e.g., vertebral metastases, CNS metastases, selected mediastinal or subcarinal lymph nodes, pelvic metastases) (277). Recommendation rating: B