A thyroid nodule is a discrete lesion within the thyroid gland that is radiologically distinct from the surrounding thyroid parenchyma. Some palpable lesions may not correspond to distinct radiologic abnormalities (18). Such abnormalities do not meet the strict definition for thyroid nodules. Nonpalpable nodules detected on US or other anatomic imaging studies are termed incidentally discovered nodules or "incidentalomas." Nonpalpable nodules have the same risk of malignancy as palpable nodules with the same size (19). Generally, only nodules >1 cm should be evaluated, since they have a greater potential to be clinically significant cancers. Occasionally, there may be nodules 18F]fluoro-D-glucose positron emission tomography (18FDG-PET) imaging for other reasons have thyroid nodules discovered incidentally. Since the risk of malignancy in these 18FDG-positive nodules is about 33% and the cancers may be more aggressive (20), such lesions require prompt evaluation (21–23). When seen, diffuse 18FDG uptake is likely related to underlying autoimmune thyroiditis.
[A2] What is the appropriate evaluation of clinically or incidentally discovered thyroid nodule(s)? (See Fig. 1 for algorithm)
With the discovery of a thyroid nodule, a complete history and physical examination focusing on the thyroid gland and adjacent cervical lymph nodes should be performed. Pertinent historical factors predicting malignancy include a history of childhood head and neck irradiation, total body irradiation for bone marrow transplantation (24), family history of thyroid carcinoma, or thyroid cancer syndrome (e.g., Cowden's syndrome, familial polyposis, Carney complex, multiple endocrine neoplasia [MEN] 2, Werner syndrome) in a first-degree relative, exposure to ionizing radiation from fallout in childhood or adolescence (25), and rapid growth and hoarseness. Pertinent physical findings suggesting possible malignancy include vocal cord paralysis, lateral cervical lymphadenopathy, and fixation of the nodule to surrounding tissues.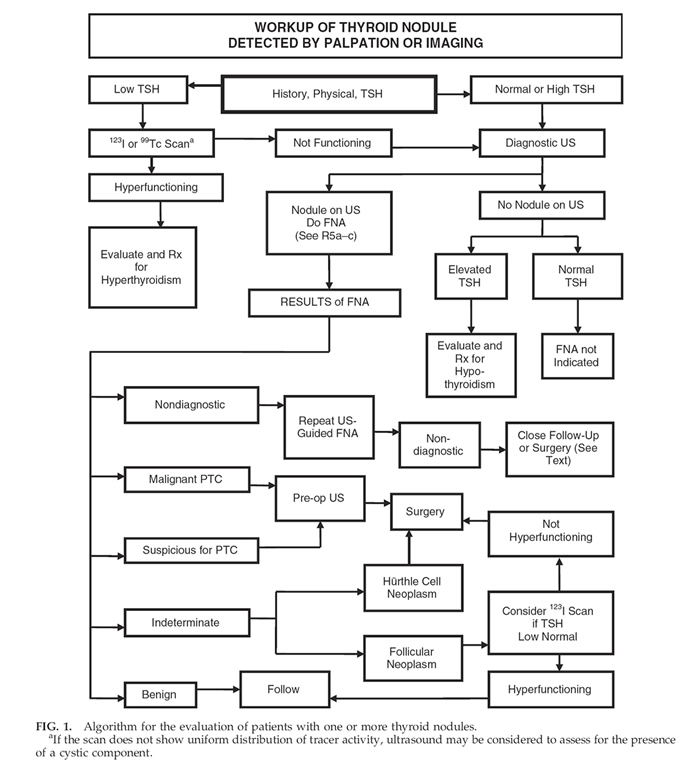 [A3] What laboratory tests and imaging modalities are indicated?
[A4] Serum TSH with US and with or without scan.
With the discovery of a thyroid nodule >1 cm in any diameter or diffuse or focal thyroidal uptake on 18FDG-PET scan, a serum TSH level should be obtained. If the serum TSH is subnormal, a radionuclide thyroid scan should be obtained to document whether the nodule is hyperfunctioning (i.e., tracer uptake is greater than the surrounding normal thyroid), isofunctioning or "warm" (i.e., tracer uptake is equal to the surrounding thyroid), or nonfunctioning (i.e., has uptake less than the surrounding thyroid tissue). Since hyperfunctioning nodules rarely harbor malignancy, if one is found that corresponds to the nodule in question, no cytologic evaluation is necessary. If overt or subclinical hyperthyroidism is present, additional evaluation is required. Higher serum TSH, even within the upper part of the reference range, is associated with increased risk of malignancy in a thyroid nodule (26).
RECOMMENDATION 1

Measure serum TSH in the initial evaluation of a patient with a thyroid nodule. If the serum TSH is subnormal, a radionuclide thyroid scan should be performed using either technetium 99 mTc pertechnetate or 123I. Recommendation rating: A
Diagnostic thyroid US should be performed in all patients with a suspected thyroid nodule, nodular goiter, or radiographic abnormality; e.g., a nodule found incidentally on computed tomography (CT) or magnetic resonance imaging (MRI) or thyroidal uptake on 18FDG-PET scan. Thyroid US can answer the following questions: Is there truly a nodule that corresponds to the palpable abnormality? How large is the nodule? Does the nodule have benign or suspicious features? Is suspicious cervical lymphadenopathy present? Is the nodule greater than 50% cystic? Is the nodule located posteriorly in the thyroid gland? These last two features might decrease the accuracy of FNA biopsy performed with palpation (27,28). Also, there may be other thyroid nodules present that require biopsy based on their size and appearance (18,29,30). As already noted, FNA is recommended especially when the serum TSH is elevated because, compared with normal thyroid glands, the rate of malignancy in nodules in thyroid glands involved with Hashimoto's thyroiditis is as least as high or possibly higher (31,32).

RECOMMENDATION 2
Thyroid sonography should be performed in all patients with known or suspected thyroid nodules. Recommendation rating: A
Serum Tg levels can be elevated in most thyroid diseases and are an insensitive and nonspecific test for thyroid cancer (33).
Routine measurement of serum Tg for initial evaluation of thyroid nodules is not recommended. Recommendation rating: F
[A6] Serum calcitonin measurement.
The utility of serum calcitonin has been evaluated in a series of prospective, non-randomized studies (34–37). The data suggest that the use of routine serum calcitonin for screening may detect C-cell hyperplasia and medullary thyroid cancer at an earlier stage and overall survival may be improved. However, most studies rely on pentagastrin stimulation testing to increase specificity. This drug is no longer available in the United States, and there remain unresolved issues of sensitivity, specificity, assay performance and cost-effectiveness. A recent cost-effectiveness analysis suggested that calcitonin screening would be cost effective in the United States (38). However, the prevalence estimates of medullary thyroid cancer in this analysis included patients with C-cell hyperplasia and micromedullary carcinoma, which have an uncertain clinical significance. If the unstimulated serum calcitonin determination has been obtained and the level is greater than 100 pg/mL, medullary cancer is likely present (39).
RECOMMENDATION 4
The panel cannot recommend either for or against the routine measurement of serum calcitonin. Recommendation rating: I
[A7] What is the role of FNA biopsy?
FNA is the most accurate and cost-effective method for evaluating thyroid nodules. Retrospective studies have reported lower rates of both nondiagnostic and false-negative cytology specimens from FNA procedures performed via US guidance compared to palpation (40,41). Therefore, for nodules with a higher likelihood of either a nondiagnostic cytology (>25–50% cystic component) (28) or sampling error (difficult to palpate or posteriorly located nodules), US-guided FNA is preferred (see Table 3). If the diagnostic US confirms the presence of a predominantly solid nodule corresponding to what is palpated, the FNA may be performed via palpation or US guidance. Traditionally FNA biopsy results are divided into four categories: nondiagnostic, malignant (risk of malignancy at surgery >95%), indeterminate or suspicious for neoplasm, and benign. The recent National Cancer Institute Thyroid Fine-Needle Aspiration State of the Science Conference proposed a more expanded classification for FNA cytology that adds two additional categories: suspicious for malignancy (risk of malignancy 50–75%) and follicular lesion of undetermined significance (risk of malignancy 5–10%). The conference further recommended that "neoplasm, either follicular or Hu¨ rthle cell neoplasm" be substituted for "indeterminate" (risk of malignancy 15–25%) (42).
Table 3. Sonographic and Clinical Features of Thyroid Nodules and Recommendations for FNA

Nodule sonographic or clinical features

Recommended nodule threshold size for FNA

High-risk historya

 

 

 Nodule WITH suspicious sonographic featuresb

>5 mm

Recommendation A

 Nodule WITHOUT suspicious sonographic featuresb

>5 mm

Recommendation I

Abnormal cervical lymph nodes

Allc

Recommendation A

Microcalcifications present in nodule

≥1 cm

Recommendation B

Solid nodule

 

 

 AND hypoechoic

>1 cm

Recommendation B

 AND iso- or hyperechoic

≥1–1.5 cm

Recommendation C

Mixed cystic–solid nodule

 

 

 WITH any suspicious ultrasound featuresb

≥1.5–2.0 cm

Recommendation B

 WITHOUT suspicious ultrasound features

≥2.0 cm

Recommendation C

Spongiform nodule

≥2.0 cmd

Recommendation C

Purely cystic nodule

FNA not indicatede

Recommendation E
aHigh-risk history: History of thyroid cancer in one or more first degree relatives; history of external beam radiation as a child; exposure to ionizing radiation in childhood or adolescence; prior hemithyroidectomy with discovery of thyroid cancer, 18FDG avidity on PET scanning; MEN2/FMTC-associated RET protooncogene mutation, calcitonin >100 pg/mL. MEN, multiple endocrine neoplasia; FMTC, familial medullary thyroid cancer.
bSuspicious features: microcalcifications; hypoechoic; increased nodular vascularity; infiltrative margins; taller than wide on transverse view.
cFNA cytology may be obtained from the abnormal lymph node in lieu of the thyroid nodule.
dSonographic monitoring without biopsy may be an acceptable alternative (see text) (48).
eUnless indicated as therapeutic modality (see text).
[A8] US for FNA decision making (see Table 3).
Various sonographic characteristics of a thyroid nodule have been associated with a higher likelihood of malignancy (43–48). These include nodule hypoechogenicity compared to the normal thyroid parenchyma, increased intranodular vascularity, irregular infiltrative margins, the presence of microcalcifications, an absent halo, and a shape taller than the width measured in the transverse dimension. With the exception of suspicious cervical lymphadenopathy, which is a specific but insensitive finding, no single sonographic feature or combinations of features is adequately sensitive or specific to identify all malignant nodules. However, certain features and combination of features have high predictive value for malignancy. Furthermore, the most common sonographic appearances of papillary and follicular thyroid cancer differ. A PTC is generally solid or predominantly solid and hypoechoic, often with infiltrative irregular margins and increased nodular vascularity. Micro-calcifications, if present, are highly specific for PTC, but may be difficult to distinguish from colloid. Conversely, follicular cancer is more often iso- to hyperechoic and has a thick and irregular halo, but does not have microcalcifications (49). Follicular cancers that are50).
Certain sonographic appearances may also be highly predictive of a benign nodule. A pure cystic nodule, although rare (47). In addition, a spongiform appearance, defined as an aggregation of multiple microcystic components in more than 50% of the nodule volume, is 99.7% specific for identification of a benign thyroid nodule (48,51,52). In a recent study, only 1 of 360 malignant nodules demonstrated this appearance (48) and in another report, a spongiform appearance had a negative predictive value for malignancy of 98.5% (52). Elastography is an emerging and promising sonographic technique that requires additional validation with prospective studies (53).
Routine FNA is not recommended for subcentimeter nodules. However, the presence of a solid hypoechoic nodule with microcalcifications is highly suggestive of PTC. Although most micropapillary carcinomas may be incidental findings, a subset may be more clinically relevant, especially those >5mm in diameter (54). These include nodules that have abnormal lymph nodes detected clinically or with imaging at presentation (55,56). Therefore, after imaging a subcentimeter nodule with a suspicious appearance, sonographic assessment of lateral neck and central neck lymph nodes (more limited due to the presence of the thyroid) must be performed. Detection of abnormal lymph nodes should lead to FNA of the lymph node. Other groups of patients for whom consideration of FNA of a subcentimeter nodule may be warranted include those with a higher likelihood of malignancy (high risk history): 1) family history of PTC (57); 2) history of external beam radiation exposure as a child (58); 3) exposure to ionizing radiation in childhood or adolescence (59); 4) history of prior hemithyroidectomy with discovery of thyroid cancer; and 5) 18FDG-PET–positive thyroid nodules.
Mixed cystic–solid nodules and predominantly cystic with >50% cystic component are generally evaluated by FNA with directed biopsy of the solid component (especially the vascular component.) Cyst drainage may also be performed, especially in symptomatic patients.
RECOMMENDATION 5 (see Table 3)

(a) FNA is the procedure of choice in the evaluation of thyroid nodules. Recommendation rating: A

(b) US guidance for FNA is recommended for those nodules that are nonpalpable, predominantly cystic, or located posteriorly in the thyroid lobe. Recommendation rating: B
[A9] What are the principles of the cytopathological interpretation of FNA samples?
Nondiagnostic biopsies are those that fail to meet specified criteria for cytologic adequacy that have been previously established (the presence of at least six follicular cell groups, each containing 10–15 cells derived from at least two aspirates of a nodule) (5). After an initial nondiagnostic cytology result, repeat FNA with US guidance will yield a diagnostic cytology specimen in 75% of solid nodules and 50% of cystic nodules (28). Therefore, such biopsies need to be repeated using US guidance (60) and, if available, on-site cytologic evaluation, which may substantially increase cytology specimen adequacy (61,62). However, up to 7% of nodules continue to yield nondiagnostic cytology results despite repeated biopsies and may be malignant at the time of surgery (63,64).
RECOMMENDATION 6

(a) US guidance should be used when repeating the FNA procedure for a nodule with an initial nondiagnostic cytology result. Recommendation rating: A

(b) Partially cystic nodules that repeatedly yield nondiagnostic aspirates need close observation or surgical excision. Surgery should be more strongly considered if the cytologically nondiagnostic nodule is solid. Recommendation rating: B
[A11] Cytology suggesting PTC.
RECOMMENDATION 7

If a cytology result is diagnostic of or suspicious for PTC, surgery is recommended (65). Recommendation rating: A
[A12] Indeterminate cytology (follicular or Hürthle cell neoplasm follicular lesion of undetermined significance, atypia).
Indeterminate cytology, reported as "follicular neoplasm" or "Hürthle cell neoplasm" can be found in 15–30% of FNA specimens (4) and carries a 20–30% risk of malignancy (42), while lesions reported as atypia or follicular lesion of undetermined significance are variably reported and have 5–10% risk of malignancy (42). While certain clinical features such as male sex and nodule size (>4 cm) (66), older patient age (67), or cytologic features such as presence of atypia (68) can improve the diagnostic accuracy for malignancy in patients with indeterminate cytology, overall predictive values are still low. Many molecular markers (e.g., galectin-3 (69), cytokeratin, BRAF) have been evaluated to improve diagnostic accuracy for indeterminate nodules (70–72). Recent large prospective studies have confirmed the ability of genetic markers (BRAF, Ras, RET/PTC) and protein markers (galectin-3) to improve preoperative diagnostic accuary for patients with indeterminate thyroid nodules (69,73,74). Many of these markers are available for commercial use in reference laboratories but have not yet been widely applied in clinical practice. It is likely that some combination of molecular markers will be used in the future to optimize management of patients with indeterminate cytology on FNA specimens.
Recently, 18FDG-PET scanning has been utilized in an effort to distinguish those indeterminate nodules that are benign from those that are malignant (75–78). 18FDG-PET scans appear to have relatively high sensitivity for malignancy but low specificity, but results vary among studies (79).
RECOMMENDATION 8

(a) The use of molecular markers (e.g., BRAF, RAS, RET/PTC, Pax8-PPARγ, or galectin-3) may be considered for patients with indeterminate cytology on FNA to help guide management. Recommendation rating: C

(b) The panel cannot recommend for or against routine clinical use of 18FDG-PET scan to improve diagnostic accuracy of indeterminate thyroid nodules. Recommendation rating: I

RECOMMENDATION 9

If the cytology reading reports a follicular neoplasm, a 123I thyroid scan may be considered, if not already done, especially if the serum TSH is in the low-normal range. If a concordant autonomously functioning nodule is not seen, lobectomy or total thyroidectomy should be considered. Recommendation rating: C

RECOMMENDATION 10

If the reading is "suspicious for papillary carcinoma" or "Hürthle cell neoplasm," a radionuclide scan is not needed, and either lobectomy or total thyroidectomy is recommended, depending on the lesion's size and other risk factors. Recommendation rating: A
RECOMMENDATION 11

If the nodule is benign on cytology, further immediate diagnostic studies or treatment are not routinely required. Recommendation rating: A
[A14] How should multinodular thyroid glands or multinodular goiters be evaluated for malignancy?
Patients with multiple thyroid nodules have the same risk of malignancy as those with solitary nodules (18,44). However, one large study found that a solitary nodule had a higher likelihood of malignancy than did a nonsolitary nodule (p < 0.01), although the risk of malignancy per patient was the same and independent of the number of nodules (47). A diagnostic US should be performed to delineate the nodules, but if only the "dominant" or largest nodule is aspirated, the thyroid cancer may be missed (44). Radionuclide scanning should also be considered in patients with multiple thyroid nodules, if the serum TSH is in the low or low-normal range, with FNA being reserved for those nodules that are shown to be hypofunctioning.
RECOMMENDATION 12

(a) In the presence of two or more thyroid nodules >1 cm, those with a suspicious sonographic appearance (see text and Table 3) should be aspirated preferentially. Recommendation rating: B

(b) If none of the nodules has a suspicious sonographic appearance and multiple sonographically similar coalescent nodules with no intervening normal parenchyma are present, the likelihood of malignancy is low and it is reasonable to aspirate the largest nodules only and observe the others with serial US examinations. Recommendation rating: C

RECOMMENDATION 13

A low or low-normal serum TSH concentration may suggest the presence of autonomous nodule(s). A technetium 99 mTc pertechnetate or 123I scan should be performed and directly compared to the US images to determine functionality of each nodule >1–1.5 cm. FNA should then be considered only for those isofunctioning or nonfunctioning nodules, among which those with suspicious sonographic features should be aspirated preferentially. Recommendation rating: B
[A15] What are the best methods for long-term follow-up of patients with thyroid nodules?
Thyroid nodules diagnosed as benign require follow-up because of a low, but not negligible, false-negative rate of up to 5% with FNA (41,80), which may be even higher with nodules >4 cm (81). While benign nodules may decrease in size, they often increase in size, albeit slowly (82). One study of cytologically benign thyroid nodules83).
Nodule growth is not in and of itself pathognomonic of malignancy, but growth is an indication for repeat biopsy. For mixed cystic–solid nodules, the indication for repeat biopsy should be based upon growth of the solid component. For nodules with benign cytologic results, recent series report a higher false-negative rate with palpation FNA (1–3%) (40,84,85) than with US FNA (0.6%) (40). Since the accuracy of physical examination for nodule size is likely inferior to that of US (30), it is recommended that serial US be used in follow-up of thyroid nodules to detect clinically significant changes in size. There is no consensus on the definition of nodule growth, however, or the threshold that would require rebiopsy. Some groups suggest a 15% increase in nodule volume, while others recommend measuring a change in the mean nodule diameter (82,86). One reasonable definition of growth is a 20% increase in nodule diameter with a minimum increase in two or more dimensions of at least 2 mm. This approximates the 50% increase in nodule volume that was found by Brauer et al. (87) to be the minimally significant reproducibly recorded change in nodule size. These authors suggested that only volume changes of at least 49% or more can be interpreted as nodule shrinkage or growth and consequently suggest that future investigations should not describe changes in nodule volume88,89).
RECOMMENDATION 14

(a) It is recommended that all benign thyroid nodules be followed with serial US examinations 6–18 months after the initial FNA. If nodule size is stable (i.e., no more than a 50% change in volume or
(b) If there is evidence for nodule growth either by palpation or sonographically (more than a 50% change in volume or a 20% increase in at least two nodule dimensions with a minimal increase of 2 mm in solid nodules or in the solid portion of mixed cystic–solid nodules), the FNA should be repeated, preferably with US guidance. Recommendation rating: B
Cystic nodules that are cytologically benign can be monitored for recurrence (fluid reaccumulation) which can be seen in 60–90% of patients (90,91). For those patients with subsequent recurrent symptomatic cystic fluid accumulation, surgical removal, generally by hemithyroidectomy, or percutaneous ethanol injection (PEI) are both reasonable strategies. Four controlled studies demonstrated a 75–85% success rate after PEI compared with a 7–38% success rate in controls treated by simple cyst evacuation or saline injection. Success was achieved after an average of two PEI treatments. Complications included mild to moderate local pain, flushing, dizziness, and dysphonia (90–93).
RECOMMENDATION 15

Recurrent cystic thyroid nodules with benign cytology should be considered for surgical removal or PEI based on compressive symptoms and cosmetic concerns. Recommendation rating: B
[A16] What is the role of medical therapy for benign thyroid nodules?
Evidence from multiple randomized control trials and three meta-analyses suggest that thyroid hormone in doses that suppress the serum TSH to subnormal levels may result in a decrease in nodule size and may prevent the appearance of new nodules in regions of the world with borderline low iodine intake. Data in iodine-sufficient populations are less compelling (94–96), with large studies suggesting that only about 17–25% of thyroid nodules shrink more than 50% with levothyroxine (LT4) suppression of serum TSH (94–96).
RECOMMENDATION 16

Routine suppression therapy of benign thyroid nodules in iodine sufficient populations is not recommended. Recommendation rating: F

RECOMMENDATION 17 Patients with growing nodules that are benign after repeat biopsy should be considered for continued monitoring or intervention with surgery based on symptoms and clinical concern. There are no data on the use of LT4 in this subpopulation of patients. Recommendation rating: I
[A17] How should thyroid nodules in children be managed?
Thyroid nodules occur less frequently in children than in adults. In one study in which approximately 5000 children aged 11–18 years were assessed annually in the southwestern United States, palpable thyroid nodules occurred in approximately 20 per 1000 children, with an annual incidence of 7 new cases per 1000 children (97). Some studies have shown the frequency of malignancy to be higher in children than adults, in the range of 15–20% (98–100), whereas other data have suggested that the frequency of thyroid cancer in childhood thyroid nodules is similar to that of adults (101,102). FNA biopsy is sensitive and specific in the diagnosis of childhood thyroid nodules (99–101).
RECOMMENDATION 18

The diagnostic and therapeutic approach to one or more thyroid nodules in a child should be the same as it would be in an adult (clinical evaluation, serum TSH, US, FNA). Recommendation rating: A
[A18] How should thyroid nodules in pregnant women be managed?
It is uncertain if thyroid nodules discovered in pregnant women are more likely to be malignant than those found in nonpregnant women (103), since there are no population-based studies on this question. The evaluation is the same as for a nonpregnant patient, with the exception that a radionuclide scan is contraindicated. In addition, for patients with nodules diagnosed as DTC by FNA during pregnancy, delaying surgery until after delivery does not affect outcome (104).
RECOMMENDATION 19

For euthyroid and hypothyroid pregnant women with thyroid nodules, FNA should be performed. For women with suppressed serum TSH levels that persist after the first trimester, FNA may be deferred until after pregnancy and cessation of lactation, when a radionuclide scan can be performed to evaluate nodule function. Recommendation rating: A
If the FNA cytology is consistent with PTC, surgery is recommended. However, there is no consensus about whether surgery should be performed during pregnancy or after delivery. To minimize the risk of miscarriage, surgery during pregnancy should be done in the second trimester before 24 weeks gestation (105). However, PTC discovered during pregnancy does not behave more aggressively than that diagnosed in a similar-aged group of nonpregnant women (104,106). A retrospective study of pregnant women with DTC found there to be no difference in either recurrence, or survival rates, between women operated on during or after their pregnancy (104). Further, retrospective data suggest that treatment delays of less than 1 year from the time of thyroid cancer discovery do not adversely affect patient outcome (107). Finally, a recent study reported a higher rate of complications in pregnant women undergoing thyroid surgery compared with nonpregnant women (108). Some experts recommend thyroid hormone suppression therapy for pregnant women with FNA suspicious for or diagnostic of PTC, if surgery is deferred until the postpartum period (109).
RECOMMENDATION 20

(a) A nodule with cytology indicating PTC discovered early in pregnancy should be monitored sonographically and if it grows substantially (as defined above) by 24 weeks gestation, surgery should be performed at that point. However, if it remains stable by midgestation or if it is diagnosed in the second half of pregnancy, surgery may be performed after delivery. In patients with more advanced disease, surgery in the second trimester is reasonable. Recommendation rating: C

(b) In pregnant women with FNA that is suspicious for or diagnostic of PTC, consideration could be given to administration of LT4therapy to keep the TSH in the range of 0.1–1 mU/L. Recommendation rating: C