PROFESSIONAL GUIDELINES
The Guidelines were compiled by the either the American Thyroid Association Standards of Care Committee or Guidelines Taskforce. The various Guidelines have been published in distinguished medical journals such as Thyroid, Archives of Internal Medicine and the Journal of the American Medical Association. American Thyroid Association Professional Guidelines
GUIDELINES Pocketcards
Official American Thyroid Association Practice GUIDELINES Pocketcards quick reference-tools provide your physicians, fellows, nurses, and students with instant access to current ATA guidelines information in a clear concise format.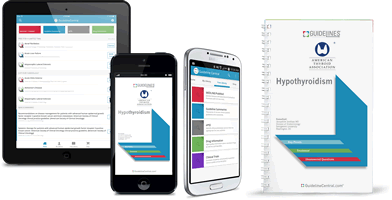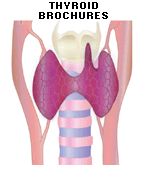 FOR PATIENTS
THYROID BROCHURES & FAQS The ATA has designed this information to aid in better understanding about thyroid disease. Each topic has FAQs, or frequently asked questions, and a Patient Education Web Brochure.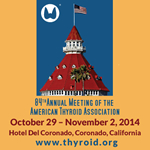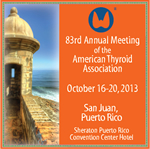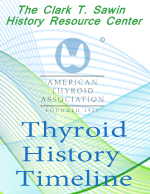 ATA THYROID TIMELINE
Submit your historical articles, images and archival materials: Please send the ATA your pictures, papers, artifacts, and other materials relevant to the history of the thyroid for linking to the thyroid timeline. Timeline links to items which illustrate an event in thyroid history will also be implemented. You supply the item, and we'll take care of the rest. Please e-mail items to thyroid@thyroid.org

ATA CALCULATORS
Calcitonin and Carcinoembryonic Antigen (CEA) Doubling Time Calculator
Change in Thyroid Nodule Volume Calculator
Thyroid Cancer Staging Calculator
Thyroid Mobile

Mobile App for ATA Calculator
The American Thyroid Association (ATA) has launched its Thyroid Calculator mobile app currently available from the Apple iTunes App store for use on the iPhone and iPad. The thyroid calculator combines three key thyroid assessment tools that medical, endocrinology, and thyroid professionals can use for rapid calculation of: Calcitonin and Carcinoembryonic Antigen (CEA) Doubling Time; Change in Thyroid Nodule Volume; and Thyroid Cancer Staging.