Editor: Editor: Peter Kopp, MD
THYROID, the Association's official monthly journal, is a peer-reviewed forum for topics ranging from the molecular biology of the thyroid gland to clinical management of thyroid disorders. All Association members receive a subscription to THYROID. Read Thyroid Online.
Members –Login for Member Access to Thyroid.
Please send editorial questions to Dr. Kopp at editorthyroid@thyroid.org

SIGNAL ENEWS – Requires Member Access
SIGNAL eNews, sent monthly by email to American Thyroid Association members, is a newsletter covering Association news, meetings, policies, leaders, and important thyroid-related issues. ATA members can read back issues of SIGNAL eNews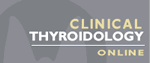 Editor: Jerome M. Hershman, MD
CLINICAL THYROIDOLOGY®, this highly valued abstract and commentary publication provides a broad-ranging look at the clinical thyroid literature. Experts in the field summarize the most cutting-edge, relevant articles that clinicians should know about and provide insight into the relevance and impact of each article on patient care.
Members will receive email notification when a new issue has been posted online. Read recent issues of CLINICAL THYROIDOLOGY®
Please send editorial questions to Jerome M. Hershman, MD at clinicalthyroidology@thyroid.org


PROFESSIONAL GUIDELINES
The Guidelines were compiled by the either the American Thyroid Association Standards of Care Committee or Guidelines Taskforce. The various Guidelines have been published in distinguished medical journals such as Thyroid, Archives of Internal Medicine and the Journal of the American Medical Association. American Thyroid Association Professional Guidelines
Editor-in-chief, Alan Farwell, MD
CLINICAL THYROIDOLOGY FOR THE PUBLIC
Clinical Thyroidology for the Public summarizes selected research studies discussed in the previous month's issue of Clinical Thyroidology, an official publication of the American Thyroid Association. Read recent issues of Clincal Thyroidology for the Public
83rd ANNUAL MEETING
Abstracts – 83rd Annual Meeting — Published in Thyroid
83rd Annual Meeting Educational Sessions
ATA THYROID TIMELINE
ATA CALCULATORS
Calcitonin and Carcinoembryonic Antigen (CEA) Doubling Time Calculator
Change in Thyroid Nodule Volume Calculator
Thyroid Cancer Staging Calculator
VIDEOS
Recordings of Past ATA Symposia