Search Clinical Thyroidology
CLINICAL THYROIDOLOGY
February 2013
VOLUME 25 ISSUE 2
Editor: Jerome M. Hershman, MD
TABLE OF CONTENTS
Clinical Thyroidology February 2013 Entire Issue (PDF File, 3.3 MB, 22 pages)
(Note: the links below open the individual articles in this issue for saving and printing)
– You are invited to attend the 2013 Spring & Annual Meetings of the ATA!


– Call for Nominations for 2013 American Thyroid Association Board of Directors
– Call for Nominations for the 2013 Awards American Thyroid Association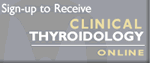 CLINICAL THYROIDOLOGY, published online monthly, is a broad-ranging look at the clinical and preclinical thyroid literature. The Editor searches the world literature for excellent thyroid studies and then summarizes them and provides expert commentary. Please send editorial questions to Dr. Hershman at clinicalthyroidology@thyroid.org.
For a free subscription to the online version of CLINICAL THYROIDOLOGY, sign up here.

To view and print downloaded PDF files while online, you need the Adobe Acrobat Reader installed and configured as a "helper" application or "add-on" within your web browser. You can then view and/or print the documents directly from within your browser.