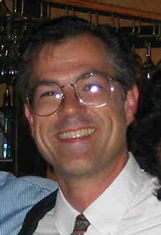 Presented by Richard Kloos, MD
American Thyroid Association
Annual Business Meeting
Renaissance Esmeralda Resort & Spa
Indian Wells, California
Thursday, October 27, 2011
This is my final report as the ATA Secretary and Chief Operating Officer. It has been a tremendous honor to serve our Society, its membership, and the public in this capacity over the past 4 years. I thank you for this opportunity.
I would also like to thank a few of those people who inspired and nurtured my early interest in endocrinology and thyroidology: Thomas Murphy, Brahm Shapiro, and Ron Koenig. I also thank my friend and colleague, Matt Ringel, for his valued humor, advice, and enduring support. It is impossible for me to recount all that has happened in the past 4 years, but it is equally clear that none of it would have been possible without the enormous efforts of the current full and part-time ATA Staff (Bobbi Smith, Adonia Coates, Shirlyn Barger, Kelly Hoff, Sharleene Cano, Jane Arrington) and recent past ATA Staff (Jared Hoke, Theresa Ronk), and the past and present ATA membership, including the Board of Directors . I want to humbly thank those that came before me in the leadership of the ATA, and those who have served with me. Being unable to name them all in this report, I refer the reader to the ATA website where we list all of the past ATA Presidents and Secretaries, and Distinguished Service Award winners. I want to specifically acknowledge the ATA Executive Committee members who tirelessly served with me. The extent of their efforts only begins by mentioning our 3 times per month conference calls that each lasted an hour or more, after which we set out to do our agreed upon tasks. These colleagues include Treasurer David Sarne, Secretary-Elect John Morris, and the ATA Presidents Past, Current, and Elect (David Cooper, Rebecca Bahn, Ken Burman, Terry Davies, Greg Brent, and Jim Fagin).
Over the past 4 years the ATA activities have included the work of approximately 28 voluntary committees and task forces. Their hard work, dedication, and ability to finish tasks is both recognized and highly valued. Their projects have included many visible efforts such as Clinical Thyroidology, Clinical Thyroidology for Patients , Patient Brochures, and Public Health statements . Equally important have been the less visible yet critical efforts that allow our Society to function, including our website, membership directory, bylaws committee, development of contracts, and nominating committee, just to mention a few.
The economic crisis of 2008 changed the course of the ATA. In October 2007, Rebecca Bahn, David Sarne, and I inherited the leadership of the ATA in what we now consider a relative time of prosperity. The question at hand seemed to be where to expand our efforts, and much less if they should be expanded. By the fall of 2008 this outlook had changed, and the economic crisis forced upon us the opportunity to consider what the core activities of the ATA were, and more importantly, what they should be and what we could afford. The vision that emerged was a focus on 4 key areas: our Annual Meeting, ATA Guidelines, our journal THYROID, and Research, with a clear recognition of the importance of education and membership growth via a commitment to young trainees.
The ATA Annual Meeting remains a premier event for education, professional networking, socializing, and serves as the hub for many other activities, typically in a high quality unique and memorable setting under one roof that maximizes personal interaction and limits time spent commuting between lodging and meeting spaces. At a time when we are increasing busy and webinars have taken the place of live meetings for some, the ATA Annual Meeting attendance has prospered. Comments from past attendees capture our Annual Meeting experience, including: "Great combination of clinical and basic research", "Presentations and posters are excellent", "Well organized and top notch", and "The science improves every year".
In 2004 it was decided to update our 1996 thyroid nodule and cancer guideline with an evidence-based document. The enormous impact of this 2006 document [Cooper et al. Thyroid 2006;16(2):109-41] was not fully anticipated. Why Guidelines are so important now, as opposed to a decade or two ago, is a topic for another discussion, but the name recognition, stature, influence on patient care, and research activity that this ATA Guideline generated was enormous. The presence of our Guidelines (and patient brochures) for free on our website attracts many readers to our website and our mission. In the subsequent years the ATA expanded its efforts with Guidelines on medullary thyroid cancer, hyperthyroidism, thyroid disease in pregnancy, and practice recommendations for radiation safety . Additional Guidelines are underway regarding anaplastic thyroid cancer, basic research, and pediatric thyroid cancer, and revised guidelines for thyroid nodules and differentiated thyroid cancer, hypothyroidism, and medullary thyroid cancer being initiated.
For more than 20 years, THYROID has been the flagship journal of the ATA. THYROID smoothly transitioned editorial leadership from Terry Davies to Charles Emerson in 2008. The journal has been the home of scholarly original research, timely review articles, and the ATA Guidelines, all while the editor maintains complete autonomy on decisions of publication. The hard work and dedication of these editors has culminated in the rise of the journal's impact factor to 4.327. I extend my thanks to the many colleagues who serve as reviewers for our journal, a vital service with limited recognition.
Research is the heart of medical progress and funding for thyroid research has long been a challenge. The ATA and its partners have remained committed to new initiatives, driven by the ATA mission statement that "The ATA leads in promoting thyroid health and understanding thyroid biology", and our stated vision, values, and goals. Through 2010, the ATA Research Grant Program has awarded 88 thyroid research grants totaling $2,376,000 since the inception of the Research Fund. This includes 23 special research grants focused on thyroid cancer funded by ThyCa: Thyroid Cancer Survivors, Inc., a member of the ATA Alliance for Patient Education totaling thus far $620,000, and 16 grants funded by the Thyroid Head and Neck Cancer Foundation (THANC) totaling $460,000. A detailed list of these recipients and their research can be found at http://www.thyroid.org/professionals/education/grant_recipients.html .
Finally, it is recognized that the life-blood of the ATA is its membership (Figure 2). The ATA has worked to attract not only young people in training (figure 3) and (previously under-represented) women (figure 4), but also broaden our membership (and their representation) to include multiple disciplines, geographies, practice locations (academic, government, industry, and private practice), and increase basic and translational scientists (Figures 5 and 6). The ATA membership is now larger, younger, more gender balanced, and more diverse than the membership of the past. Perhaps the best example of this growth is in the area of surgery, where a vibrant group representing surgical oncology, general surgery, and head and neck surgeons comprise not only our surgical affairs committee, but have actively integrated into all of our other committees and have created multiple important manuscripts either published [Carty et al. Thyroid 2009 19(11): 1153], or under review for publication. Perhaps this is fitting given the 1923 founding of the ATA as the American Association for the Study of Goiter that was led by a surgeon as our founding president, E. P. Sloan, from 1923-5.
The past histories of thyroidology and that of the ATA are fascinating and inspiring. Equally exciting is the bring future of the ATA. I have every confidence in the continued leadership of the ATA staff and our Treasurer David Sarne, President-Elect Jim Fagin, and Secretary-Elect John Morris. The ATA membership did well to select these insightful and steady leaders and I thank the membership for electing me to be part of this legacy.
Dr. Richard Kloos acknowledges Dr. Brent's service to the ATA:
And I also would like to just take a brief moment to acknowledge the closing of Greg's term, and recognize all that he's given to the ATA, over the past 25 years of membership. Greg has served many roles throughout those 25 years. Many of us recognize those most recent roles as Secretary, then President-Elect, and President, and all that he has given to this organization. It's impressive, to me, his knowledge of the history – the breadth and the depth of our organization, our many members and constituents – and how much he advocates for them. This was apparent even this afternoon, as he reviewed the breadth of expertise in thyroidology, well beyond traditional disciplines, in speaking with potential corporate partners about all that we who study basic, translational, and clinical thyroidology may have to offer. So, at this point, I also want to acknowledge Greg's service, and give him the pin of the ATA, as his outgoing presidency is recognized. This says, "Thyroid," engraved on the bottom, and it says, "The American Thyroid Association." And it's the bust of Doctor Graves.