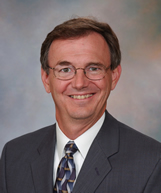 Presented by John C. Morris, III, M.D.
87th Annual Meeting of the American Thyroid Association
October 18-22, 2017
The Fairmont Empress & Victoria Conference Centre
Victoria, BC, Canada
My first ATA meeting was in Washington, D.C. at the J. W. Marriott Hotel in 1987. Gerry Burrow was president at the time. Colum Gorman, my division chair at Mayo, was secretary. I had an oral presentation and a poster as an Endocrine Fellow, the poster about TSH receptor antibody assays and the oral presentation showing work with TGF-beta on FRTL-5 cells in the laboratories of my mentors Bob Ryan and Nai Jhiang. I remember Chip Ridgway and Paul Ladenson stopping at my poster and asking about the work. I also remember speaking with Terry Davies and Basil Rapoport. These were people whose work I had read, studied, and memorized and the opportunity to meet, speak with, and discuss similar interests was amazing – today we might say "awesome". I was hooked. That was 30 years ago last month and I have not missed a meeting since.
It goes without saying that serving as President and previously as Secretary of ATA has been the highlight of my career. Between the terms of these two offices and a previous term on the board of directors, I have had the privilege of seeing the workings of ATA from inside the leadership now for 11 years, and after another year as Past-President I am looking forward to a bit of a break. I have enjoyed all aspects of this privilege and almost every moment of these positions. Because of this history, I believe that I have a somewhat unique perspective from which to comment about some items of importance to us.
The value of ATA membership
We in the board of directors hear from ATA members from time to time about the relative expense of being an ATA member and of coming to our meetings. Indeed, if you carefully compare our membership and meeting registration fees you will see that they are higher than those from some, but not all, other organizations of which you might be or consider being a member. I want to assure you that these comments, reminders, messages, complaints, are heard and considered by the ATA leadership and especially the board of directors who review and set the fees each year as an essential part of the budgeting process. You will hear from Dave Sarne shortly that the board has elected not to raise the fees for next year as compared to those of 2017, and this decision was made with the knowledge that our meeting next year in Washington, D.C. will be more expensive that this year's meeting in British Columbia. The comments about our relative expense were a major part of this decision.
However, I would like to spend a few minutes speaking to the "value" of being an ATA member and of attending the annual meeting, in other words, what you get for your dollars. Of course I know that I am speaking to the choir because the fact that you are sitting here today means that you recognize this value and are accepting of what you pay to be a member. But, I hope this reminder of perhaps some things that ATA does that you might not remember or know about will help to cement your commitment to ATA and prompt you to remind others of why you continue to attend and contribute to our organization.
I will start with the annual meeting, this year being the 87th one. To me this meeting is the most important single thing that the ATA does, and arguably, at least in my mind, the reason the ATA exists. We are fortunate that our size allows us to most-often meet in a single hotel, which adds significantly to the intimacy of the event and the networking opportunities. The annual meeting features the best in basic science, clinical and surgical topics presented in multiple venues and methods. The meeting offers unparalleled networking opportunities. Every fifth year, members attend an international thyroid congress, the next one currently being actively planned will be in Xi'an, China in 2020.
The effort required to put on our annual meeting is enormous and includes the all-important work of the Program committee, co-chaired this year by Angela Leung and Mingzhao Xing. It is all efficiently and effectively managed entirely within the office of the ATA by all of its staff, guided by Adonia Coates our Director of meetings.
Your membership fees support our Publications, the flagship of which is THYROID®, ATA's official monthly peer-reviewed journal. Currently led by editor-in-chief Peter Kopp, THYROID is the leading journal for thyroid scientific and clinical publications and with its recent increase in impact factor now equals that of JCEM. VideoEndocrinology™, led by Jerry Doherty, is the first in our specialty video journal featuring cutting-edge surgical and diagnostic videos. And Clinical Thyroidology®, which is edited by Jerry Hershman publishes summaries and commentary on recently published thyroid-related articles. Finally, ATA publishes Signal, the member newsletter, monthly and I know that you have read it faithfully especially for the messages from Vic and me, and to keep up with evolving items and opportunities.
One of the most visible efforts of ATA to those outside our organization is our Clinical Management Guidelines, which are the gold standards for thyroid disorders, domestically and internationally. These documents are developed over several months and sometimes several years, and include many ATA members with diverse backgrounds and expertise and with international representation. Each of the contributors to these task forces serves as a volunteer, but there is considerable expense to our organization for office support, travel, publication and organizational fees and other items that is included in our budget each year. I am proud of this effort every time I see a citation, a comment in a publication, or a reference in a presentation by a non-ATA member to something accepted as standard in one of our guidelines.
Website: www.thyroid.org. Our website has undergone significant renovation and updating over the last year and if you have not seen it lately, you will be impressed. It offers professional and patient information and resources, a physician referral service, public health statements, peer-reviewed guidelines and a member services section. This is also supported and maintained by all headquarters' staff members, especially Kelly Hoff, our Director of technology and development.

Trainees' Activities. Our Trainee's corner gives Associate members customized access to a wide range of resources. All trainees, fellows, residents, interns, medical and graduate students meeting the eligibility requirements are offered special benefits as ATA Associate members. We offer a special track for trainees during our annual meeting, now named the E. Chester Ridgway Trainee Conference which begins with a full day and extends through the annual meeting, which is the door thru which many new ATA members, who are our future, enter our organization. Trainees now represent basic, clinical, surgical and pediatric endocrine specialties. Sharleene Cano is the staff person working diligently with the trainee and career advancement committee, headed by Whitney Goldner.
Member Alerts: When events or items of importance to the thyroid community occur, you are e-mailed alerts about these breaking thyroid-related news and updates on the association's programs and services.
Public Health: ATA takes responsible action to inform policymakers regarding thyroid health. This effort is lead especially by our Public Health Committee, currently chaired by Ernest Asamoah. The clinical affairs committee, chaired by Carol Greenlee is currently involved in the efforts to define high quality thyroid care so that we can be pro-active and lead the efforts towards Merit-based Incentive Payment System as they come closer to our offices. You will hear about the current activities of these groups in the committee reports later.
The ATA supports thyroid research and the board of directors sees enhancing this support as a major strategic goal. We fund research grants (which are not restricted to USA) to the tune of $430,000 in our budget for the current fiscal year. We are pursuing projects to enhance research opportunities by our members, such as the current collaboration with the Nuclear Receptor Signaling Atlas (NURSA) to establish a virtual repository for thyroid research data storage and sharing which will be available to ATA members. This research effort quite visibly sets us apart from most other professional societies. While the actual award dollars for these grants come from many sources, including important contributions from outside organizations such as ThyCa, THANC, Bite-Me-Cancer, and the New Hampshire Trust, the administration of the application, review, and award process is supported by our Research Committee and Sharleene at the ATA office thru your dues contributions.
Friends of the ATA: ATA maintains a patient subscription service offering online summaries of the latest thyroid health information and thyroid research to patients and the public via Clinical Thyroidology for the Public, edited by Alan Farwell. This currently has a subscription list that includes over 12,000 individuals. The recent response to our survey on hypothyroidism evidenced the impact of our communications on the patient community.
Committees: Perhaps everyone or almost everyone in this room participates or has participated in an ATA committee or Task Force. At any point in time over 300 of our members do so. These groups, of which there is currently 24, carry out the most important work of the organization. Many are frequently extremely active, and all are at times. The functions range from internal items such as awards, nominations, and finance to those with high visibility outside the organization such as Public Health, Clinical Affairs, and Surgical Affairs. This work is supported by every member of the ATA office thru your membership dues. This includes Kelly and Adonia I have already mentions as well as Sharleene Cano (Director, Publications and Membership), Josette Paige (Manager, Meetings and Finance), and Danielle Waldman (Membership and Development Specialist) and of course Bobbi Smith our Executive Director who is all-knowledgeable about ATA and expertly steers the office that maintains our society.
Other items of note: Prestigious ATA Awards; Membership Directory – including its patient referral function; Patient information and education documents on our website; ATA responses to media and governmental requests; Corporate Leadership Council, History timeline and Clark Sawin History Resource, just to add a few other items. This list is NOT exhaustive.
Of course the board of directors must continue to manage our resources wisely and make decisions about the value and expense of our membership and meetings. There are always ways of improving both. We continuously monitor the activities to other organizations and compare and contrast ourselves to them. We survey our membership and seed feedback regarding our activities. We ask you to be part of this by offering your feedback and suggestions for these improvements, in a constructive manner. I can assure you that these comments are heard and incorporated into the deliberations and decision-making process.
Currently our membership includes about 1700 persons. This is significantly smaller than some of our sister societies to which we compare ourselves, and our smaller membership of course affects our income from dues and attendance fees. However, I will argue that our scope and influence matches or in most cases exceeds that of other organizations, at least concerning topics that are relevant to our gland-of-choice, the thyroid. The American Thyroid Association (ATA) is a close-knit, collegial group of physicians and scientists dedicated to the research and treatment of thyroid diseases. ATA's rich history dates back to 1923, and its members are respected worldwide as leaders in thyroidology. We are unique in our diversity of expertise and background which includes Endocrinologists, Surgeons (Head & Neck, and Endocrine), Basic Scientists, Nuclear Medicine, Oncology, Pathology, Pediatric Endocrinologists, Generalists, Allied Health Providers, and others that add to the richness of the ATA experience. Being a member and among this knowledgeable, diverse, collegial, and highly respected group holds great value to me, and I know it does to you too. I hope that a number of the trainees here at our meeting in Victoria have a similar experience to that I remember from 1987. I ask you to spend a few minutes with them when you are in the poster session or see them in the hallway. They are our future. Some of them will remember it 30 years later.

John C. Morris, III, M.D.
President, American Thyroid Association