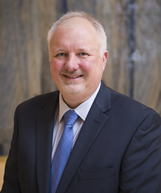 Presented by Victor J. Bernet, M.D.
89th Annual Meeting of the American Thyroid Association
October 30 – November 3, 2019
Sheraton Grand Chicago
Chicago, IL
First, let me take the opportunity to offer our members a hearty welcome to Chicago, Illinois for the 89th Annual Meeting of the American Thyroid Association.  The Program Committee, capably led by Mona Sabra and Antonio Di Cristofano, has put together an exceptional meeting that we expect will be informative as well as engage the many interests of our diverse membership. ATA committee and task force meetings are being held on Wednesday from 2:45-4:00 pm. We ask membership to be present at 5 pm for the Welcome Remarks and Opening as ATA leadership will be presenting highlights of the 2019-2022 Strategic Plan. The opening session Wednesday afternoon is entitled "Recent Developments and Future Challenges in Thyroidology" which will consist of clinical, basic science and surgical presentations.  Throughout the meeting, there will be a combination of presentations to include plenary and award lectures, symposia and meet the professor sessions as well as Early Riser symposia and Expo Theater activities.  Special satellite symposia will feature the 3rd Annual Pediatric Thyroid Forum and the ATA/ETA/BTA Virtual Symposium on Evidence Based Use of T3 + T4 Combinations. As usual, the Ridgway Trainee Conference will be in full swing under the supervision of Trainees and Career Advancement Committee led by Jacqueline Kung and Tracy Tylee.  The ATA will host 339 trainees: 204 clinical trainees, 48 surgery trainees and 87 early career basic scientists.  An important offering which is fully enrolled is the ATA Endocrine Neck Advanced Ultrasound Course co-chaired by Susan Mandel and Kevin Brumund. We have record-breaking registration numbers at the time of this report which are standing at 1500+ with regular abstract submissions at 482 (a new record!!)  and 78 short call abstracts.
2018-2019 Summary Report
Another ATA governance year has passed and our beloved annual meeting is here!
The ATA continues to be a very vibrant association with significant membership dedication and involvement in a growing number of ATA related activities.  At present membership stands at 1807 which includes 1084 endocrinologists, 218 endocrine surgeons, 150 otolaryngologists.  We have 899 Active members, 347 Corresponding, 68 Transitioning Associate (to Active and Corresponding), 25 Advanced Thyroid Professionals, 317 Associate (represent physicians in training), 42 Senior and 109 Emeritus.  This year there were 22 standing committees as well as up to 10 task forces to include 4 clinical guidelines task forces (Anaplastic Thyroid Cancer, Differentiated Thyroid Cancer, Pediatric Thyroid Cancer, Thyroid Nodules) as well as 5 editorial boards (Thyroid®, Clinical Thyroidology®, VideoEndocrinology, Clinical Thyroidology® for the Public, and the Internet Communications Committee for the ATA website). Changes for next year include the launch of the Diversity, Equity and Inclusion Task Force to be co-chaired by Ernest Asamoah and Regina Castro, while the Ethics Advisory Committee will be dissolved with members with an interest in ethics being deployed to serve within our various committees.
Much of 2018 into January 2019, ATA leadership was heavily involved in renegotiating our new publishing contract with Mary Ann Liebert, Inc (MAL). During this process, ATA leadership focused on ensuring that any new agreement with MAL palpably recognize the value of our superior publications. The task force went about negotiations in a very deliberate manner utilizing the assistance of a publications consultant, Morna Conway and legal support as well. I am happy to report that the final result was a very much improved agreement with MAL that includes more equitable financial terms which are warranted based on the rising popularity and strength of our journal portfolio. Tremendous thanks to all involved particularly, Brendan Stack, our ATA Publications Committee chair, the office staff and task force members involved in the arduous and prolonged process.
Strategic Plan 2015
As has been reported, we made tremendous progress on the four pillars of ATA's 2015 Strategic Plan: 1) Maintaining and growing the ATA as the global leader for all thyroid related issues.  2) Being patient's preferred education resource, 3) Enhancement of support for research within the field of thyroidology and 4) Development efforts to fund ATA's mission and goals.
Global Leadership
The ATA has diligently worked to display steadfast, world-wide leadership within the realm of thyroidology.  In many ways, our ATA journal publications lead the global community by disseminating the best research and discoveries in the thyroid space.  Thyroid® has surpassed all prior expectations of impact. Thyroid®, Clinical Thyroidology®, and VideoEndocrinology are growing in popularity as evidenced by a continued trend of increasing article downloads.  Special congratulations to Peter Kopp, the editorial board of Thyroid® and our publisher Mary Ann Liebert on achieving another rise in impact factor up to 7.786. Peter ends his term at the end of 2019 and so it is time to thank Peter for his incredible service as Editor-in-Chief since 2013. We also welcome Electron Kebebew aboard as Thyroid's new EIC this January and look forward to his leadership of our flagship journal.  The Board of Directors has a strong presence and fiduciary role in all contract negotiations and leadership selections.
Guidelines are another palpable way that the ATA provides global leadership. As previously mentioned the ATA is very busy on the guidelines front with four active clinical practice guidelines as of this report. Thyroid Cancer and Thyroid Nodules have been separated into self-standing guidelines. Each guideline represents an enormous task by both our task force members and ATA HQ staff. We heartily thank them for their time and effort.
In March 2019, the ATA participated in the 2nd Multilateral Conference with the European Association of Nuclear Medicine (EANM), the Society for Nuclear Medicine and Molecular Imaging (SNMMI) and European Thyroid Association.  The first meeting resulted in a four society white paper that was published in Thyroid® in April 2019. Additionally, coordinated presentations on the topics raised are occurring at each of the participating society's annual meetings.  Theses group has agreed to hold another meeting in 2020 with planning well underway.
In March 2019, the ATA held the successful satellite symposia in conjunction with The Endocrine Society meeting in New Orleans entitled:  Diagnostic Imaging and Image-Guided Therapies for Thyroid Disease, capably led by Program Chairs, Jennifer Sipos and Ralph Tufano.  This symposium had excellent content and was well received by 258 participants (246 in-person attendees and 12 online participants via simultaneous live stream).
ATA POC representatives to the 16th ITC in 2020 in Xi'an, China (Sheue-yann Cheng, Susan Mandel and Ralph Tufano) remain actively involved in planning of the next ITC and are meeting in Chicago for Program Committee activities.
On the international front, the ATA coordinated with the Indian Thyroid Society and sent representatives to participate and present at the ATA-ITSCON 2019 held in Bengaluru, India, while in July 2019, the ATA held a symposium about ATA guidelines in conjunction with the 2019 meeting of the Latin American Thyroid Society. Both venues presented opportunities to interact with internationally based colleagues and we hope to see an increase in corresponding members from these areas.   We have also asked ATA representatives to serve on the International Thyroid Nodule Imaging Work Group which is exploring possibilities in regards to how existing thyroid nodule malignancy risk scoring systems from various societies might be made more consistent or at least comparable.
Additionally, the ATA, with AACE and Endocrine Society composed a joint letter to the Centers for Medicare and Medicaid Services to protest proposed cuts in FNA reimbursement while providing evidence and recommendations for more equitable payment models.
Being Patient's Preferred Education Resource
The Alliance for Patient Education Forum will be held again at the 2019 annual meeting. We continue to update the forum as to keep the session as engaging and interactive as possible.
We persist in efforts to enhance and grow our presence and effectiveness on social media.  The ATA internet committee and HQ staff developed a social media plan to pursue and we continue to have a presence on all the following social media platforms:  Twitter, Facebook, Instagram, LinkedIn, Pinterest as well as a YouTube channel and Podcasts.
The Patient Affairs and Education committee remain dedicated to updating and adding new topics for our patient brochures to including a growing number in Spanish.
In regards to ATA guidelines, the Guidelines and Statement Committee will be pursing optimized guideline deployment to clinicians and patients alike. Additionally, the ATA is making efforts to include patient representation and feedback on all our guideline and statement efforts.
Clinical Thyroidology® for the Public, the ATA Alliance for Thyroid Patient Education and the Friends of the ATA email distribution group are additional avenues in which the ATA is reaching out to patients and patient advocacy groups as we focus on meeting our patients' needs.
Enhancement of Support for Research within the Field of Thyroidology
The data repository project with NURSA/Signaling Pathways has moved forward. A preliminary demonstration of this database and website was presented at the 2018 annual meeting.  We remain hopeful that this database will provide thyroid researchers with a useful tool and information that will stimulate additional studies in the field.  The website is now live and a manuscript about it is under consideration by Thyroid.
Beyond facilitating intersociety communication, the Multilateral Conference held with ETA, EANM and SNMMI has also stimulated interest and potential ideas for multinational, multicenter research collaboration and studies which might better define the appropriate use of radioactive iodine especially for adjuvant therapy.  We are hopeful these discussions will lead to future prospective studies which can be expected to be very clinically relevant.
The Research Committee reviewed 82 grant submissions and recommend 7 new projects for arrival constituting $175,000 on research support from the ATA, ThyCa, and Bite Me Cancer. The ATA highlights the annual thyroid research grant recipients through a combination of press releases, ATA website and social media postings.
Development Efforts to Fund ATA's Mission and Goals
The Board of Directors and ATA office staff again achieved 100% giving for the 2018-2019 governance year.  We very much appreciate all the members and staff who have participated in giving to the ATA over the last year.  The E. Chester Ridgway fund successfully reached endowment status and sits at > 250,000+ dollars' worth. Fund raising for the Samuel Refetoff Fund has also started in earnest and a special reception for donors of a set level is being held at the annual meeting.
As was announced at the Sawin Historical Vignette, ATA leadership has decided to repurpose the unfunded Paul Starr Award and create an award honoring a female thyroidologist. On recommendation of Women In Thyroidology, History and Archives, Awards, the Board has approved the creation of the Valerie Anne Galton Distinguished Lectureship which will occur at out next regular annual meeting on 2021.
I would also like to acknowledge the extraordinary generosity of members who support our ATA Funds. Several members teamed to make a substantial contribution challenge which boosted the Ridgway past the endowment funding goal. Another member who attended the strategic conference decided to make a substantial contribution as "seed money" to support one of ATA's new strategic goals. In addition to financial contributions, the time that our members donate to ATA activities is impressive and speaks to the health of our association. It is obvious that ATA members are devoted to philanthropy and inspire us all to secure the future of our society with our time, energy and money.
The ATA has also secured $235,000 in Continuing Medical Education (CME) Funding for the 2019 ATA Annual Meeting. The ATA will continue to steward and cultivate educational partnerships to provide top-notch thyroid education for ATA events and attendees.
The ATA Corporate Leadership Council (CLC) continues to engage enduring and new industry partner interests.  Annually, the ATA hosts an in-person CLC meeting during the ATA annual meeting with our CLC partners and ATA leadership.  The ATA works with partners to identify projects and opportunities of interest for collaboration in support of our mutual goals and missions. CLC partner companies are noted on a page within the ATA website and CLC members will be identified at the ATA annual meeting by a special placard displayed at their booth.
Believe the ATA has been very successful in achieving the strategic goals and actions set out in 2015. Of course, these advances are all thanks to the dedication of our membership and staff.
New Strategic Plan
As has been shared in the Signal newsletter, the ATA held a Strategic Workshop in Phoenix, Arizona in late May 2019. The diverse group of members and staff spent time envisioning a new vision and mission statement for the ATA. Our facilitator challenged us give deep consideration to where the ATA is now and where we want it to be in the future and then develop a plan of action to meet these goals. A draft of the plan went out to ATA committees for review and feedback. An overview of the plan was viewed by all attendees at the beginning of the annual meeting on Wednesday afternoon.  I look forward to us supporting Jacquie Jonklaas with achieving the goals of this new plan as she becomes our new Secretary at the end of the 2019 annual meeting. These strategic goals will set the course and focus our association's efforts going forward towards our 100th anniversary in 2023.
ATA Appreciation
As we near the end of another governance year, I want to recognize the steady support from the Executive Committee, Board of Directors, our Committees, Task Forces and their chairs, the membership, our Patient Alliance partnerships, our industry partners in the Corporate Leadership Council as well as our publishers at Mary Ann Liebert.
ATA Board Service Accolades
We have three directors who are finishing their terms: Sally Carty, Rebecca Schweppe, and Andrew Bauer. Each of these individuals made substantive contributions during their time as Directors. We very much appreciate their efforts on behalf of the ATA. In addition, Charles Emerson is our outgoing Past-president. Charles was always ready to pitch in and he was very involved in the negotiations with our publisher Mary Ann Liebert. Thank you Charles. I also would like to acknowledge the tremendous leadership of our soon to be outgoing President Elizabeth Pearce. Elizabeth acted as a great sounding board and always provide well-considered and practical advice. Am glad for the BODs that she will serve one more year in the capacity as Past-President.
ATA Membership and Staff Accolades
The conclusion of 2018-2019 governance year, coincides with the end of my 4 year term as Secretary/COO. I want to offer a sincere thank you to the ATA membership for allowing me to serve in this capacity. Being Secretary has afforded me the opportunity to get to know and interact with numerous members and to see your dedication and love for the ATA first hand.  You our members are the energy that elevates this society.
These last 4 years, I have also been blessed with the occasion to get to know our wonderful headquarters staff team. Adonia, Sharleene, Kelly, Josette, Carrie and Claudia have been the utmost pleasure with which to work. They are all so professional, personable and kind. They handle last minutes requests and "emergencies" promptly and with a smile. Their efforts make the ATA move forward as a well-oiled machine. Also, we want to thank Sheri Wilson, our consultant CPA from Bay Business Group (BBG) who does a tremendous job helping the ATA BOD understand our financial reports, budgets and audit. When you encounter one of our great staff during the meeting, please express your thanks for their hard work, dedication and congratulate them in person for their achievements.
Then, of course, there is Bobbi Smith–the Executive Director "Extraordinaire." Bobbi thank you for being my consigliere these years as Secretary. How can one help but be successful with Bobbi as your right hand. The combination of institutional memory, thoughtful consideration, sage advice, curiosity and energy for progress made Bobbi an indispensable resource for ATA leadership and me. Bobbi is set to retire in 2020 after our May Spring meeting in New York City. Please take the time to acknowledge her and thank her for all she has done for the ATA family!
At of the end of this annual meeting, Jacquie Jonklaas will assume the role of Secretary/COO. I can assure you that the ATA is in excellent hands these next 4 years. Jacquie is the first woman to serve as Secretary/COO. This is quite a milestone. I have full confidence that Jacquie will lead the ATA to new heights to include achieving the goals for our new Strategic Plan.