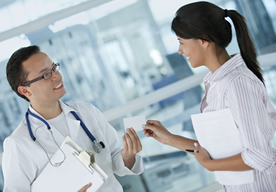 In response to your request for a simple handout, the American Thyroid Association (ATA) is pleased to announce the availability of the Thyroid Patient Awareness and Education business cards. As a member benefit we will be providing these to our physicians at a discounted rate. Many physicians and patients have chosen the ATA page as their number one resource for thyroid information. Save time and paper by providing your patients a practical business card that is easy to hand out, pick up, or even mail. This is a simple way to help your patients learn more about their condition from a reliable source.
The business card will direct them to the ATA website where they will find reliable, accurate, and up to date information on the broad spectrum of thyroid diseases written by your fellow experts in thyroidology.
Our information is specifically designed to educate the patient and their families. We currently have over 10,000 Friends of the ATA (patient subscribers) that visit our page and have signed on to receive monthly news alerts. Your patients will find us useful too!