2019 – 2020 Task Force –Bios and Photos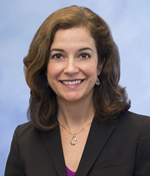 Megan R. Haymart, MD, University of Michigan, WIT President
Megan R. Haymart, MD, is an Associate Professor of Medicine at the University of Michigan with a primary appointment in the Division of Metabolism, Endocrinology, and Diabetes and a secondary appointment in the Division of Hematology/Oncology. Dr. Haymart's research focuses on variation in the management of thyroid cancer with an emphasis on the role of patients, providers, and health systems in thyroid cancer diagnosis and treatment. She also studies thyroid cancer outcomes and the rise in thyroid cancer incidence. She is Principal Investigator of the NCI-funded R01 grant "Treatment Decision Making in Low-Risk Thyroid Cancer" and the AHRQ-funded R01 grant "Imaging Practices and Overdiagnosis of Thyroid Cancer".
Dr. Haymart received her medical degree from Johns Hopkins University School of Medicine in 2002, completed internal medicine residency at Johns Hopkins Hospital in 2005, and then completed fellowship in endocrinology, diabetes and metabolism at the University of Wisconsin in 2007. In 2009, she joined the University of Michigan faculty as Assistant Professor of Medicine and in 2017 she was promoted to Associate Professor of Medicine. Dr. Haymart is involved in creating the National Comprehensive Cancer Network thyroid carcinoma guidelines, is on the Board of Directors for the American Thyroid Association, serves on the editorial board for the Journal of Clinical Oncology, and is Associate Editor for Thyroid.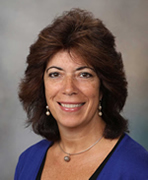 M. Regina Castro, MD, Mayo Clinic Medical School – WIT President-Elect.
Dr M. Regina Castro is an Associate Professor of Medicine at Mayo Clinic Medical School, and consultant in the Division of Endocrinology at Mayo Clinic, where she has served as Associate Program Director of Endocrinology Fellowship Program and the Director of Internal Medicine Residency Rotation in Endocrinology.
She has been a member of the ATA since 2000 (prior to that was associate member since 1998).
She has served in the ATA in many capacities, including as a member of:
Trainees and career advancement committee, Editorial Board of Clinical Thyroidology for the public, Board Liaison to the Clinical Affairs committee, ATA awards committee, Board of Directors from 2014-2018, Chair of the Patient Education and Affairs committee since 2015 to present.
She is a member of the Mayo Clinic Thyroid Core group.
Her research interests are in the areas of thyroid nodules, thyroid cancer and novel non-surgical therapies for benign thyroid nodules.
Over her career she has mentored many Endocrinology Fellows, mostly young women, the majority of whom have moved on to pursue very successful careers in Academic endocrinology.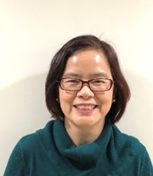 Sissy Jhiang, PhD, The Ohio State University- WIT Past-President
Sissy M Jhiang is Professor of Physiology and Cell Biology at the Ohio State University. She has been an ATA member since 1995. Dr. Jhiang was the recipient of Van Meter Award in 2002, and she served as the basic science co-chair for the 79 th ATA Annual Meeting in 2008. Dr. Jhiang has served on Membership Committee (2001, 2011), Program Committee (1999-2011), Research Committee (2009-2012), Board of Directors (2010-2014), and Award Committee (2014-2017). In 2005, she was elected as an American Association for the Advancement of Science Fellow in Medicine. Dr. Jhiang's current research interest is developing personalized approaches to maximize radioiodine therapeutic efficacy without unwanted side effects.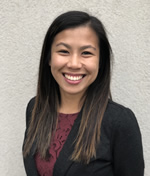 Debbie Chen, MD, University of Michigan
Debbie Chen is an endocrinology fellow on the research track at the University of Michigan. She is currently mentored by Dr. Megan Haymart in the Division of Metabolism, Endocrinology, and Diabetes. Debbie is interested in studying health and healthcare disparities in the management of patients with thyroid cancer. She received her medical degree from the University of Rochester School of Medicine and Dentistry in 2015 and completed residency training in internal medicine at Thomas Jefferson University Hospital in 2018.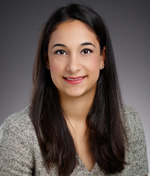 Sophie Dream, MD, Medical College of Wisconsin
Sophie Dream grew-up in Ohio and completed her undergraduate coursework at the University of Cincinnati.  She began her medical education at the University of Cincinnati, College of Medicine, graduating in 2013.  She completed her surgical residency at Henry Ford Hospital and went on to finish her endocrine surgery fellowship at the University of Alabama at Birmingham.   Dr. Dream's clinical interests include endocrine and neuroendocrine disease with a focus on thyroid and parathyroid disorders.  Her research interests focus on health services research and outcomes in patients with endocrine disorders, including hyperparathyroidism and thyroid cancer.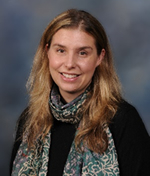 Aime Franco, PhD, Children's Hospital of Philadelphia
Aime Franco is an assistant professor in the department of Pediatrics, Division of Endocrinology.  She graduated with a PhD in cancer biology from Vanderbilt University in 2007.  In the laboratory of Richard Peek, Dr. Franco investigated the relationship between Helicobacter pylori infection and gastric cancer.  After completing her Ph.D., Dr. Franco moved to New York City for a postdoctoral fellowship at Memorial Sloan Kettering Cancer Center.  In the laboratory of James Fagin, she began her work in thyroid cancer, and the role of genetic mutations in tumor initiation.
In August of 2011, Dr. Franco joined the faculty at UAMS and started her own thyroid cancer research group.  In August of 2019, Dr. Franco moved to the Children's Hospital of Philadelphia, where she directs the Pediatric Translational Thyroid Cancer Laboratory. The primary focus of research in the Franco lab is dissecting the role of oncogenes in thyroid cancer initiation and progression, and why thyroid cancer pathogenesis is different between pediatric and adult populations.  In addition to her active research, Dr Franco also teaches and mentors graduate and medical students.  Dr. Franco is also very active with the American Association for Cancer Research , the American Thyroid Association and local ACS office.  She is very passionate about advocacy, both for research and improved patient care and quality of life.
In addition to Aime's research and policy work in the field of cancer, she is also a cancer survivor, being diagnosed and treated for thyroid cancer in 2000.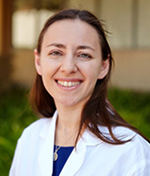 Masha Livhits, MD, UCLA David Geffen School of Medicine
Dr. Masha Livhits is an Assistant Professor of Surgery at the UCLA David Geffen School of Medicine.  She attended college at the age of 12 through the highly competitive Early Entrance Program at California State University, Los Angeles. After completing her medical education at Washington University in St. Louis, she obtained her surgical training and Endocrine Surgery fellowship at UCLA.
Dr. Livhits has published wide ly in the area of improving surgical outcomes and quality of care. She is dedicated to combining knowledge learned through research with her experience as a surgeon to deliver the best care to her patients. Her clinical and research interests include parathyroid disease, benign and malignant thyroid tumors, adrenal masses, and familial endocrine disorders. She helped to pioneer the new technique of single incision retroperitoneoscopic adrenalectomy in North America.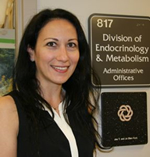 Spyridoula Maraka, MD, MSc, University of Arkansas for Medical Sciences and CAVHS
Spyridoula Maraka, MD, MSc is an Endocrinologist and Clinician Scientist at the University of Arkansas for Medical Sciences and the Central Arkansas Veterans Health Care System. Her academic rank is Assistant Professor of Medicine at the University of Arkansas for Medical Scienc  es where she is also serving as the Associate Program Director of the Endocrinology fellowship program. She completed her residency in Internal Medicine at the University of Connecticut and postgraduate fellowship in Endocrinology at the Mayo Clinic, Rochester. During her post-graduate training, she obtained a Master's Degree in Clinical and Translational Science. She is a co-founder of the Knowledge and Evaluation Research Unit in Endocrinology at Mayo Clinic where she holds an appointment as a Research Collaborator at the Division of Endocrinology, Diabetes, Nutrition and Metabolism. Dr. Maraka's research is focused on thyroid disorders including hypothyroidism in pregnancy, Graves' disease and thyroid nodules with the goal to advance patient-centered, evidence-based endocrine care. Her research is supported in part by the Arkansas Biosciences Institute and by a recent award from the South Central VA Health Care Network Research Pilot Grants Program. She currently serves as a member of the Clinical Affairs Committee of the American Thyroid Association and was recently elected member of the WIT Task Force.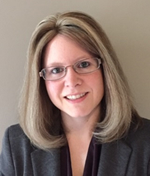 Jennifer Perkins, MD, MBA, Duke University
Jennifer Perkins, MD, MBA is an Associate Professor of Medicine at Duke University Health System in the Division of Endocrinology, Diabetes and Metabolism and has been on faculty since 2009. She attended medical school at Dartmouth School of Medicine then went on to complete internship and residency in internal medicine at Virginia Commonwealth University. Following that she completed a 3 year research fellowship in Endocrinology at Vanderbilt University prior to joining faculty at Duke University. Dr. Perkins has also obtained her Masters in Business Administration at Duk e's Fuqua School of Business. Her clinical focus is in Endocrine Neoplasia, particularly thyroid nodule and thyroid cancer. She also participates in health outcomes research in this area and has published several peer reviewed articles and book chapters in this arena.  She has had several leadership roles including being the associate program director for the Endocrine Fellowship, the Vice Chief for clinical affairs for the Division of Endocrinology and is now currently the Medical Director of Access Services for Duke University Health System. She is a very active clinician and teacher.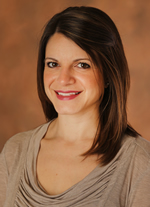 Lourdes Quintanilla-Dieck, MD, Oregon Health & Science University
Dr. Lourdes Quintanilla-Dieck completed her medical school in her hometown of Monterrey, Mexico. She then went on to do a research fellowship at the Genetics Department at Harvard Medical School. She completed her Otolaryngology residency at Oregon Health & Science University and is board certified in Otolaryngology – Head and Neck Surgery. She received endocrine surgery training during residency while working closely with Dr. Maisie Shindo and developed a special interest in head and neck endocrine surgery.  She then pursued subspecialty training in Pediatric Otolaryngology at Vanderbilt University. Dr. Quintanilla returned to join the Thyroid and Parathyroid Center surgical team at OHSU, and sees both adult and pediatric patients with thyroid conditions. She completed the American College of Surgeons Thyroid and Parathyroid Ultrasound Course at Stanford University, and is co-director of the Doernbecher Children's Hospital multidisciplinary Pediatric Thyroid Nodule clinic, working in conjunction with the Pediatric Endocrinology division. Dr. Quintanilla's research interests include thyroid pathology, with a special research focus on pediatric thyroid conditions including nodules and cancer.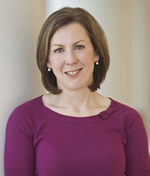 Rebecca Schweppe, PhD, University of Colorado School of Medicine
Rebecca Schweppe is an Associate Professor at the University of Colorado Anschutz Medical Campus.  Dr. Schweppe's research is directed toward identifying novel molecular targets relevant to thyroid cancer, with a specific focus on the role of the Focal Adhesion Kinase-Src pathway.  In 2008, Dr. Schweppe published that the majority of thyroid cancer cell lines that had been used by labs around the world for the past 20 years were misidentified with cell lines from other tumor types.  This 2008 landmark study led to the global re-examination of thyroid cancer cell lines.  Dr. Schweppe has successfully competed for THANC-ATA pilot funding, K12, ACS, R01, and ARRA-Challenge grant funding.  In 2013, Dr. Schweppe was recognized with a "Rising Star" outstanding junior faculty award from the University of Colorado, Department of Medicine for excellence in research and teaching.  Dr. Schweppe is committed to training PhD and MD scientists, and in 2014, she received an Outstanding Faculty Sponsor award from the University of Colorado graduate school.  Since joining the ATA in 2007, Dr. Schweppe has served on the ATA Research Committee (2011-2014), Research Affairs Task Force (2012-present), the Thyroid Editorial board (2013-present), strategic planning retreats, Board of Directors (2015-2019), the Secretary/COO search task force (2018), and the Executive Director search task force (2019-2020).