Program Organizing Committee
Chair: Rebecca Bahn, MD, Mayo Clinic

Rebecca S Bahn is Professor of Medicine at Mayo Clinic School of Medicine, Consultant in Endocrinology, Metabolism and Nutrition and Associate Dean of Research for Career Development at Mayo Clinic. Dr. Bahn served as President of the ATA in 2007 and as the chair of the Hyperthyroidism Guidelines Task Force. She obtained her medical degree from Mayo Medical School. Following completion of postgraduate training in Internal Medicine and Endocrinology at Mayo Graduate School of Medicine, Dr. Bahn pursued a research fellowship in immunology at Mayo Clinic. She directs a NIH‐funded research laboratory investigating pathogenesis and novel therapies for Graves' ophthalmopathy. Her basic science expertise includes autoimmunity and thyrotropin receptor structure/function and her clinical specialty focuses on Graves' disease/ ophthalmopathy/thyrotoxicosis.
AOTA:

Takashi Akamizu, MD, PhD, (Japan)
Clinical and Translational: Autoimmunity" and Disorders of Thyroid Function
Takashi Akamizu is Professor and Chairman of the First Department of Medicine at Wakayama Medical University. Dr. Akamizu served as President of the satellite meetings of ITC in 2000 and ICE in 2010, and will serve as President of the Annual meeting of Japan Thyroid Association in 2013. He obtained his MD and PhD degrees from Kyoto University School of Medicine and completed three-year postgraduate training in NIDDK, NIH, He is currently Executive Council of Japan Endocrine Society, Japan Thyroid Association and AOTA. He received several awards from all these associations including Nagataki-Fujifilm Prize and Shichijo/Miyake Award. His major research interests include pathogenesis and pathophysiology of autoimmune thyroid disease, management of thyroid storm and translational research on ghrelin.
Chao Liu (China)
Clinical

Chao Liu is Chief, Professor in Endocrine and Diabetes Center Affiliated to Jiangsu Province Hospital on Integration of Chinese and Western Medicine in Nanjing, China. From 1997 to 2010, Dr. Liu was Professor/Chief Doctor of the Department of Endocrinology, at the First Affiliated Hospital of Nanjing Medical University in Nanjing. He earned his master and medical degree from Nanjing University and continued there as resident, attending and associate professor. He also studied at Ruhr University Hospital in Bergmannsheil, Bochum Germany; the University of Massachusetts Medical Center, Justus Liebig University Hospital, Gissen, Germany; Joslin Diabetes Center, Boston; WHO collaboration Center for Diabetes, European Training Center in Endocrinology & Metabolism, University Hospital, in Duesseldorf, Germany.
Young Kee Shong (Korea)
Clinical and Translational: Thyroid cancer, thyroid nodule and Goiter

Young Kee Shong is a professor of Medicine at Asan Medical Center, Seoul, KOREA. After graduation from Seoul National University, where he got his MD degree he studied thyroid disease under the guidance of professor Chang Soon Koh and Bo Youn Cho, After he got his PhD degree he worked as postdoctoral fellow at Charite standort Steglitz in Berlin. During 2001 and 2005 he served as secretary general of AOTA. In 2012 he was honored by AOTA prize. His major interest is in the study of thyroid nodules and cancer, especially various clinical aspects of thyroid cancer. He now serves as a member of editorial board in THYROID and EUROPEAN THYROID JOURNAL.
LATS:

Hans Graf, Curitiba, Brazil
Clinical: Disorders of Thyroid Function and Thyroid nodules & Goiter
Hans Graf is Professor of medicine and Chief of the Thyroid Unit of the Division of Endocrinology at the Federal University of Paraná, Brazil (UFPR). Dr. Graf obtained his PhD at the University of California, San Francisco, USA. He served as LATS President from 2009 to 2011 and is currently a LATS Director. Since his appointment at Professor at the UFPR, Dr. Graf has been involved in clinical research and training. His main fields of action are Thyroid Dysfunction and Thyroid Nodular Disease. He is the author of the chapter "Multinodular Goiter: Pathogenesis and Management" of the recently released textbook THE THYROID WERNER & INGBAR - A FUNDAMENTAL AND CLINICAL TEXT, 2012.

Guillermo Juvenal, Buenos Aires, Argentina
Basic: Iodine Uptake & Metabolism and Thyroid Hormone Metabolism & Regulation
Guillermo Juvenal is Professor of Molecular Biology at School of Medicine Universidad Austral, Chief of the Division of Nuclear Biochemistry, Argentine Atomic Energy Commission. Dr. Juvenal served as President of the Argentine Biology Society in 2000-2004 and of the LATS in 2007-2009. His research focuses on the molecular mechanism of thyroid autoregulation (iodide and iodolipids action on thyroid cell function and proliferation) and on thyroid radiobiology.

Mario Vaisman, Rio de Janeiro, Brazil
Clinical: Disorders of Thyroid Function and Thyroid Cancer
Mario Vaisman is currently Full Professor and Chief of Service at Federal University of Rio de Janeiro Brazil, in the Section of Endocrinology. He has graduated and received his medical and master's degrees from Federal University of Rio de Janeiro as well. He serves on the editorial boards for Arquivos Brasileiros de Endocrinologia e Metabologia, Frontiers in Thyroid Endocrinology, GH&IGF Research. He also has recently served as a member of the Latin American Society guidelines committee for thyroid nodule, released in 2006 and for thyroid disfunction, still in press. He was honored with the LATS award in 2007 and the Department of Thyroid of the Brazilian Endocrine and Metabolism Society award in 2012 for his great contribution for thyroid research in Brazil and Latin America. His research interests include Thyroid dysfunction, overt and subclinical, thyroid function and pregnancy and thyroid cancer.
ETA:

Anita Boelen, PhD, Amsterdam, The Netherlands
Basic/translational: non-thyroidal illness, cytokine effects on thyroid function, peripheral metabolism of thyroid hormones
Anita Boelen is a senior scientist in the Laboratory of Experimental Endocrinology at the Academic Medical Center of the University of Amsterdam. Her research focuses on the molecular pathogenesis of the low T3 syndrome. She is in charge of the regional Dutch Neonatal Screening program at the Laboratory of Endocrinology and Radiochemistry in the same institution.

Peter Laurberg, Aalborg, Denmark
Clinical scientist covering all clinical aspects of clinical thyroidology
Peter Laurberg is Clinical Professor of Internal Medicine and Endocrinology, Department of Endocrinology, Aalborg University Hospital, Aalborg, Denmark, Member of Board of Directors, International Council for Control of Iodine Deficiency Disorders (ICCIDD), Honorary Professor, China Medical University, Shenyang, China, and Member of the DanThyr stearing group monitoring the Danish Iodine programme. He served as President of the ETA 2008-11 and is currently co-chair of the ETA Guidelines Board, and chairman of the ETA public health board. His main fields of research have been thyroid disease prevention, epidemiology, diagnosing and therapy including iodine and thyroid and pregnancy and thyroid.
Massimo Santoro, Naples, Italy
Basic science, mainly cancer

Massimo Santoro is Professor of General Pathology at the Medical School of the University "Federico II" of Naples. He received his MD degree in 1986 and in 1992, his PhD degree in Molecular Pathology at the University Federico II of Naples. From 1989-2002, he was Research Associate of the Italian National Research Council (C.N.R.) at the Istituto di Endocrinologia ed Oncologia Sperimentale of Naples. In 2010, he was awarded the Merck prize of the European Thyroid Association. He has served on the Editorial Boards of Journal of Clinical Endocrinology and Metabolism, and Endocrine Related Cancer, and he is currently member of the Editorial Board of the Journal of Biological Chemistry and Thyroid. In 2004-2008, he was a member of the European Thyroid Association ExCo. M. Santoro contributed to the identification of the RET/PTC oncogenes in thyroid carcinomas (Fusco et al. Nature 1987; Grieco et al. Cell 1990; Santoro et al. JCI, 1992). His group demonstrated that mutations in MEN2 syndromes convert RET into a dominant oncogene while those present in Hirschsprung's disease lead to RET inactivation (Santoro et al. Science 1995; Carlomagno et al. EMBO J 1996). More recently, his group isolated RET kinase inhibitors approved for treatment or undergoing clinical evaluation in patients with thyroid cancer (Carlomagno et al. Cancer Res 2002; Carlomagno et al. JNCI 2006; De Falco et al. JCEM 2013).

Graham Williams, London, UK
Basic and Clinical: Thyroid hormone action in bone and cartilage. Thyroid cancer
Graham R. Williams is Professor of Endocrinology at Imperial College London and Honorary Consultant Physician at the Hammersmith Hospital. He obtained a BSc in Anatomy and MBBS from St. Thomas's Hospital, University of London and a PhD from the University of Birmingham. He trained as a Howard Hughes Medical Institute Fellow at Harvard Medical School, Boston, USA and as a Medical Research Council Training Fellow and Clinician Scientist at the University of Birmingham. Dr. Williams is currently President of the British Thyroid Association (2011-2014) and Treasurer of the UK Society for Endocrinology (2010-2015). He was a member of the ETA Executive (2008-2011). Dr. Williams serves on the ATA Program Organizing Committee (2011-2014), ATA Guidelines Task Forces for "Basic Science Research" and "Thyroid Nodules and Differentiated Thyroid Cancer", ETA Task Force for "Genetic Testing in Medullary Thyroid Cancer", and BTA Task Force for" Management of Differentiated Thyroid Cancer". Dr. Williams is an authority on thyroid hormone action and metabolism, particularly in bone and cartilage and his work has provided fundamental understanding of this field using mouse genetics. He has further developed rapid-throughput methods for mouse skeletal phenotyping and identified novel genes involved in the determination of bone mass, mineralization and strength. His work is recognized internationally. Dr. Williams was awarded the ETA Merck-Serono Prize (2012) and received the Society for Endocrinology Medal (2011). He was the Edwin Astwood Memorial Lecturer in Bermuda (2011) and a Plenary Lecturer at the Kuwaiti Society for Endocrinology (2010), Belgian Thyroid Club (2009), Irish Endocrine Society (2008), Polish Endocrine Society (2008) and Dutch Thyroid Club (2002).

ATA:
Antonio Bianco, MD, PhD, University of Miami
Clinical and basic: Thyroid Hormone Metabolism and Action

Antonio C. Bianco is a professor of medicine and Chief of the Division of Endocrinology, Diabetes and Metabolism at the University Of Miami Miller School Of Medicine. Dr. Bianco obtained his M.D., PhD and clinical training in internal medicine and endocrinology in Sao Paulo, Brazil. Dr. Bianco is recognized as an authority in thyroid hormone metabolism and action, and his work has established the importance of the local control of thyroid hormone activation/inactivation via deiodination, as well as fundamental cellular and molecular properties of the deiodinases (D1, D2 and D3). Dr. Bianco's work has helped elucidate the three-dimensional structure of the deiodinase-ubiquitination complex, demonstrating that hedgehog-mediated ubiquidation-deubiquidation controls local T3 production by affecting D2 dimerization. This constitutes a posttranslational on/off switch controlling thyroid hormone action in the settings of development, health and disease.

Electron Kebebew, MD, National Cancer Institute
Clinical, translational and basic science studies in thyroid neoplasms
Electron Kebebew completed his medical training, surgical residency, and NCI T32 basic science surgical oncology fellowship all at the University of California, San Francisco. Dr. Kebebew joined the faculty at the University of California, San Francisco, in 2002. He became a research scientist, as well as, an internationally recognized endocrine surgeon. He has performed more than 2,000 operations on the thyroid, parathyroid, adrenal, and pancreas glands. In 2009, he was recruited to the National Cancer Institute as a senior investigator and the head of the Endocrine Oncology Section in the Surgery Branch. In 2012, he became Chief of the newly established Endocrine Oncology Branch. He is a fellow of the American College of Surgeons and is an active member of 13 medical and surgical professional organizations. He also serves on the editorial board or as an invited reviewer for over 23 scientific journals. He is the author of more than 150 publications. Dr. Kebebew received the 2010 ATA Van Meter Award, and serves on the ATA Awards committee (2010 – 2013), Anaplastic thyroid cancer guideline task force, and as co-chair of the ATA surgical affairs committee (2012-2014).
Elizabeth Pearce, MD, MSc Boston University
Clinical; iodine nutrition, thyroid in pregnancy, environmental thyroid disruptors, and thyroid dysfunction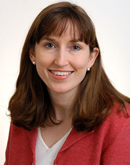 Elizabeth Pearce is currently an Associate Professor of Medicine at Boston University School of Medicine in the Section of Endocrinology, Diabetes, and Nutrition. She received her undergraduate and medical degrees from Harvard and a masters' degree in epidemiology from the Boston University School of Public Health. She completed her residency in internal medicine at Beth Israel Deaconess Medical Center, and her fellowship in endocrinology at the Boston University School of Medicine. She serves on the editorial boards for Endocrine Practice, Thyroid, and the Journal of Clinical Endocrinology and Metabolism. She is a member of the board of directors of the American Thyroid Association and of the International Council for the Control of Iodine Deficiency Disorders. She is has recently served as a member of the American Thyroid Association's Thyroid in Pregnancy Guidelines Task Force. Her research interests include the sufficiency of dietary iodine in the U.S., thyroid function in pregnancy, the thyroid effects of environmental perchlorate exposure, and the cardiovascular effects of subclinical thyroid dysfunction.