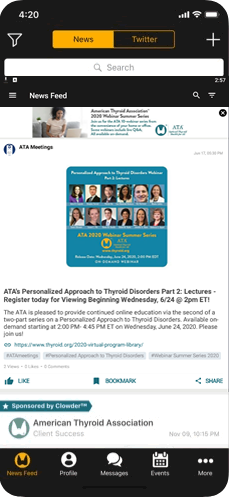 The ATA CONNECT Mobile App PROVIDES YEAR-ROUND ACCESS TO ASSOCIATION INFORMATION AND RESOURCES
Be in the know on all ATA Information and Updates from your Mobile Phone!
Download the dynamic ATA Connect mobile app that will serve as your mobile ATA information go-to resource year-round.  The app provides the following features to update and inform:
Dynamic Newsfeed
ATA Discussion Forums
ATA Resource Center
Easy-to-Update User/Member Profile Management
ATA Real-time Member Directory within the APP
Message other APP users from within the APP
Dues Renewal within the APP
Real-time Event Updates and Notifications
DOWNLOAD the "ATA Connect" App from iTunes or Google Play
OS Download Link: https://apps.apple.com/us/app/ata-connect/id1478444329
Android Download Link: https://play.google.com/store/apps/details?id=com.clowder.thyroid&hl=en
LOGIN with your ATA Account Login Information.