You are invited to join Women in Thyroidology
of the American Thyroid Association (ATA)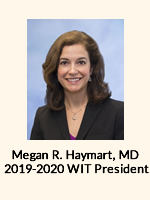 It is an honor to serve as your 2019-2020 President of Women In Thyroidology (WIT). As you know, WIT is committed to recruiting and retaining women ATA members, increasing the visibility of women in the ATA by supporting and nominating women for leadership roles and awards, making sure women's thyroid health issues are addressed at the ATA and at other meetings, and engaging women to promote professional and personal growth. During the past year we have made some exciting steps forward:
In 2019 the ATA established the Valerie Anne Galton Fund and Lectureship Award. This legacy fund has been created in honor of Dr. Valerie Anne Galton and will be used to establish an award lectureship within the ATA annual meeting program. Dr. Galton has been a leader in basic research related to thyroid hormone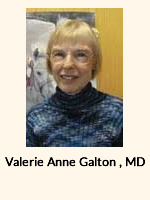 metabolism and action that has a fundamental relevance for clinical thyroidology, and she is committed to graduate and post-graduate education. This named lectureship and award recognizes someone who has been instrumental in collaborative research that has significantly contributed to the advancement of our clinical knowledge of thyroid conditions. Similar to other ATA awards, both men and women can be recipients. However, unique from prior awards, this is the first ATA fund and award named after a female scientist. WIT is especially excited as we were invited to help the ATA choose the named female researcher. It was very clear to WIT that Dr. Valerie Anne Galton is a pioneer and role model and an exemplary choice for this named fund and award lectureship. The first Valerie Anne Galton Distinguished Lectureship will occur at the 2021 ATA meeting. To continue the goal of women supporting women (and likewise men are welcome to actively support women), WIT is committed to help fundraise. We encourage ALL of those who support WIT and the ATA's first named lectureship after a legendary female scientist, to donate to The Val Galton Distinguished Lectureship Fund. WIT hopes to keep track of our fundraising efforts for this important ATA milestone.
WIT has also been actively nominating highly qualified women for ATA awards. Historically women have been underrepresented as ATA award winners. WIT believes that awards should go to the most qualified, and that many times there are exceptionally qualified women who are overlooked or are not adequately supported. This year WIT is thrilled to let you know that Dr. Jacqueline Jonklaas, current ATA Secretary, won the Distinguished Service Award. As many of you know, Dr. Jonklaas was exceptionally deserving of this award. If you see or e-mail Jacqueline, please congratulate her.
Additionally, although WIT was not involved in selecting ATA grant recipients, we were excited to see a record number of female grant recipients this year(https://www.thyroid.org/professionals/research-grants/thyroid-research-recipients-2020/). We are thrilled that the ATA is supporting the scholarly work of our female constituents.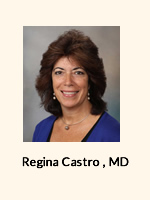 Finally, WIT is supportive of one of the ATA's newest committees: Diversity, Equity and Inclusion. 2020 has been a tumultuous year in the United States and abroad, emphasizing the importance of this committee. The goals of this newly formed committee closely align with WIT's goals. WIT is willing to work with this committee as needed. In the future, the current co-Chair of the DEI committee, Dr. Regina Castro, will be our new President of WIT. We welcome President-elect, Regina Castro.
Thanks for your continued support for WIT. Remember:
**Please donate to The Val Galton Distinguished Lectureship Fund
Whether you donate $20 or $200, we would like all WIT members and WIT supporters to show their support for the ATA's first award and lectureship named after a female researcher.
Stay safe and healthy. Best wishes,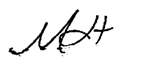 Megan R. Haymart, MD
2019-2020 WIT President
WIT Woman of the Year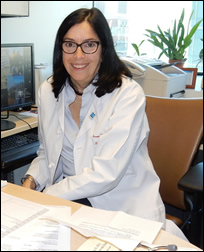 Women in Thyroidology (WIT) elects a Woman of the Year who is announced during the Women in Thyroidology yearly gathering held at the Annual Meeting of the ATA. The Woman of the Year is selected based on her long-standing commitment to the ATA and to the advancement of women both within the organization and in the thyroid field. The nominees need not have been recognized for their academic or clinical contributions.
We are pleased to have recognized the following women for their outstanding commitment to mentoring and advancing Women in Thyroidology:
2012 – Carole A. Spencer, PhD
2013 – Virginia D. Sarapura, MD
2014 – Rebecca S. Bahn, MD
2015 –  Stephanie L. Lee, MD, PhD
2016 – M. Carol Greenlee, MD
2017 – Julie Ann Sosa, MD
2018 – Elizabeth Pearce, MD
2019 – Susan J Mandel, MD MPH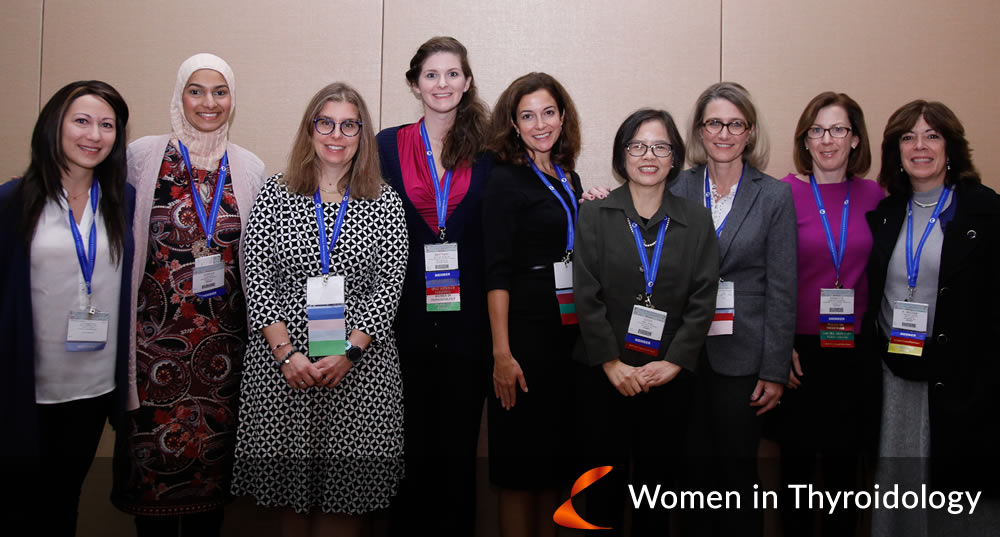 GOALS of Women in Thyroidology (WIT):

1. Recruit and retain more women ATA members.
More than 50% of graduating medical students and about 50% of endocrine fellows are women, 37% of ATA members are women (up from 10% in 2002).
Actively recruit women endocrine fellows, members of other medical and scientific organizations, and authors of ATA abstracts and other publications about the thyroid.
Welcome and mentor new women Associate Members to promote collegiality, network scientifically and socially, and encourage progressing to Active Membership.
2. Increase women's visibility within ATA.
Nominate more qualified women to committee and leadership positions.
Encourage and promote the nomination of more women for ATA awards.
Suggest the names of women to participate in the annual meeting scientific program.
3. Better address women's thyroid health topics at ATA and other meetings.
Increase coverage of autoimmune thyroid disease, maternal hypothyroidism, and thyroid disease and obesity.
4. Engage Women in Thyroidology in technology to promote professional and personal interaction.