You are invited to join Women in Thyroidology
of the American Thyroid Association (ATA)

WIT Plenary Program: A Celebration of the 20-year Anniversary of the Founding of WIT
October 22, 2022; 12:00 – 1:30 pm EDT at the ATA's 2022 Annual Meeting
Moderators
• Presentation of Woman of the Year Award to M. Regina Castro, MD
• Presentation of Women Advancing Thyroid Research Awards
• Plenary Lecture: "Examining the Bigger Picture: Correlating Sonographic Patterns and Molecular Profiles with Thyroid Nodule Cytology", Jennifer A. Sipos, MD
• Discussion Panel: "A Conversation with Women of the ATA" moderated by Eve Bloomgarden, MD and David S. Cooper, MD
• Panelists: Naifa L. Busaidy, MD; Debbie W. Chen, MD; Sophie Y. Dream, MD, FACS; Anna M. Sawka, MD, PhD; Rebecca E. Schweppe, PhD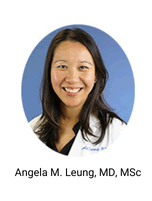 President's Corner – July 2022
Dear ATA Women in Thyroidology Colleagues and Supporters,
I hope that all are enjoying a nice summer. The ATA's Women in Thyroidology (WIT) Task Force continues to keep busy with activities, and we are particularly excited to be celebrating the 20-year anniversary of WIT at the ATA annual meeting in Montreal this fall! More details, including the faculty, are included above.

It was wonderful to see so many friends, new and old, on our recent first-ever ATA WIT (Virtual) Coffee Hour held this past May. I thank our moderators, Amy Y. Chen, MD, MPH, FACS, FACE and Aime T. Franco, PhD, for leading such a terrific discussion with our panelists, Sofie Bliddal, MD; Elizabeth G. Grubbs, MD; Megan R. Haymart, MD, and Jacqueline Jonklaas, MD, PhD, MPH in a conversation that touched on topics ranging from how to get more involved in the ATA, work-life balance, and career advancement. For those who were unable to join, I invite you to view the archived recording.
Thank you everyone for your support and excitement toward promoting WIT. I look forward to connecting with many of you in our upcoming second webinar of the year, and at the annual meeting this fall in Montreal.
Warmest regards,



Angela M. Leung, MD, MSc
President, ATA Women in Thyroidology 2021-2022
On behalf of the ATA WIT Task Force, 2021-22:
Ernest O. Asamoah, MD, M. Regina Castro, MD, Debbie W. Chen, MD, David S. Cooper, MD, Sophie Y. Dream, MD, Natalia Genere, MD, Michele M. Merten, NP, Maria Papaleontiou, MD, Naykyy Ospina Singh, MD, Jessica R. Smith, MD, Carrie Prewitt, ATA staff liaison
ATA Women in Thyroidology Webinar: Examining the Roles of Women in Thyroidology and Medicine
Wednesday, September 7, 2022 at 8pm EDT
Moderators
Angela M. Leung, MD, MSc, President, ATA Women in Thyroidology
Maria Papaleontiou MD, President-Elect, ATA Women in Thyroidology
Moving from Awareness to Action in Diversity, Equity, and Inclusion Initiatives
Minerva Romero Arenas, MD, MPH
Assistant Professor of Surgery | Section of Endocrine and Minimally Invasive Surgery | Department of Surgery | New York-Presbyterian Hospital/Weill Cornell Medical Center
Fixing the System: Gender Equity and the Future of Women in Medicine
Eve Bloomgarden, MD
Co-Founder and Chief Operating Officer, IMPACT (Illinois Medical Professionals Action Collaborative Team) | Director of Thyroid Care, Northshore University Health System | Director of Endocrine Innovation and Education, Division of Endocrinology, Northshore University Health System
This webinar is complimentary to all ATA members, but pre-registration is required.
Women in Thyroidology Virtual Coffee Hour
The ATA Women in Thyroidology group held their first "virtual coffee hour" to discuss topics impacting our members. Discussion leaders Drs. Sofie Bliddal, Libby Grubbs, Jacqueline Jonklaas, and Megan Haymart shared on topics: how to carve out your niche in Thyroidology; challenges in balancing career & family; the effect of the pandemic on female careers; principles of successful negotiations; career opportunities in academia, pharma, and private practice, and how to advocate for time and resources.
This webinar was held on May 2, 2022. The recording of this webinar is complimentary to all ATA members.
Congratulations Nancy Carrasco, MD
We would like to acknowledge and celebrate the awardee this year of the Valerie Anne Galton Distinguished Lectureship Award, Nancy Carrasco, MD, who will be honored with the presentation of her award this fall at the ATA annual meeting. The ATA has established this award and lectureship to recognize the contributions of Dr. Galton, who has been a member of the ATA since 1963 and been instrumental in collaborative thyroid research, significantly contributing to the advancement of the field. We encourage you to consider a contribution to the Valerie Anne Galton Lectureship Award fund that is currently 43% endowed, in celebration of this special ATA award, the first to be named in honor of a woman.
WIT Woman of the Year
Women in Thyroidology (WIT) elects a Woman of the Year who is announced during the Women in Thyroidology yearly gathering held at the Annual Meeting of the ATA. The Woman of the Year is selected based on her long-standing commitment to the ATA and to the advancement of women both within the organization and in the thyroid field. The nominees need not have been recognized for their academic or clinical contributions.
We are pleased to have recognized the following women for their outstanding commitment to mentoring and advancing Women in Thyroidology:
2012 – Carole A. Spencer, PhD
2013 – Virginia D. Sarapura, MD
2014 – Rebecca S. Bahn, MD
2015 – Stephanie L. Lee, MD, PhD
2016 – M. Carol Greenlee, MD
2017 – Julie Ann Sosa, MD
2018 – Elizabeth Pearce, MD
2019 – Susan J Mandel, MD MPH
2021 – Megan Haymart, MD
2022 – M. Regina Castro

M. Regina Castro, MD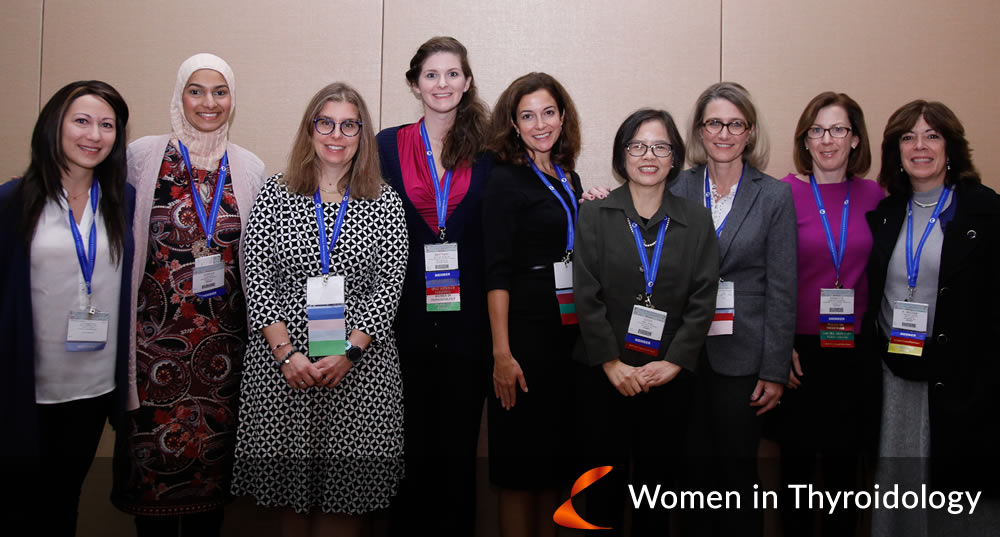 Mission and Objectives

of Women in Thyroidology (WIT):

Women in Thyroidology (WIT) was founded in 2002 as an all-inclusive community of American Thyroid Association (ATA) members across backgrounds, genders, and subspecialties. Through advocacy and empowerment, WIT aims to foster an environment that addresses the unique challenges of women in the field of thyroidology, to celebrate the achievements and contributions of women advancing thyroid research and clinical care, and to promote gender equity in the thyroidology workforce.
Initiatives
Developing year-round webinars, workshops, and programs on topics of interest
Coordinating an onsite networking and mentorship/sponsorship opportunity event during the ATA Annual Meeting
Formulating a WIT plenary to be held at each ATA Annual Meeting, in conjunction with the Program Committee
Promoting nominations of female ATA members for the annual ATA Awards,

 

for leadership positions on the ATA Board of Directors, and for the editorial boards of the ATA journals

Coordinating the annual WIT Woman of the Year Award to be celebrated at the ATA Annual Meeting
Collaborating with the ATA Diversity, Equity and Inclusion Committee and other groups to support inclusivity, leadership growth, and career development of female ATA members