You are invited to join Women in Thyroidology
of the American Thyroid Association (ATA)

Dear Members of Women in Thyroidology,
It is my honor to serve as your president for the next year.  We are embarking on the 16th year of Women in Thyroidology, and it is amazing to see how far we have come as an organization.  Women in Thyroidology was formed at the ATA Annual Meeting in Los Angeles in 2002, by women leaders Carole Spencer, Virginia Sarapura and Frances Carr, to connect women within the ATA and also to increase participation of women within the organization through recognition and involvement.  ATA membership has continued to increase to currently 1835 ATA members, 693 of which are women.  We also have a very active group of trainees and early career professionals, including 186 women.  The ATA has 7 women on the Board of Directors and 10 women that are Chairs of our committees.
We had a great meeting in Victoria, BC, Canada this year.  We had robust attendance at the WIT networking meeting with 75 people attending.  Dr. David Cooper gave an excellent talk on Women and the future of Endocrinology that stimulated a lot of enthusiastic discussion.
I would like to congratulate Dr. Julie Anne Sosa, our WIT Woman of the Year.  Dr. Sosa is the 6th recipient of the Woman of the Year. She is Professor of Surgery and Medicine at Duke University, and is Chief of Endocrine Surgery and Director of Surgical Center for Outcomes Research and the leader of the Solid Tumor Therapeutics Program at Duke Cancer Institute.  She has been a very active member in the ATA and is currently Treasurer of the ATA Board of directors.
I would like to welcome our new WIT taskforce members:  We had our first meeting at the annual meeting and a second conference call meeting this week, and we have an amazingly productive committee!
Whitney Goldner, MD, University of Nebraska Medical Center- WIT President
Sissy Jhiang, PhD, The Ohio State University- WIT President-Elect
Aime Franco, PhD, University of Arkansas for Medical Sciences- Basic Scientist/Researcher
Brittany Avin, BS, Johns Hopkins University School of Medicine- Basic Trainee
Jennifer Perkins, MD, Duke University- Clinical Educator
Masha Livhits, MD, UCLA David Geffen School of Medicine- Clinician and Clinical Researcher
Neha Patel, MD, New York Eye and Ear- Clinician
Sabrina Gill, MD, University of British Columbia- Clinician
Sophia Ali, MD, Wayne State University- Clinician
Spyridoula Maraka, MD, MSc, University of Arkansas for Medical Sciences and CAVHS- Clinician and Clinical Researcher
We have a lot of great ideas for the upcoming year.  We plan to continue to increase the networking and mentoring opportunities for women within the society and would also like to be able to facilitate collaborations.  Be sure to join the Facebook page and the WIT iMIS community in Members' Only on thyroid.org.
I would love to hear any feedback or ideas for change going forward!  Please email me at wgoldner@unmc.edu.
I look forward to a very exciting and productive next year.
Sincerely,

Whitney Goldner, MD
WIT Woman of the Year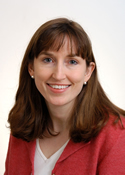 Women in Thyroidology (WIT) elects a Woman of the Year who is announced during the Women in Thyroidology yearly gathering held at the Annual Meeting of the ATA. The Woman of the Year is selected based on her long-standing commitment to the ATA and to the advancement of women both within the organization and in the thyroid field. The nominees need not have been recognized for their academic or clinical contributions.
We are pleased to have recognized the following women for their outstanding commitment to mentoring and advancing Women in Thyroidology:
2012 – Carole A. Spencer, PhD
2013 – Virginia D. Sarapura, MD
2014 – Rebecca S. Bahn, MD
2015 –  Stephanie L. Lee, MD, PhD
2016- M. Carol Greenlee, MD
2017 Julie Ann Sosa, MD
2018 Elizabeth Pearce, MD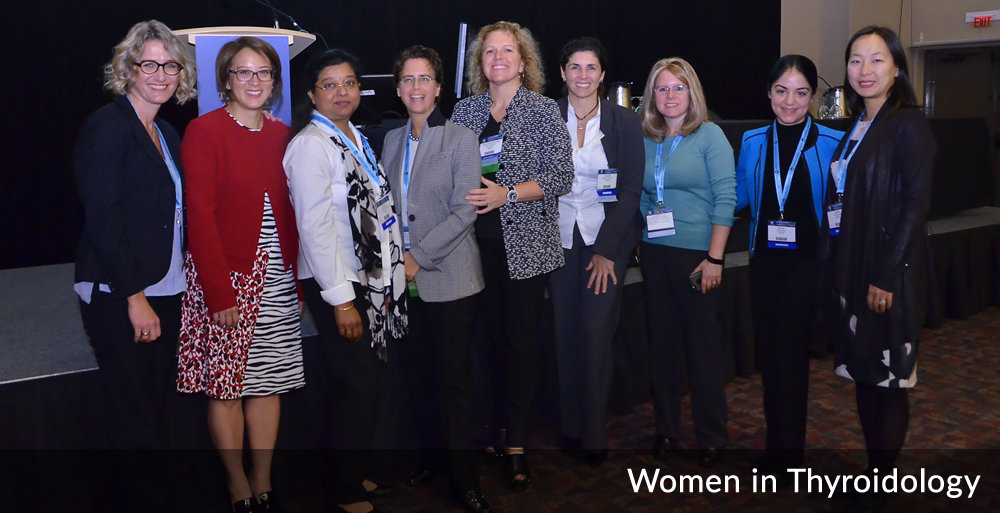 GOALS of Women in Thyroidology (WIT):

1. Recruit and retain more women ATA members.
More than 50% of graduating medical students and about 50% of endocrine fellows are women, 37% of ATA members are women (up from 10% in 2002).
Actively recruit women endocrine fellows, members of other medical and scientific organizations, and authors of ATA abstracts and other publications about the thyroid.
Welcome and mentor new women Associate Members to promote collegiality, network scientifically and socially, and encourage progressing to Active Membership.
2. Increase women's visibility within ATA.
Nominate more qualified women to committee and leadership positions.
Encourage and promote the nomination of more women for ATA awards.
Suggest the names of women to participate in the annual meeting scientific program.
3. Better address women's thyroid health topics at ATA and other meetings.
Increase coverage of autoimmune thyroid disease, maternal hypothyroidism, and thyroid disease and obesity.
4. Engage Women in Thyroidology in technology to promote professional and personal interaction.