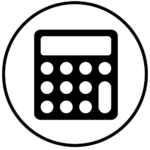 Change In Thyroid Nodule Volume Calculator

Please note: Due to HIPAA regulations, the information entered into the calculator is not retained by the ATA system. Once you exit the calculator page, any calculated data and results will no longer be available. However, you may enter a non-HIPAA patient identifier and print the calculator results to maintain for your record-keeping purposes. The calculator below was developed to assist providers in determining the change in a nodule size over time. The calculator uses the half cube formula (not ellipsoid formula.) This calculator should be used in conjunction with the recommendations published within the ATA Thyroid Nodule Guidelines (an update to these guidelines is expected in 2024.) A 50% interval increase in thyroid volume size is felt to be a valid reason for potential aspiration/ re-aspiration of a thyroid nodule under surveillance.
Thyroid Disease Calculators – Disclaimer
The American Thyroid Association has posted these thyroid disease related calculators to provide assistance to practitioners for select practice areas concerning thyroid disease and thyroid cancer. It is recommended that these calculators be used in conjunction with respective ATA guidelines. The calculators and related guidelines are not inclusive of all proper approaches or methods, or exclusive of others. The calculators do not establish a standard of care and specific outcomes with their use are not guaranteed.
Treatment decisions must be made based on the independent judgment of health care providers and each patient's individual circumstances. The calculator is not intended to take the place of physician judgment in diagnosing and/or treatment of particular patients. The ATA posts calculators based on the evidence available in the literature and the expert opinion of ATA members in the recent timeframe of the development of calculators. Calculators cannot account for individual variation among patients.
Therefore, the American Thyroid Association considers use of these calculations to be voluntary, with the ultimate determination regarding their application to be made by the treating physician and health care professionals with the full consideration of the individual patient's clinical history and physical status.