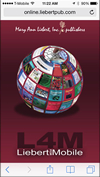 Editor: Peter Kopp, MD
Thyroid, the Association's official monthly journal, is a peer-reviewed forum for topics ranging from the molecular biology of the thyroid gland to clinical management of thyroid disorders. All Association members receive a subscription to Thyroid. Please send editorial questions to Dr.Kopp at editorthyroid@thyroid.org

Featured Thyroid Articles – Open Access for a limited time
Editor: Gerard M. Doherty, MD
VideoEndocrinology™ delivers high-quality peer-reviewed videos of cutting-edge surgical and diagnostic imaging procedures covering thyroid, parathyroid, and adrenal tumors and diseases, with minimally invasive, robotic, and open surgical procedures. This rapid publication videojournal offers a dynamic new venue for physicians and surgeons to share their techniques and showcase new approaches. VideoEndocrinology is included with your subscription to the monthly flagship Thyroid.

Featured Videos – Open Access for a limited time
Editor: Jerome M. Hershman, MD
Clinical THYROIDOLOGY®, this highly valued abstract and commentary publication provides a broad-ranging look at the clinical thyroid literature. Experts in the field summarize the most cutting-edge, relevant articles that clinicians should know about and provide insight into the relevance and impact of each article on patient care. Please send editorial questions to Jerome M. Hershman, MD at clinicalthyroidology@thyroid.org

Clinical Thyroidology Archive – Open Access to Past Clinical Thyroidology Articles
Featured Clinical Thyroidology Articles – Open Access for a limited time

Professional Guidelines

Clinical Management guidelines, Basic research handbook and surgical statements are developed by the ATA Taskforce with expertise on the topic and after peer review published in distinguished medical journals such as Thyroid, Archives of Internal Medicine and the Journal of the American Medical Association. American Thyroid Association Professional Guidelines
SESSION RECORDINGS AND VIDEOS
The American Thyroid Association® Session Recordings are a compilation of video recordings and synchronized slides for ATA Annual Meetings, CEU, and ATA Symposia. Additional information on purchasing and accessing the session recordings can be found at http://sessions.thyroid.org.
To view content from 2013 Thyroid Educational Sessions and older, please access the archives
Editor-in-chief, Alan Farwell, MD
Clinical Thyroidology for the Public summarizes selected research studies discussed in the previous month's issue of Clinical Thyroidology, an official publication of the American Thyroid Association.

Become a Friend of the ATA! Subscribe to Friends of the ATA e-news
86th ANNUAL MEETING OF THE ATA September 21-25, 2016, Sheraton Denver Downtown Hotel, Denver, Colorado
Abstracts – 86th Annual Meeting — Published in Thyroid
ATA CALCULATORS
Calcitonin and Carcinoembryonic Antigen (CEA) Doubling Time Calculator
Change in Thyroid Nodule Volume Calculator
Thyroid Cancer Staging Calculator
Thyroid Mobile

Mobile App for ATA Calculator
The American Thyroid Association (ATA) has launched its Thyroid Calculator mobile app currently available from the Apple iTunes App store for use on the iPhone and iPad. The thyroid calculator combines three key thyroid assessment tools that medical, endocrinology, and thyroid professionals can use for rapid calculation of: Calcitonin and Carcinoembryonic Antigen (CEA) Doubling Time; Change in Thyroid Nodule Volume; and Thyroid Cancer Staging.