Search Clinical Thyroidology
CLINICAL THYROIDOLOGY
AUGUST 2011
VOLUME 23 ISSUE 8
Editor: Jerome M. Hershman, MD
TABLE OF CONTENTS
Clinical Thyroidology August 2011 Entire Issue (PDF File, 1.77 MB, 24 pages)
(Note: the links below open the individual articles in this issue for saving and printing)
FIVE-YEAR SURVIVAL IS SIMILAR IN THYROID CANCER PATIENTS WITH DISTANT METASTASES PREPARED FOR RADIOACTIVE IODINE THERAPY WITH EITHER THYROID HORMONE WITHDRAWAL OR RECOMBINANT HUMAN THYROTROPIN
Clinical Thyroidology Volume 23 Issue 8 August 2011
(PDF File, 182 KB, pages 2-4)
HYPERTHYROIDISM DUE TO HCG OCCURS IN 2% OF CASES OF GESTATIONAL TROPHOBLASTIC DISEASE
Clinical Thyroidology Volume 23 Issue 8 August 2011
(PDF File, 201 KB, page 5-6)
A PET/CT THAT IS NEGATIVE MAY BE A COST-EFFECTIVE MODALITY TO AVOID UNNECESSARY SURGERY FOR NODULES WITH NONDIAGNOSTIC CYTOLOGY
Clinical Thyroidology Volume 23 Issue 8 August 2011
(PDF File, 152 KB, pages 7-8)
LASER PHOTOCOAGULATION OF BENIGN THYROID NODULES IS NOT FIRST-LINE THERAPY IN MOST PATIENTS
Clinical Thyroidology Volume 23 Issue 8 August 2011
(PDF File, 150 KB, pages 9-10)
AFTER IODINE-131 THERAPY FOR DIFFERENTIATED THYROID CANCER, INFERTILITY IS LOW AND OBSTETRICAL AND NEONATAL OUTCOMES ARE VERY GOOD
Clinical Thyroidology Volume 23 Issue 8 August 2011
(PDF File, 178 KB, pages 11-13)
ADDISON'S DISEASE IS MORE CLOSELY ASSOCIATED WITH HASHIMOTO'S THAN WITH GRAVES' DISEASE
Clinical Thyroidology Volume 23 Issue 8 August 2011
(PDF File, 150 KB, page 14-15)
INCREASED DIETARY INTAKE OF NITRATE MAY CAUSE THYROID CANCER IN MEN
Clinical Thyroidology Volume 23 Issue 8 August 2011
(PDF File, 247 KB, page 16-17)
THYROID HORMONE TRANSPORTERS ARE EXPRESSED IN THE HUMAN HYPOTHALAMUS
Clinical Thyroidology Volume 23 Issue 8 August 2011
(PDF File, 154 KB, page 18-19)
WHY DID TSH RECEPTOR MUTATIONS THAT CAUSED FRANK HYPOTHYROIDISM IN A PATIENT CAUSE ONLY SUBCLINICAL TSH RESISTANCE IN HER SIBLING?
Clinical Thyroidology Volume 23 Issue 8 August 2011
(PDF File, 163 KB, page 20-21)
81st Annual Meeting of the ATA
ATA Webinar – New Technologies and Techniques in Thyroid Surgery Tuesday, September 20, 2011; 11:00 AM ET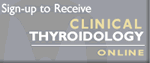 CLINICAL THYROIDOLOGY, this highly valued abstract and commentary publication provides a broad-ranging look at the clinical thyroid literature. Experts in the field summarize the most cutting-edge, relevant articles that clinicians should know about and provide insight into the relevance and impact of each article on patient care. Please send editorial questions to Dr. Hershman at clinicalthyroidology@thyroid.org.
For a subscription to the online version of CLINICAL THYROIDOLOGY, sign up here.

To view and print downloaded PDF files while online, you need the Adobe Acrobat Reader installed and configured as a "helper" application or "add-on" within your web browser. You can then view and/or print the documents directly from within your browser.