87th Annual Meeting of the American Thyroid Association
October 18-22, 2017
The Fairmont Empress & Victoria Conference Centre
Victoria, BC, Canada
A new attendance record was set at the 87th Annual Meeting of the American Thyroid Association!  ATA hosted over 1300 attendees at its annual meeting from October 18-22, 2017 in Victoria, BC, Canada.
Over one-third of meeting registrants traveled from around the globe to attend the meeting with 55 different countries represented. Gender was split almost evenly between women and men at the meeting signaling the continuous increase of women interested in Thyroidology. While nearly 54% of attendees best describe their work as endocrinology, surgery, oncology, and science/research were strongly represented as well. Abstracts were at an all-time high with 521 total submissions. Trainees continue to be impressed with ATA's Ridgway Trainee Conference with 273 participants.  ATA prides itself on being the leading organization focused on thyroid biology and the prevention and treatment of thyroid disorders through excellence and innovation in research, clinical care, education, and public health.  The ATA annual meeting focused on:
recent advances regarding mechanisms,
screening, diagnosis, and management of thyroid disorders with attention to
translating the latest research findings and clinical management guidelines into
practice to enhance patient care.
A comprehensive agenda, a diverse audience and great networking fostered an experience many ATA attendees will not forget.
The opening session offered an annual review of Thyroidology from the clinical, basic and surgical perspective by presenters Carmelo Nucera, Gregory Brent and Julie Ann Sosa. Distinguished Lectureships Awards were delivered by
Megan Haymart (Van Meter Lecture – Implications of Diagnosing Low-Risk Thyroid Cancer),
Julia Ann Sosa (Lewis E. Braverman Lecture – Re-Telling the Story About Thyroid Cancer – Rising Incidence, Mortality and Maybe an Explanation),
Quan-Yang Duh (Paul Starr Lecture – Technical and Technological Advances that Changed Thyroid Surgery) and
Yuri Nikiforov (Sidney H. Ingbar Lecture – Genomic Evolution of Thyroid Nodules and Cancer – New Answers to Old Questions)
provided depth and breadth to the program. Plenary lectures presented by Weiping Teng (Iodine Intake and Thyroid Diseases – Learnings in China) and John Cambier (Understanding How Breaches in Immune Tolerance Lead to Autoimmune Thyroid Disease). A highlight of the meeting was the Clark T. Sawin Historical Vignette moderated by Peter Kopp which featured a panel consisting of Gilbert Daniels, Samuel Refetoff, Douglas Forrest and Carla Moran presenting their perspectives on 50 years of thyroid research accomplishments.  The Sawin Vignette received very high praise such as "one of the best lectures I ever attended," per John C. Morris, III, ATA President.
A number of networking activities forged new friendships, collaborations and all-around warm collegiality. The opening welcome reception in the ATA exhibit hall offered exhibitors an opportunity to connect with attendees and showcase their services. The annual networking dinner at the Royal BC Museum offered a unique event featuring great food, entertainment and a look at the history of Canada from the First Peoples of British Columbia to modern history. The evening ended with an open-ended invitation to all meeting registrants from host President John Morris to attend the ATA President's Leadership Reception. From trainees to seasoned thyroidologists, all enjoyed a night full of dancing that lasted into the early morning hours, ending only after a rally cry for an encore song by one of Canada's premiere local deejays.
In summary, attendees were treated to a great experience in a beautiful city to grow their knowledge on the latest information in the thyroid field. Evaluation survey results show that attendees most felt their patients will benefit from their participation at the ATA meeting through accuracy of diagnosis, improved patient understanding of disease prognosis and therapeutic expectations. Survey respondents rated diagnostic testing, appropriate utilization of new therapy and optimization of medical therapy as the highest competency areas improved as a result of their participation. Nearly 95% of attendees felt their experience at the meeting was excellent or good. Approximately 92% of attendees felt the learning objectives outlined for the meeting were met.  The ATA thanks you for attending the annual meeting and looks forward to welcoming you to two upcoming meetings in 2018.
ATA's new president Charles H. Emerson looks forward to welcoming everyone to the 88th Annual Meeting of the ATA taking place October 3-7, 2018 in Washington, DC.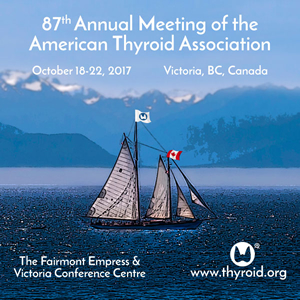 Meeting Agendas
87th Annual Meeting Program (PDF File, 1.14 MB)
 E. Chester Ridgway Trainee Conference (PDF File, 179 KB)
Endocrine Neck Advanced Ultrasound Course (PDF File, 261 KB)
2017 ATA Pediatric Thyroid Forum Satellite Program  (PDF File, 283 KB)
Meeting Abstracts
87th Annual Meeting Abstracts – Published in Thyroid
Credits And Certificates
Claim CME credits from the ATA 87th Annual Meeting –available to attendees of the live annual meeting only. Enduring CME credits not available.
Claim available ECNU credits from the ATA 87th Annual Meeting
News Releases
News from the 87th Annual Meeting of the ATA
ATA Awards and Leadership News from the 87th Annual Meeting
Program Committee
87th Annual Meeting of the ATA Program Committee
Upcoming Meetings