15th International Thyroid Congress and 85th Annual Meeting of the ATA (Hosted by the American Thyroid Association)
October 18-23, 2015
Walt Disney World Swan and Dolphin Resort
Lake Buena Vista, Florida
Continuing Medical Education (CME) Credits And Certificates
CME credits and certificates for the 15th International Thyroid Congress will be available online only. Visit www.prereg.net/2015/ata/ceu to claim your CME credits and print your own official CME certificate from the Congress.
To obtain a registration receipt from the meeting, please email ATA's registration vendor QMS at ata@prereg.net.
News Releases
Aggressive Approach to Anaplastic Thyroid Cancer Shows Benefit – October 20, 2015
Medscape Medical News, Nancy A Melville
News from the 15th International Thyroid Congress & 85th Annual Meeting of the ATA
ATA Awards and Leadership News from the 85th Annual Meeting
Program Committee
Thanks to the program chair, Dr. Rebecca Bahn, who with the 15th ITC Program Committee, designed an outstanding scientific educational experience for nearly 2500 attendees in Lake Buena Vista, Florida.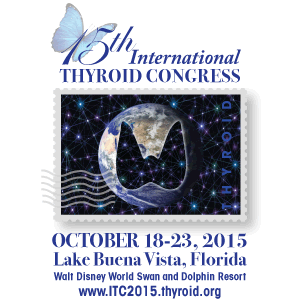 15th ITC Meeting Program (PDF File, 264 KB)
15th ITC Abbreviated Program (PDF File, 97 KB)
15th ITC E. Chester Ridgway Trainee Conference (PDF File, 363 KB)
15th International Thyroid Congress Meeting Abstracts – Published in Thyroid