The ATA supports thyroid research through the generosity of members, patients, industry, and workplace donors enabling the ATA to award thyroid research grants since 1996.  ThyCa: Thyroid Cancer Survivors, Inc., a member of the ATA Alliance for Patient Education and Thyroid Head and Neck Cancer Foundation (THANC) contribute significant thyroid research grants establishing additional grants for young investigators that are awarded (in total) by expert reviewers on the ATA Research Committee.  Our thanks to the members of the ATA Research Committee who have contributed their time and expertise over many years to the advancement of thyroidology.
1996 ATA Research Grant Recipients
1996 ATA Grant
Early Sequel of Abnormal Intrauterine and Postnatal Thyroid Hormone Exposure
Joanne Rovet, PhD
The Hospital for Sick Children, Toronto, Canada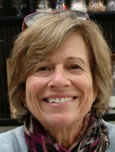 Joanne Rovet, PhD is Professor Emeritus in Pediatrics and Psychology at University of Toronto and Senior Scientist Emeritus in the Neuroscience and Mental Health Program at The Hospital for Sick Children in Toronto. She obtained her PhD from the University of Toronto in 1974. Dr. Rovet has conducted seminal studies on the role of thyroid hormone in the developing human brain using clinical/behavioral, electrophysiological and structural and functional neuroimaging approaches to do so. Her studies of children with congenital hypothyroidism have spanned a period of almost 40 years during which she followed multiple cohorts in order to address key questions on their development. She has also studied offspring of women with thyroid disease in pregnancy and children with hypothyroxinemia to address key questions on timing of thyroid hormone loss and outcome. Currently, she is applying the knowledge she has gained from this work in order to further our understanding the impact of environmental thyroid disruptors on children's brain development. Dr. Rovet has consulted to the WHO, NIH, Environmental Defense League, Health Canada, and the US EPA and has sat on several EPA-associated panels examining perchlorate effects in drinking water. She has been a member of ATA for almost 30 years and first spoke at an invited session on thyroid and brain in 1988.
Peter Hauser, MD – Department of Veterans Affairs, Baltimore, Maryland
A Quantitative MRI Study of Brain Structures in Subjects with Resistance to Thyroid Hormone
Constantine Pavlides, PhD – The Rockefeller University, New York, New York
Developmental Changes in Hippocampal Physiology and Synaptic Plasticity: Effects of Altered Thyroid State during the Perinatal Period
Back to Research Grant Listing by Year