The ATA supports thyroid research through the generosity of members, patients, industry, and workplace donors enabling the ATA to award thyroid research grants since 1996.  ThyCa: Thyroid Cancer Survivors, Inc., a member of the ATA Alliance for Patient Education and Thyroid Head and Neck Cancer Foundation (THANC) contribute significant thyroid research grants establishing additional grants for young investigators that are awarded (in total) by expert reviewers on the ATA Research Committee.  Our thanks to the members of the ATA Research Committee who have contributed their time and expertise over many years to the advancement of thyroidology.
2000 ATA Research Grant Recipients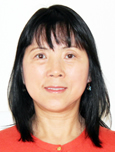 2000 ATA Grant
Thyroid Hormone Regulation of Neural Differentiation
Yan-Yun Liu, PhD
West LA VA Medical Center, Los Angeles, California
Currently at University of California/VA Medical Center, Los Angeles, California
The ATA supported Yan-Yun (Kaitlyn) Liu's, PhD research project in understanding the role of thyroid hormone neural differentiation of embryonic stem cells. Dr. Liu obtained B.S. from University of Jilin (China), M.S. from University of Beijing (China), and Ph.D. in Molecular Biology from University of Wales (U.K). She had two years of pre-doctorial training (1994-1996) in Endocrinology division in MD Anderson Cancer Center, Houston, UT, and her post graduate training was in Department of Medicine, David Geffen School of Medicine at UCLA (1997-2000). She became a research faculty member in 2001 at UCLA. In 2004, she became an assistant professor and in 2010 as associate professor. Although her current research interest has been shifted to thyroid hormone receptor isoform-specific actions in metabolism she still carries on some research in understanding the role of T3 in brain development.
2000 ATA Grant
The Role of AKT in the Thyroid Tumorigenesis Objectives
Matthew D. Ringel, MD
Washington Hospital Center, Washington DC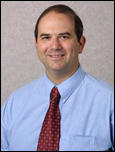 Matthew D. Ringel is a Professor of Medicine in the Division of Endocrinology and Metabolism at Ohio State University and Arthur G. James Comprehensive Cancer Center. He is the Director of the Endocrinology fellowship at Ohio State and is the co-director of the Ohio State Thyroid Cancer Unit. He currently is a member of the ATA Board of Directors, chair of the publication committee, editor of ATA's SIGNAL and a Co-Chair of the 2009 Annual Meeting Program Committee. Dr. Ringel has an active clinical practice focused on thyroid cancer. His laboratory program focuses on defining the signaling pathways responsible for aggressive thyroid cancer behavior with a particular interest in the PI3 kinase/AKT pathway and other signaling cascades that regulate cell motility and invasion.
Back to Research Grant Listing by Year