The ATA supports thyroid research through the generosity of members, patients, industry, and workplace donors enabling the ATA to award thyroid research grants since 1996.  ThyCa: Thyroid Cancer Survivors, Inc., a member of the ATA Alliance for Patient Education and Thyroid Head and Neck Cancer Foundation (THANC) contribute significant thyroid research grants establishing additional grants for young investigators that are awarded (in total) by expert reviewers on the ATA Research Committee.  Our thanks to the members of the ATA Research Committee who have contributed their time and expertise over many years to the advancement of thyroidology.
2008 ATA Research Grant Recipients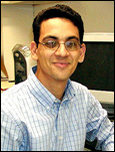 2008 ATA Grant
Role of Neurogranin in Hypothyroidism-induced Synaptic Plasticity Deficits
Nashaat Z. Gerges, PhD
Medical College of Wisconsin, Milwaukee, Wisconsin Press Release
2008 ATA Grant
Macrophage Causes Thyroid Diseases in LMP7 KO Mice: A New Spontaneous Thyroiditis Model
Hiroaki Kimura, PhD
The Johns Hopkins Medical Institutions, Baltimore, Maryland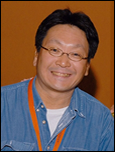 Dr. Hiroaki Kimura is an assistant professor at Jichi Medical University, Center for Molecular Medicine, Division of Inflammation Research (Tochigi, Japan), studying thyroidal inflammation and metabolic diseases from 2010. He graduated and obtained his PhD at Nagoya City University, Graduate School of Pharmaceutical Sciences (Nagoya, Japan), studying transcriptional regulation of inflammatory cytokines. After he studied mycobacterial infection at the National Institute of Infectious Diseases (Tokyo, Japan), he joined Dr. Patrizio Caturegli's lab as a post-doctoral fellow at the Johns Hopkins School of Medicine, Pathology and started a research in autoimmune thyroid diseases. He became a research associate and received an ATA research grant in 2008. He received Young Investigator Award from Asia Oceania Thyroid Association and Japan Thyroid Association in 2009. Press Release
2008 ThyCa ATA Grant – Thyroid Cancer
Regulation of Sodium/Iodide Symporter (NIS) Gene Expression in Thyroid Cancer
Michael S. Fenton, PhD
West Los Angeles VA Medical Center, Los Angeles, California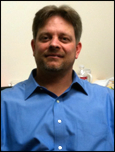 Dr. Mike Fenton earned a B.S. with a major in Biochemistry from UCLA in 1997. Dr. Fenton received a Ph.D. in Biochemistry and Molecular Biology in 2003 from UCLA. He continued his advanced education with a Postdoctoral Fellowship at UCLA. Mike joined the Chemistry faculty at LA Mission College. Currently, Mike is the Honors Program director and has a function on the advisory board for the LAMC Title III and V grants. Press Release
2008 ThyCa ATA Grant – Medullary Thyroid Cancer
Identification of microRNA (miRNA) Target Genes in Human Medullary Thyroid Cancer: A Specific Role of miRNAs to Promote Invasion and Metastasis
Libero Santarpia, MD, PhD
The University of Texas MD Anderson Cancer Center, Houston, Texas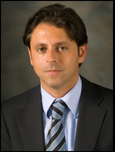 Libero Santarpia MD, PhD is Assistant Professor and Director of a Translational Unit Laboratory within the Department of Oncology at the Tuscan Tumor Institute, Italy. He is currently appointed as Visiting Assistant Professor within the Department of Endocrine Neoplasia and Pathology at The University of Texas, M.D. Anderson Cancer Center, USA. Dr. Santarpia obtained his MD and PhD in Molecular Endocrinology in Italy and pursued research fellowships in Naples (Italy), Heidelberg, Barcelona, and Houston. Most of his career and research is devoted to understand thyroid and neuroendocrine disorders, with a special emphasis on the molecular genetics of thyroid carcinomas. Dr. Santarpia's research interest is to identify new genetic markers of disease for better personalized treatments. He is a recipient of an American Thyroid Association-ATA ThyCa-Grant identifying microRNAs, gene targets and new mechanisms of tumorigenesis and metastases in human medullary thyroid carcinoma. Press Release
2008 THANC ATA Grant
Identification of Primary and Secondary RET Kinase Mutations Associated with Vandetanib (ZD6474) Resistance in Medullary Thyroid Carcinoma
Ann Gramza, MD
Oregon Health & Science University, Portland, Oregon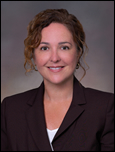 Dr. Gramza received her medical degree from The Ohio State University in 2000. She completed clinical training in internal medicine and palliative care at the University of New Mexico in 2004 and fellowships in hematology and oncology at Oregon Health and Sciences University (OHSU) in 2007. Upon completion of her fellowship training, she was appointed to assistant professor of medicine in the Division of Hematology and Medical Oncology at OHSU and the Portland Veterans Affairs Medical Center, where her translational laboratory research focused on the molecular genetics of thyroid malignancies, in particular as targets for therapeutic agents. She joined the Medical Oncology Branch, NCI in 2010 to continue her pursuit of translational clinical research studies of new therapeutics for patients with thyroid malignancies. In 2012, she joined the Endocrine Oncology Branch, NCI. Press Release
2008 THANC ATA Grant
Reacquisition of RAI Uptake of RAI-refractory Metastatic BRAF (+) Thyroid Cancers by Pretreatment with the Selective MEK Inhibitor AZD6244
Rebecca Leboeuf, MD
Memorial Sloan-Kettering Cancer Center, New York, New York
Currently at Centre Hospitalier de l'Université de Montréal(CHUM), Montreal, Canada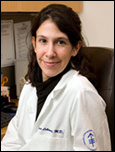 Dr. Rebecca Leboeuf graduated from McGill University Medical School in Montreal. She did her internship, residency and Endocrinology Fellowship at the University of Sherbrooke in Canada, followed by a two year specialized Thyroid Cancer fellowship at Memorial Sloan-Kettering Cancer Center. She is appointed as an Assistant Professor Medicine of Joan and Sanford I. Weill Medical College of Cornell and as an Assistant Attending in the Endocrinology Service of Memorial Sloan-Kettering Cancer Center in New York. Her primary clinical and research interests are in the treatment of patients with thyroid cancer. She has published several peer-reviewed articles and co-authored several review articles and book chapters in the field thyroid oncology. Press Release
2008 THANC ATA Grant
Epigenetic Inactivation of Ras Effectors in Thyroid Neoplasm
Undraga Schagdarsurengin, PhD
Institute of Genetics, Giessen, Germany
Currently at Justus-Liebig-University Giessen, Clinic of Urology, Pediatric Urology and Andrology, Giessen Hessen, Germany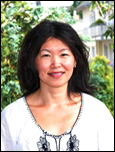 Prof. Dr. rer. nat. Undraga Schagdarsurengin studied Biology/Genetics at the Martin Luther University Halle Germany (1991-1997), and completed her doctoral thesis on "Genetic risk factors of acute coronary infarction" in 2001. As postdoc she worked several years in the field of Cancer Epigenetics. The ATA THANC Research Grant (2008-2010), dealing with epigenetic inactivation of Ras effectors in thyroid neoplasms, was her first large project obtained and processed in an independent way. Currently, Dr. Schagdarsurengin is Associate Professor at the Faculty of Biology Justus-Liebig-University Giessen Germany, and head of the research group "Epigenetics of the Urogenital System" at the Clinic of Urology, Pediatric Urology and Andrology JLU Giessen. Due to job change, her research focus shifted towards Urology and Andrology. At present she is the principal investigator of three research projects funded by the German Research Foundation which deal with Epigenetics of Male Factor Infertility and Epigenetics of Chronic Prostatitis.
2008 Second Year Grant Awardees
Helmut Grasberger, MD
Brian Kim, MD
Krystian Jazdzewski, MD, PhD – ThyCa Grant
Mabel Ryder, MD – ThyCa Grant
Back to Research Grant Listing by Year