The ATA supports thyroid research through the generosity of members, patients, industry, and workplace donors enabling the ATA to award thyroid research grants since 1996.  ThyCa: Thyroid Cancer Survivors, Inc., a member of the ATA Alliance for Patient Education and Thyroid Head and Neck Cancer Foundation (THANC) contribute significant thyroid research grants establishing additional grants for young investigators that are awarded (in total) by expert reviewers on the ATA Research Committee.  Our thanks to the members of the ATA Research Committee who have contributed their time and expertise over many years to the advancement of thyroidology
2010 ATA Research Grant Recipients
2010 ATA Grant 
Regulation of Presympathetic Neuronal Activity by Thyroid Hormone
Jens Mittag, PhD
Karolinska Institutet Stockholm, Sweden
Currently at Universität zu Lübeck, Lübeck, Germany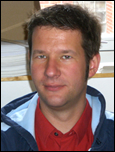 Jens Mittag PhD was born in Duisburg (Germany) in 1978 and grew up in Muenster (Germany). He received his diploma and his PhD in biochemistry from the University of Hannover (Germany) in 2003 and 2006 respectively. From 2007 he was a postdoctoral fellow in the lab of Björn Vennström at the Karolinska Institute in Stockholm (Sweden) funded by a longterm fellowship from EMBO and the German Research Council DFG. In 2010 he became Assistant Professor and junior group leader at the department of Cell and Molecular Biology at the Karolinska Institute, where he also completed his Associate Professorship in Endocrinology in 2011. His primary research interests are the central effects of thyroid hormone in comparison with its well-known peripheral effects.
2010 ThyCa ATA Grant – Medullary Thyroid Cancer
Activating transcription factor 4 (ATF4), a novel putative tumor suppressor gene in medullary thyroid cancer
Rozita Bagheri-Yarmand, PhD
The University of Texas M D Anderson Cancer Center, Houston, Texas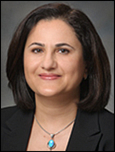 Dr. Bagheri Yarmand is currently an Assistant Professor in the Department of Endocrine Neoplasia and Hormonal Disorders – Research, The University of Texas MD Anderson Cancer Center, Houston, TX. Her interests include mouse models, gene targeting, oncogenes, tumor suppressors, cell cycle, apoptosis, tyrosine kinase receptors, signal transduction, breast cancer, medullary thyroid cancer. Dr. Yarmand began her studies in 1987 at the University of Paris XIII until she completed her PhD. After her first year of training she moved to Houston, Texas to complete her post-doctoral fellowship at the University of Texas MD Anderson Cancer Center.
2010 ThyCa ATA Grant – Thyroid Cancer
The role of MADD, an IG20 gene splice variant, and its potential use as therapeutic target in the anaplastic thyroid cancer
Tania Pilli, MD, PhD
University of Illinois at Chicago, Chicago, Illinois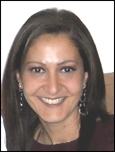 Dr. Tania Pilli obtained her medical degree at the University of Siena in 1999. After her post-graduate training in Endocrinology and Metabolism at the same institution (1999-2004), Dr. Pilli pursued a research fellowship in cancer biology and autoimmunity in the Section of Endocrinology at the University of Siena. Since her appointment in this institution, Dr. Pilli has been involved in both clinical practice and research, with an emphasis on thyroid cancer.
2010 THANC ATA Grant
The Biological Relevance of mtDNA Damage in Hurthle Cell Neoplasms: A 3-Dimensional Molecular Model
Wen T. Shen, MD
University of California, San Francisco, California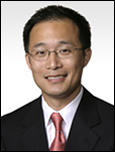 Wen T. Shen, MD, MA. is an Assistant Professor in Residence in the UCSF Department of Surgery, specializing in endocrine surgery. His surgical practice is based at the UCSF Helen Diller Family Comprehensive Cancer Center at UCSF/Mt. Zion and he is also a staff surgeon at the San Francisco Veterans' Affairs Medical Center. Dr. Shen graduated magna cum laude with a B.A. in History and Science from Harvard University. He obtained his M.D. from UCSF and also completed his surgical residency and research fellowship in endocrine surgery at UCSF. He has been on faculty at UCSF since 2007. His research program focuses on the molecular biology of thyroid cancer, and has been supported by funding from the James Ewing Foundation of the Society for Surgical Oncology, the American College of Surgeons, the UCSF Research Allocation Program, the University of California Cancer Research Coordinating Committee, and the American Thyroid Association/THANC.
2010 Second Year Grant Awardees
Leonard Moise, PhD – University of Rhode Island, Providence, Rhode Island
David McFadden, MD, PhD – Harvard Medical School, Cambridge, Massachusetts
Dingxie Liu, MD, PhD – Johns Hopkins University School of Medicine, Baltimore, Maryland – ThyCa
Martin Walter, MD – University Hospital Basel, Switzerland – ThyCa (MTC)
Jena French, PhD – University of Colorado at Denver, Colorado – THANC
Back to Research Grant Listing by Year