The ATA supports thyroid research through the generosity of members, patients, industry, and workplace donors enabling the ATA to award thyroid research grants since 1996. ThyCa: Thyroid Cancer Survivors, Inc., a member of the ATA Alliance for Patient Education and Thyroid Head and Neck Cancer Foundation (THANC) contribute significant thyroid research grants establishing additional grants for young investigators that are awarded (in total) by expert reviewers on the ATA Research Committee. Our thanks to the members of the ATA Research Committee who have contributed their time and expertise over many years to the advancement of thyroidology
2012 ATA Research Grant Recipients
2012 ATA Grant
An investigation of the LDLR-independent serum lipid modulation by thyroid hormone
Stephen Ayers, PhD
The Methodist Hospital Research Institute, Houston, Texas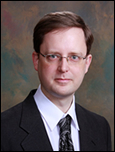 Dr. Ayers received his Ph.D. in Biochemistry from the Division of Nutritional Sciences at Cornell University, Ithaca, in 2007, where he researched the mechanisms of nuclear hormone receptor regulation. He then pursued postdoctoral studies on chromatin regulation at Lawrence Berkeley National Laboratory under the guidance of Terumi Kohwi-Shigematsu, Ph.D. Since then, he has studied the mechanisms of metabolic gene regulation by thyroid hormone in the Department of Genomic Medicine at Methodist Hospital Research Institute, under the leadership of John Baxter, MD and Paul Webb, Ph.D. This work has led to the project of his current proposal, focused on the investigation of serum lipid regulation, which he will pursue over the next two years. Dr. Ayers holds a Master's degree in Bioinformatics from the University of Glasgow, Scotland, and a BA from Union College in Schenectady, NY.
2012 ATA Grant
Type 3 Deiodinase in Dilated Heart Failure
Ari J Wassner, MD
Children's Hospital Boston, Boston, Massachusetts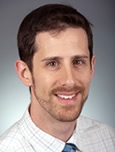 Ari Wassner, MD is Director of the Thyroid Program at Boston Children's Hospital and Assistant Professor of Pediatrics at Harvard Medical School in Boston, Massachusetts. His basic research has investigated the role of thyroid hormone metabolism in modulating local and systemic thyroid hormone signaling in disease states including heart failure and liver injury. As a pediatric endocrinologist, Dr. Wassner specializes in the care of children with pediatric thyroid disease, including congenital hypothyroidism and thyroid neoplasia, and he continues to conduct clinical research in these areas. 
2012 ThyCa ATA Grant – Thyroid Cancer
Sorafenib and quinacrine as potential combination for anaplastic thyroid carcinoma
Niklas Finnberg, PhD
Pennsylvania State Hershey Cancer Institute, Hershey, Pennsylvania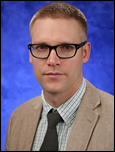 Dr. Finnberg started his research career in 1998 when he joined Dr. Johan Högberg's group as a graduate student at the Institute of Environmental Medicine (IEM), Karolinska Institutet, Stockholm, Sweden. He was introduced to both the basic science aspect of toxicology and the translation of basic scientific discovery to application in regulatory toxicology. During his time at IEM, Dr. Finnberg was acquainted to the tumor suppressor gene p53 in DNA damage signaling in animal models of chemical hepatocarcinogenesis. As a post-doctoral fellow, Dr. Finnberg chose to focus on cancer research in Dr. Wafik El-Deiry's laboratory, University of Pennsylvania, PA. In Dr. El-Deiry's laboratory, he characterized the in vivo role of the p53-regulated drug target receptor DR5 in regulating cell death, inflammation and cancer. At the time of publication, the in vivo role of the DR5 receptor in DNA damage signaling and cancer etiology where unknown to the research community despite a high interest for the DR5 receptors potential in cancer therapy. Dr. Finnberg was appointed a senior investigator position in Dr. El-Deiry' laboratory (2008-2010) and remained focused on DNA damage signaling. He was part of a collaboration with Dr. Ann Kennedy's laboratory during which he became a member of the Brookhaven National Laboratory and performed animal experiments at the NASA Space Radiation Laboratory (NSRL), Brookhaven, NY. The experiments performed at NSRL where one of the first to compare global gene expression changes in hem atopoietic organs following gamma- and proton-radiation exposure that were associated with radiation-induced toxicity in vivo. In March 2010 Dr. Finnberg joined Penn State Hershey Cancer Institute (PSHCI) and the Experimental Therapeutics branch as an Assistant Professor where he is focused on pursuing translational research that aim to improve therapy for patients with brain, colorectal, hematologic and thyroid cancers.
2012 ThyCa ATA Grant – Thyroid Cancer
The role of Ras versus Raf in thyroid cancer development and progression
Aime Franco, PhD
University of Arkansas for Medical Science, Little Rock, Arkansas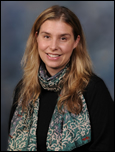 Aime Franco is an Assistant Professor in the Department of Physiology and Biophysics at the University of Arkansas for Medical Sciences in Little Rock, Arkansas. Her laboratory is investigating the role of MAPK signaling in epithelial derived cancers, using mouse models of thyroid cancer to explore the role of activated MAPK signaling in disease. Her current work is investigating the differential roles of Braf versus Ras activation in thyroid tumorigenesis and how we can exploit these differences to develop novel therapeutic strategies for the treatment of thyroid cancer, especially poorly-differentiated and anaplastic tumors. Dr. Franco's lab works closely with physicians in the UAMS Thyroid Cancer Clinic to translate laboratory findings into the clinic. In addition to her work in bench science, Dr. Franco is a member of the Science Policy and Legislative Affairs Committee for the American Association for Cancer Research, passionately advocating for cancer research. Prior to her appointment at UAMS, Dr. Franco completed a postdoctoral fellowship at Memorial Sloan-Kettering Cancer Center. She holds a Ph.D. in Cancer Biology from Vanderbilt University, a Master of Science in Nutritional Sciences from the University of Connecticut at Storrs, and a Bachelor of Science in Sports Medicine and Athletic Training from the University of Connecticut at Storrs. In addition to Dr. Franco's research and policy work in the field of cancer, she is also a cancer survivor, being diagnosed and treated for follicular thyroid cancer in 1999.
2012 ThyCa ATA Grant
Study the role of natural killer cells in anaplastic thyroid carcinoma
Andreas E. Lundqvist, PhD
Karolinska Institute Stockholm, Sweden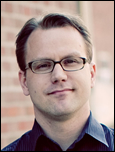 During my PhD training (1998-2003) at Karolinska Institutet in Stockholm, Sweden I was involved in research to genetically modify dendritic cells to express tumor antigens for priming of anti-tumor T cell responses. During this time I published a total of twelve papers including six first author papers and two review articles. In these, we assessed several important factors that may contribute to a better outcome in DC therapy. In 2003, when I commenced my post-doctoral studies at the National Institutes of Health I developed murine models of cancer. My studies focused on using natural killer (NK) cells to improve the outcome of allogeneic HCT as well as to develop therapies using autologous NK cells. Based on my results, a clinical phase I trial in patients with metastatic tumors was initiated in 2008. Approximately two years into my tenure at NIH I was awarded a staff scientist position at the Hematology Branch to be able to establish a more independent research program. During my tenure at the NIH I published a total of 18 papers. In October or 2009, I returned to Karolinska Institutet and Cancer Center Karolinska in Stockholm, Sweden to establish my own laboratory. We currently focus on how to improve T and NK cell based immune therapy. Our ultimate goal is to develop clinical studies of adoptive cell therapy against cancer.
2012 Second Year Grant Awardees
Inna Astapova, PhD – Beth Israel Deaconess Medical Center (Harvard Medical School) Boston, Massachusetts
Mihaela Stefan, PhD – Mount Sinai School of Medicine New York, New York
Naifa Busaidy, MD – University of Texas MD Anderson Cancer Center Houston, Texas- ThyCa
Carmelo Nucera, MD, PhD – Beth Israel Deaconess Medical Center (Harvard Medical School) Boston, Massachusetts – ThyCa
Joanna Klubo-Gwiezdzinska MD, PhD – Washington Hospital Center/Georgetown University Washington, DC – ThyCa
Back to Research Grant Listing by Year