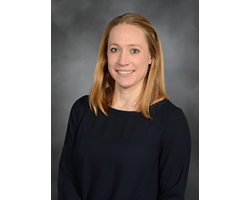 Megan Ritter, MD
Instructor
Weill Cornell Medicine
New York, New York
USA
Thyroid Hormone Effect and Metabolism

"The role of nuclear corepressor 1 in thyroid hormone signaling"
Dr. Megan Ritter is an Instructor in Medicine at Joan and Sanford I. Weill Cornell Medical College of Cornell University and an Assistant Attending Physician at New York Presbyterian Hospital. She received her MD from Drexel University College of Medicine where she was elected to Alpha Omega Alpha. She completed her Internal Medicine Residency at Beth Israel Deaconess Medical Center (BIDMC) in Boston, MA. She stayed at BIDMC for her Endocrinology, Diabetes, and Metabolism fellowship and joined the lab of Dr. Anthony Hollenberg during her second year to begin research training. She moved to Weill Cornell after Dr. Hollenberg was appointed Chair of Medicine to continue her research under his mentorship. Since joining the lab, she has been  studying thyroid hormone action by researching two corepressors of the thyroid hormone receptor: the nuclear receptor corepressor 1 (NCoR1) and the silencing mediator of retinoid acid (SMRT). She has co-authored a publication showing the knock-out of SMRT resulting in the development of significant obesity. She has developed mouse models that will allow the sensitive and specific study of NCoR1 and SMRT which will help us understand thyroid hormone signaling at the molecular level.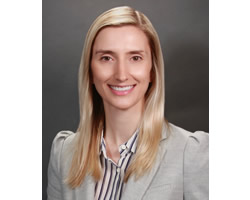 Carolyn Seib, MD, MAS
Assistant Professor
Stanford University
Stanford, CA
United States
Clinical Disorders of Thyroid Function
"Efficacy and Risks of Treatment for Hyperthyroidism in Older Adults"
Dr. Carolyn Seib is a board-certified general surgeon with subspecialty training in endocrine surgery and advanced training in biostatistics and clinical research. Dr. Seib completed her undergraduate education at Princeton University with a major in Ecology and Evolutionary Biology, graduating summa cum laude in 2004. She received her M.D. at the New York University School of Medicine and then completed her residency in General Surgery at UCSF. Dr. Seib received a Masters of Advanced Study (MAS) in Clinical Research from UCSF during her training. After finishing her residency, Dr. Seib completed a fellowship in Endocrine Surgery at UCSF, during which she cared for patients with complex disorders of the thyroid, parathyroid, and adrenal glands. She worked as a Clinical Instructor in the Department of Surgery at UCSF until February 2019. In April 2019, Dr. Seib joined the faculty at Stanford University as an Assistant Professor in the Department of Surgery. Dr. Seib's independent research program focuses on the management of endocrine disorders in older adults. She holds a current R03 award, funded by the National Institute on Aging, to study long-term outcomes in older adults with primary hyperparathyroidism treated with medical and surgical therapy. She has 20 peer-reviewed journal publications in high impact journals and her research on the surgical management of older adults has received national attention, including being featured in the New York Times.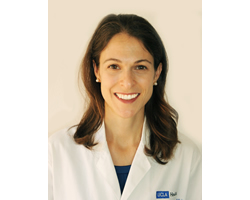 Melissa Lechner, MD, PhD
Assistant Professor
University of California, Los Angeles
Los Angeles, California
United States
Autoimmunity

"Role of Recent Thymic T Cells in Immune Checkpoint Inhibitor Thyroiditis"
Dr. Lechner is a physician scientist in endocrinology at the University of California Los Angeles. After undergraduate studies at the University of California Berkeley in public health, graduating summa cum laude, she completed her M.D./Ph.D. in the combined joint USC Keck School of Medicine/Cal Tech Medical Scientist Training Program. She then did a combined residency in internal medicine and pediatrics at Brigham and Women's Hospital and the Boston Combined Residency in Pediatrics at the Harvard School of Medicine. In 2018, Dr. Lechner joined UCLA as a clinical fellow in endocrinology and pursued advanced post-doctoral research training with a focus on endocrine autoimmunity. She will continue as an Assistant Professor at UCLA, studying the emerging field of immunotherapy-associated endocrine autoimmunity.
During her dissertation research, Dr. Lechner investigated the role of immune suppressor cells in modulating the progression of cancer. She was the first to characterize human myeloid-derived suppressor cells (MDSC), describing canonical elements of their phenotype and function. Her research led to the development of a novel clinical assay for the detection of cancer using measurement of MDSC in patient blood (US Patent 8883497B2). Using mouse cancer models and translational human studies, she also described how the immune profile of cancers as well as their histologic type, impacts their response to different forms of immunotherapy. More recently her work has addressed important areas of clinical endocrinology, including tyrosine kinase inhibitor-associated thyroid dysfunction, peripheral immune markers distinguishing benign from malignant thyroid nodules, thyroid storm, and immune profiles of differentiated thyroid cancers.
ATA Research Grants – New Hampshire Fund for Thyroid & Development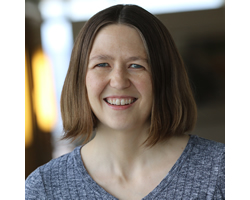 Meredith Hartley, PhD
Assistant Professor
University of Kansas
Lawrence, KS
USA
Thyroid Hormone Development and the Brain

"Thyroid hormone signaling during remyelination"
Dr. Meredith Hartley graduated from Dartmouth College earning her AB degree in biophysical chemistry with high honors. She continued her education at Massachusetts Institute of Technology where she earned a PhD in biological chemistry working with Dr. Barbara Imperiali. Her thesis work focused on the biosynthesis of complex sugars that decorate proteins on the extracellular surfaces of bacteria.
Following graduate school, Dr. Hartley moved to Oregon Health & Science University (OHSU) in Portland, Oregon and made the pivot in her research focus to hormones and neurodegenerative diseases. As a postdoctoral fellow with Dr. Thomas Scanlan, she validated the use of thyromimetics for treating diseases of myelin damage including multiple sclerosis and an inborn error of metabolism called X-linked adrenoleukodystrophy. This work has resulted in several publications, patents, and presentations, as well as multiple press releases and news features. The therapeutic strategy supported by Hartley's work is currently under clinical development.
Dr. Hartley was awarded a National Multiple Sclerosis Society Postdoctoral Fellowship that supported her research at OHSU. She has won poster awards at the 15th International Thyroid Congress and at the 2017 MS Society Leadership Conference. Her recent publication in JCI Insight was named the OHSU Postdoctoral Paper of the Year and was highlighted during the 2019 ATA Meeting "Year in Basic Thyroidology" symposium. Dr. Hartley joined the University of Kansas as an Assistant Professor in January 2020. Her laboratory investigates the connections between hormones, brain lipids, and neurological diseases with the goal of developing novel therapies.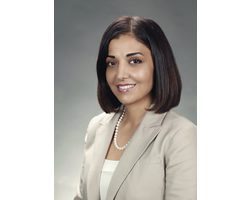 Leila Shobab, MD
Assistant Professor – Clinician Scholar Track
MedStar Washington Hospital
Washington, DC
USA
Thyroid Cancer
"Sex-Specific Immune Landscape of Differentiated Thyroid Cancer "
Dr. Leila Shobab is a board-certified endocrinologist and newly-independent junior faculty clinical investigator in the joint Endocrine Program at MedStar Georgetown University-MedStar Washington Hospital Center (MWHC). She completed her medical school and residency in Internal Medicine at the University of British Columbia followed by a fellowship in Endocrinology and Metabolism at the University of Toronto and a research fellowship, mentored by Dr. Kenneth Burman and Dr. Leonard Wortofsky in thyroid cancer at MWHC. Her goal as a clinician-scientist is to develop a program in basic and translational research that determines the molecular interactions underlying sex-dimorphism in thyroid cancer pathophysiology, progression and response to therapy. A focus of her program is to determine the sex-specific immune landscape of normal thyroid tissue and tumor-mediated immune response in thyroid cancer tumor microenvironment. Her preliminary studies studies have identified sex-specific expression of histone lysine-specific demethylases in normal versus thyroid cancer patients suggesting that observed sex-differences in thyroid disease are, at least in part, regulated epigenetically. Specifically, she has shown sex-specific expression of 3 histone demethylases (KDM5C, KDM5D and KDM6A) in normal thyroid versus thyroid cancer (Mentor: Dr. Vasyl Vasko, MD, PhD).
Using an immune-based approach, she will next explore the interplay between sex-hormones, the immune system and the microbiome in modulating the risk of thyroid cancer development, progression and response to therapy in collaboration with NIH investigators Dr. Yasmine Belkaid, PhD (NIAID) and Dr. Joanna Klubo-Gwiezdzinska, MD, PhD (NIDDK).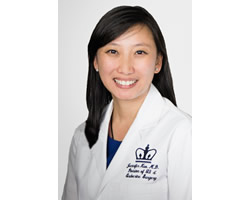 Jennifer H. Kuo, MD
Assistant Professor
Columbia University
New York, NY
USA
Thyroid Nodules and Goiter
"RFA of Thyroid Nodules: Clinical Outcomes in the United States"
Jennifer H. Kuo MD MS is an Assistant Professor in the Section of Endocrine Surgery at Columbia University. She completed her medical training at Columbia University, general surgery residency at the University of California, Davis, a post-doctoral research fellowship at the University of California, San Francisco, and an endocrine surgery fellowship at Columbia University. She also has a Masters of science in Biostatistics, clinical research methods. Her clinical practice focuses on the surgical management of thyroid, parathyroid, and adrenal disorders with expertise in minimally invasive surgical techniques including trans-oral thyroidectomy and robotic adrenalectomy. She is well recognized for her expertise in thyroid ultrasound and is a leader in the field of interventional endocrinology employing non-surgical techniques such as ultrasound-guided radiofrequency ablation in the treatment of benign thyroid nodules and recurrent thyroid cancer. Similarly, her research interests lie at the interface of innovation and medicine, focusing on the use of predictive algorithms to improve patient outcomes and the safe implementation of new science and technology. Dr. Kuo also serves as the Program Director for the Columbia University Endocrine Surgery Fellowship Program and is the Director the Endocrine Surgery Research Program.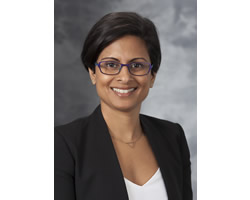 Priya Dedhia, MD, PhD
Assistant Professor
The Ohio State University Wexner Medical Center
Columbus, OH
United States
Medullary Thyroid Cancer
"Stem cell and patient-derived models of medullary thyroid cancer"
Dr. Priya Dedhia, MD, PhD is an Assistant Professor in the Division of Surgical Oncology at the Ohio State University. Her clinical and research efforts focus on improving treatment options available to patients with thyroid cancer. Her background in cancer biology and generation of patient-derived organoids uniquely positions her to develop models for difficult to study endocrine cancers. She envisions that patient-derived endocrine cancer organoids can elucidate the mechanisms of oncogenic transformation and ultimately facilitate a personalized approach to treatment.
As part of the MSTP program at University of Pennsylvania, used cell lines and mouse models to study mechanisms of oncogenesis in acute myeloid leukemia. Although these models have utility, she quickly grasped their limitations as she pursued her clinical training and interacted with patients at the University of Michigan. In the lab of Jason Spence, she learned how to generate and characterize 3-dimensional organoid models from pluripotent stem cells and from primary patient tissue. This work showed that organoids retain many of the features of original tumor and can provide unique biological insights that are lacking in 2-dimensional culture systems or mouse models.
Using these experiences, she intends to develop organoid models for medullary thyroid cancer and, in the future, other endocrine cancers. Her long term goal is to develop patient-derived tumor organoids that can be used to predict responses to different chemotherapeutic agents and to identify the optimal treatment regimen for each patient.
 Bite Me Cancer Research Grant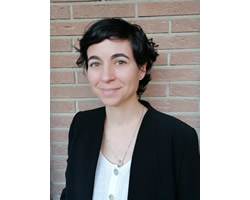 Cristina Montero-Conde, PhD

Postdoctoral Research Fellow
Spanish National Cancer Research Center (CNIO)
Madrid
Spain
Medullary Thyroid Cancer
"Discovering novel molecular nodes involved in MTC development and evolution"
Dr. Cristina Montero-Conde started her scientific career in the laboratory of Hereditary Endocrine Cancer headed by Dr. Mercedes Robledo at the Spanish National Cancer Research Center (CNIO). In this period, she received the Genzyme Prize from the Spanish Society of Endocrinology and Nutrition (SEEN) and was a Finalist for the Sergio Vidal Prize for Young Investigators in Biomedicine (Spain) for her contributions to thyroid cancer research. After obtaining her Ph.D., she moved to Dr. Pilar Santisteban's laboratory at CSIC (Madrid, Spain) for a short stay gaining experience in molecular biology and biochemistry techniques. In 2009, Cristina joined Dr. James Fagin´s laboratory at Memorial Sloan-Kettering Cancer Research Center (MSKCC) in New York. Her postdoctoral work focused on the characterization of resistance mechanisms to RAF and MEK kinase inhibitors. Cristina discovered that resistance determinants vary among cancer types due to preferential self-regulation of specific RTKs, and critically on the autocrine expression or abundance of their respective ligands. The work was published in Cancer Discovery (2013) and prompted an editorial and extensive coverage in other journals. She also received the 2011 Endocrine Society Presidential Poster Award. Cristina returned to the CNIO in 2014, and obtained a senior postdoctoral research grant from the Spanish Association for Cancer Research (AECC) in 2015. She has been steadily productive and her research currently focuses on the identification and characterization of the molecular hallmarks of medullary and follicular cell-origin thyroid cancer through genomic strategies, with special interest in those with a therapeutic application.