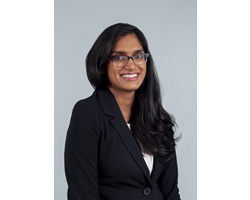 Michelle Rengarajan, MD, PhD
Massachusetts General Hospital
Boston, MA
Autoimmunity
"Highly multiplexed imaging of thyrocyte-immune interactions in health and disease"
Dr. Michelle Rengarajan is a physician-scientist and attending endocrinologist at Massachusetts General Hospital (MGH) and Harvard Medical School. After undergraduate studies in biology at the University of Chicago, she completed her M.D. and Ph.D. in the Medical Scientist Training Program at Stanford University. Her PhD thesis focused on how cytoskeletal dynamics modulate interactions between host cells and intracellular bacteria. She identified a new mechanism of bacterial invasion and characterized non-genetic heterogeneity in susceptibility of host cells to infection. Subsequently, Dr. Rengarajan completed an Internal Medicine residency at Brigham and Women's Hospital and a fellowship in Endocrinology, Diabetes, and Metabolism at MGH, during which she pursued post-doctoral training in systems immunology with Andy Luster and Chloe Villani. During her training, she has developed clinical and scientific expertise in both drug-induced and spontaneous autoimmune endocrinopathies, particularly autoimmune thyroid disease. Dr. Rengarajan is particularly focused on bringing cutting-edge single cell multiomics and imaging technology to further our understanding of thyroid disease. In her current work, she uses single cell multi-omics in human cells and patient samples to dissect how thyrocytes interact with infiltrating immune cells to preserve hormone production, even in the face of T-cell mediated tissue damage. This work has important implications for how human tissue can maintain self-tolerance and prevent autoimmunity and, conversely, implications for how to induce immune-mediated destruction of thyroid tumors. Dr. Rengarajan hold a current K08 award from the NIDDK as well as a Doris Duke Physician-Scientist Fellowship.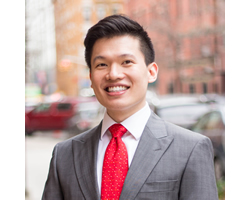 James Wu, MD
University of California Los Angeles
Los Angeles, CA
Health Disparities/Health Services Research/Health Economics and Outcomes
"Mapping patient decision-making in thyroid cancer: improving decision outcomes through ethnographic decision modeling"
Dr. James Wu is an endocrine surgeon and assistant professor at the UCLA David Geffen School of Medicine.  He earned his medical degree from the University of Colorado, followed by general surgery training at UCLA. He completed the Head and Neck Oncologic Surgery Fellowship at Memorial Sloan Kettering Cancer Center. He is devoted to the care of patients of thyroid cancer.
Through his research, Dr. Wu hopes to improve the delivery of health services to thyroid cancer patients. His body of work includes several cost-effectiveness analysis, population-based studies, and clinical trials published in Thyroid, Journal of Clinical Endocrinology and Metabolism, JAMA Surgery, and other high impact peer-reviewed journals. His current focus is on elucidating decision-making pathways in thyroid cancer and supporting patients in the decision-making process.
Dr. Wu is a committed member of the American Thyroid Association, American Association of Endocrine Surgeons, and serves on the editorial board of Video Endocrinology. He also serves as the UCLA associate director of surgical education and is an endocrine surgery contributor to Behind the Knife surgery podcast. Most importantly, he is a husband to his wife Kristine and proud father of Owen and Lucas Wu.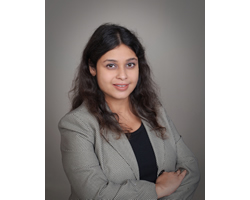 Chandrayee Ghosh, PhD
Stanford University
Stanford, CA
Thyroid Cancer (Non-Medullary)
"Combination auranofin and BRAF inhibition treatment in BRAFV 600E mutant anaplastic thyroid cancer."
Dr. Chandrayee Ghosh has a broad background in the field of Cancer and Immunology, with specific training and expertise in cancer therapeutics and translational science pertaining to natural compounds and drug repurposing. She has been working in this field for over ten years. Her current research includes identifying novel uses and mechanism of action of FDA approved compounds and their combinations in targeting endocrine cancers. In the past, she worked in pancreatic ductal adenocarcinoma (PDAC) and identified the interaction of KDM3A with DCLK-1 and their role in PDAC tumorigenesis and stemness. In this work she established that N-oxalylglycine, a α-ketoglutarate mimetic, affects KDM3A activity. She also identified the cluster of master transcription factors or super-enhancers as novel targets for PDAC using a combination of natural compounds as anticancer agents. Her doctoral thesis was on the identification and characterization of toll-like receptors (TLR-2, 4, 6) in thymic, splenic and lymph node lymphocytes and macrophages of Swiss albino mice and their role in S. aureus infection and lipopolysaccharide. She has successfully published her research findings in high impact peer-reviewed journals. Her work has received media coverage both nationally and internationally and she has presented her research at international conferences where she has received awards. The goal of the present proposal is to determine if targeting BRAF V600E mutant anaplastic thyroid cancer with auranofin and BRAF inhibition has synergistic/additive activity and induces an antitumor immune response. She has conducted the experiments and analyzed the preliminary data in the current proposal which shows a strong premise for evaluating auranofin and BRAF inhibition combination treatment in BRAF V600E mutant anaplastic thyroid cancer. Her previous experience has prepared her well to conduct the preclinical studies proposed in this grant.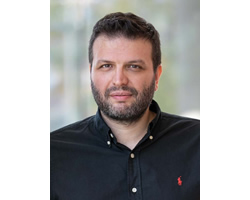 George Karagiannis, DVM, PhD
Albert Einstein College of Medicine
New York, New York
Thyroid Cancer (Non-Medullary)
"Exploiting the Midkine-driven Embryonic Reprogramming in Anaplastic Thyroid Carcinoma"
George S. Karagiannis, DVM, PhD, is currently an assistant professor in the Department of Microbiology and Immunology (Albert Einstein College of Medicine), and also holds a Degree in Veterinary Medicine (DVM) from the Aristotle University of Thessaloniki in Greece. His professional expertise stems in the development of preclinical mouse models of solid carcinomas and metastasis, digital (immuno)pathology and advanced microscopy, including multiphoton intravital imaging and high-throughput immunofluorescence microscopy. His laboratory investigates the critical role of the tumor microenvironment in eliciting a prometastatic and immunosuppressive milieu that obfuscates currently used therapeutic modalities, such as chemotherapy and immunotherapy. He has published >50 peer-reviewed research and review articles in high-profile journals, such as Science Translational Medicine, Cancer Research, Nature Methods, NPJ Breast Cancer, and Nature Cancer, among others. His research program aspires to propose novel interventions that would exploit therapeutic vulnerabilities in the tumor microenvironment to improve cancer patient outcomes. He greatly values academic teaching and student-centered organized classroom, and has been teaching histology in first-year medical students at Einstein for the past six years. Outside science, he enjoys archery and attends lessons of modern bridge.