During the 84th Annual Meeting of the American Thyroid Association (ATA) in Coronado, California, ATA committee members evaluated over 80 abstract posters for their scientific quality and presentation. Congratulations to the 2014 Trainee Poster Contest Winners! Read more about these outstanding young investigators and their winning abstracts here.
The 84th Annual Meeting of the ATA abstracts
THURSDAY'S TRAINEE POSTER CONTEST WINNERS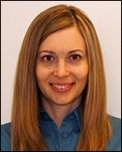 Basic Research Abstract
Poster 35
Thyroid Cancer Basic
AUTOPHAGY IS IMPLICATED IN MEDULLARY THYROID CANCER CELLS RESPONSE TO TREATMENT WITH NELFINAVIR
Yevgeniya Kushchayeva, K. Jensen, J. Costello, A. Patel, K. Burman, V. Vasko
"If I had to choose one word to describe my experience at the ATA 84th Annual Meeting, it would be: excellent! This informative meeting included innovative thyroid research and the most recent guidelines, amazing courses for trainees, interactive sessions, incredible organization, a diversity of topics, a friendly atmosphere, a beautiful location ocean side, and—of course—great friends which were a privilege to see. They are all attributes to ATA meetings." – Yevgeniya Kushchayeva, MD, PhD
Yevgeniya Kushchayeva graduated from the National Medical University (Kiev, Ukraine) and completed a residency in surgery. Subsequently, she spent several years in practice as a physician-researcher at the State Research Center for Radiation Medicine. She was also at the Kiev City Thyroid Center, the largest center of its kind in Ukraine, where she gained tremendous clinical and research experience in endocrinology. She had a profound interest in the effect of radiation on the thyroid gland because the Chernobyl accident dramatically increased thyroid cancer.
Due to her fascination with molecular biology, especially cancer biology, she decided to devote myself to academic medicine. In 2004, she joined the Ph.D. program at the Institute of Endocrinology and Metabolism in Kiev, and in 2008, she successfully defended her Ph.D. thesis devoted to Hurthle cell thyroid cancer. She has been involved in numerous research projects with a major focus on thyroid cancer and became a recipient of the Japan International Cooperation Agency (JICA) award and Bureau of Educational and Cultural Affairs and International Research & Exchanges Board of the US Department of State Awards.
She continued to investigate fundamental aspects of cancer development and treatment as a volunteer at Barrow Neurological Institute (Arizona) while a postdoctoral fellow at Arizona State University. In 2012, she joined the Thyroid Cancer Center at the Washington Hospital Center as a research fellow and worked on several clinical and fundamental projects on thyroid cancer, including investigation of protease inhibitors for treatment of thyroid cancer and a study of thyroid spinal metastases. In 2013, she started an Internal Residency at the Georgetown University Hospital/Washington Hospital Center, and by the end of the internship, received a Peer Recognition Award as Best Intern for 2013/14.
Their very promising research project investigating protease inhibitors for treatment of thyroid cancer won the 2013 Washington Hospital Center Research Day and Trainee Poster Contest at the 84th American Thyroid Association meeting in 2014, and received the Outstanding Abstract Award in EndoSociety in 2013.
---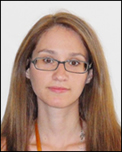 Clinical Research Abstract
Poster 63
Thyroid Cancer Clinical
GENETIC VARIABILITY IN 43 PEDIATRIC THYROID CANCER CASES AND CORRELATION WITH THEIR CLINICAL PRESENTATION UP TO 6 MONTHS POST-DIAGNOSIS
Maria Eleni Nikita W. Jiang, R.O. Newbury, S.A. Phillips, R.E. Reitz, F.M. Waldman, F.M. Hantash, R.S. Newfield
"The conference was excellent and quite a learning experience."– Maria Eleni Nikita, MD
Dr. Nikita received her medical degree in Greece (University of Crete Medical School) and completed her pediatric residency in the United States (Penn State University/Milton S Hershey Medical Center). She is currently a third year pediatric endocrinology fellow at UCSD and one of her main research interests is pediatric thyroid cancer.
---
Case Study Abstract
Poster 110
Disorders of Thyroid Function
A UNIQUE CASE REPORT OF MEDICALLY TREATED HYPERTHYROIDISM WITH HYPERPARATHYROIDISM
Patricia Kachur, C.V. Villabona
"It was a privilege to attend the 84th Annual American Thyroid Association conference this year. The conference was informative and educational, providing the most up to date information about thyroid research, guidelines, and about the field. As a trainee, the conference went above and beyond with interactive sessions and luncheons to make us feel welcome. I am excited to return next year and see everyone again." – Patricia Kachur, MD
Patricia Kachur recently graduated from Ross University School of Medicine. She is currently a research fellow at Cleveland Clinic Florida – Endocrinology Department.
---
FRIDAY'S TRAINEE POSTER CONTEST WINNERS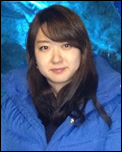 Basic Research Abstract
Poster 196
Thyroid Nodules & Goiter Friday Poster Basic
DEFICIENCY OF A NOVEL ADAPTOR PROTEIN, XB130, IS ASSOCIATED WITH THE DEVELOPMENT OF SEVERE MULTINODULAR GOITER IN OLD MICE
Hae-Ra Cho, H. Shimizu, H. Toba, X. Liao, S. Refetoff, S.L. Asa, M. Liu
"It is an honour to be selected as one of the poster winners at my first ATA meeting. The ATA conference was a great way to share our findings and interests, to obtain valuable feedbacks from the specialists, and to develop our professional network. Through this event, I gained a great deal of confidence and was able to validate that my study is very essential to further uncover an important part of thyroid hormone synthesis."- Hae-Ra Cho, PhD(c)
Hae-Ra Cho is a Ph.D. candidate in Dr. Mingyao Liu's laboratory at University of Toronto, Canada. She received her Honours Bachelor of Science degree from University of Toronto in 2012, double majoring in cell and molecular biology and genes, genetics and biotechnology. She is currently investigating the mechanistic role of a novel adaptor protein, XB130, in thyroid hormone synthesis and in the development of multinodular goiter late in life.
---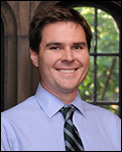 Clinical Research Abstract
Poster 140
Disorders of Thyroid Function
Friday Poster Clinical
CAN WE PREDICT THE NEED FOR CALCIUM SUPPLEMENTATION ON THE DAY OF SURGERY IN TOTAL THYROIDECTOMY PATIENTS?
Michael White, S. Nagar, B. James, C. Nocon, E.L. Kaplan, P. Angelos, R. Grogan
"It was a pleasure meeting and interacting with endocrinologists and endocrine surgeons from across the country and globe. Recognition of our group's work was certainly a surprise and honor. I am already looking forward to next year's meeting."- Michael White, MD
Born and raised in Honolulu, Mike moved to the east coast and completed his undergraduate training in Physics at Princeton University, completing his thesis work "A Test of Coherent Population Oscillations in Proteins: Slowed Light or Diffusional Wave?". He then attending Jefferson Medical College where worked with the department of acute care surgery to study the Philadelphia's city-wide capability to treat and influx of surgical patients after a mass-casualty incident. He is currently a categorical general surgery resident at the University of Chicago. During his dedicated research years he is studying the genetic basis and pathogenesis of papillary thyroid cancer, papillary thyroid cancer outcomes, clinical incidence of thyroid incidentalomas, and risk factors for post-operative hypocalcemia after total thyroidectomy.
---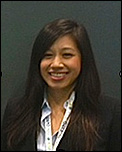 Case Study Abstract
Poster 135
Iodine Uptake & Metabolism
Friday Poster
HYPOTHYROIDISM SECONDARY TO IODINE DEFICIENCY FROM A DIET OF ONLY WHITE RICE
Caroline Nguyen, X. He, L.E. Braverman, P.A. Singer
"It was a privilege to attend the ATA meeting. As a fellow, I felt so welcomed by the association and its established members. The fellow's track was well organized and very informative. It was great to get feedback on my poster from leaders in the field. Looking forward to the next meeting." – Caroline T. Nguyen, MD
Caroline T. Nguyen, MD is a second year fellow at the University of Southern California Keck School of Medicine. She completed her undergraduate degree at the University of California, Berkeley, medical school at the University of California, Davis and Internal Medicine residency at UCLA-Olive View. Her research interests include the diagnosis and treatment of severely decompensated hypothyroidism and the clinical changes that occur with LT4 treatment.
---
SATURDAY'S TRAINEE POSTER CONTEST WINNERS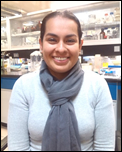 Basic Research Abstract
Poster 288
Thyroid Hormone Action
Saturday Poster Basic
CROSS-REGULATION OF 3,5-T2 AND CORTISOL SIGNALLING PATHWAYS IN TILAPIA
Pamela Navarrete-Ramírez, P. Villalobos, A. Orozco
"The ATA 84th Annual Meeting was a great learning experience where we could obtain feedbacks from the specialists of the field. The recognition of our group´s work is an honour." – Pamela Navarrete-Ramírez, PhD
Dr. Navarrete-Ramírez is a biologist with a Master's degree on science, she is currently a PhD fellow and her interests lie on thyroid physiology especially in fish.
---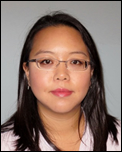 Clinical Research Abstract
Poster 245
Iodine Uptake & Metabolism
Saturday Poster Clinical
URINARY IODINE EXCRETION AND SERUM THYROID FUNCTION IN HEALTHY ADULTS AFTER IODINATED CONTRAST ADMINISTRATION
Sun Y. Lee, D.L. Chang, X. He, E.N. Pearce, L.E. Braverman, A.M. Leung
"This is my second time attending the annual ATA meeting and I enjoyed this meeting as much as the last. With my interest in clinical research in the field of thyroidology, it is always great to attend the ATA meetings given its focus on both clinical practice and scientific advancement. I was excited to present the results of my research with my poster titled "Urinary Iodine Excretion and Serum Thyroid Function in Healthy Adults after Iodinated Contrast Administration." It was a pleasure to have an opportunity to discuss the results and future direction of my research. I am delighted and honored that my poster was chosen as a winner for the Saturday's clinical research poster session and greatly appreciate the award. I'm looking forwards to attending many more ATA meetings in the future. I would like to thank the ATA committee and my mentors, Drs. Elizabeth N. Pearce and Lewis E. Braverman, and co-investigators, Drs. Angela M. Leung, Donny L.F. Chang, and Xue-Mei He." – Sun Y. Lee, MD
Sun Y. Lee, MD is a third-year endocrinology fellow at Boston University Medical Center, Boston, MA. She earned her medical degree at UMDNJ -New Jersey Medical School in Newark, NJ and completed an internal medicine residency at Boston University Medical Center prior to joining her current fellowship training program. Her interest lies in clinical research in the fields of thyroid disease, iodine metabolism, and thyroid disease in pregnancy. Her publications include "Iodine content in fast foods: comparison between two US fast food chains" (Lee SY et al. Endocrine Practice 2010), "Changes in body weight after treatment of primary hypothyroidism with levothyroxine" (Lee SY et al. Endocrine Practice 2014), and "A Review: radiographic iodinated contrast media-induced thyroid dysfunction" (Lee SY and Rhee CM et al. J Clin Endocrinol Metab. In press).
---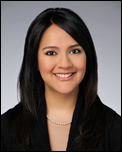 Case Study Abstract
Poster 315
Thyroid Nodules & Goiter
Saturday Poster
DEVELOPMENT OF GOITER AS DIAGNOSTIC CLUE IN LANGERHANS CELL HISTIOCYTOSIS
Adriana P. Kuker, J.R. Furst, T. Giorgadze, A. Saqi, J. Ausiello, S. Ebner
"The 84th Annual ATA Meeting provided the opportunity to learn about the most recent advances in thyroidology directly from leaders in the field. It gave me tools to better care for my patients, while further fostering my interest in thyroid disorders. I was honored to win the Trainee Poster Competition and I'm excited to attend next year's conference." – Adriana Kuker, MD
Adriana Kuker, MD is a 2nd year Endocrinology Fellow at Columbia University College of Physicians and Surgeons. She completed her Internal Medicine Residency at Columbia University College of Physicians and Surgeons, and attended medical school at New York University School of Medicine.