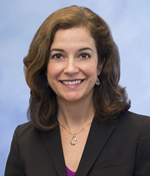 Dr. Haymart is the Nancy Wigginton Endocrinology Research Professor of Thyroid Cancer and Professor of Medicine, Director of the Endocrine Oncology Health Outcomes Research Core, and Director of the Health Services Research arm of ThyCARE (Thyroid CAncer REsearch) at the University of Michigan. She received her medical degree from Johns Hopkins University School of Medicine, completed internal medicine residency at Johns Hopkins Hospital, and then completed fellowship in endocrinology, diabetes, and metabolism at the University of Wisconsin. Dr. Haymart is an internationally renowned health services researcher whose work focuses on the management of thyroid cancer, with cross-cutting themes including overdiagnosis and overtreatment of low-risk thyroid cancer, harms from treatment, psychosocial issues with a low-risk cancer, shared decision-making, and disparities in thyroid cancer care.
Dr. Haymart has been an active and dedicated member of the American Thyroid Association since 2007. She has served on multiple committees, including the Public Health (2010-2012), Finance and Audit (2012-2018; Chair 2016-2018), Clinical Affairs (Board Liaison 2017-2018), and Guidelines and Statements (2017-2020; Co-Chair 2018-2019). She was also Co-chair of the Valerie Ann Galton Endowment and Lectureship Fundraising Committee (2019-2020). In addition, Dr. Haymart has been elected to the Board of Directors (2017-2021) and served as past-President of Women in Thyroidology (2019-2020). She has been on the editorial board of Thyroid (2013-2017) and Associate Editor of Video Endocrinology (2014-2017) and Thyroid (2018-present). Furthermore, she has been an instrumental member of the American Thyroid Association thyroid cancer clinical guideline working group since 2019. Beyond her extensive involvement in the American Thyroid Association, Dr. Haymart has held leadership positions in other national endocrine societies (Clinical Science Chair for the 2021 Endocrine Society Annual Meeting Steering Committee) and on the editorial boards of other high-impact journals (Journal of Clinical Oncology and Journal of Clinical Endocrinology and Metabolism).
Dr. Haymart has demonstrated a long-standing commitment to the advancement of women both within the American Thyroid Association and in the thyroid field through unparalleled mentorship and sponsorship of women trainees and junior faculty. Illustrative of her commitment to high quality mentoring, Dr. Haymart was a recipient of the 2021 Michigan Institute for Clinical and Health Research (MICHR) Distinguished Clinical and Translational Research Mentor Award. In addition, through her research and numerous publications in high-impact journals, Dr. Haymart has amplified the voices of vulnerable patient populations including Hispanic women who have been underrepresented in the thyroid cancer literature. Illustrative of her significant research contributions, Dr. Haymart received the 2017 American Thyroid Association's Van Meter Award for outstanding contributions to research on the thyroid gland, the 2017 University of Michigan Department of Internal Medicine's Jerome Conn Award for Research Excellence, and the 2021 AACE Hossein Gharib MD, Educational Lectureship Award for exemplary contributions to individual area of expertise.