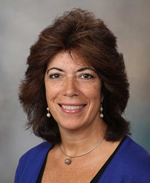 Regina Castro, MD – 2022 ATA Woman of the Year
Dr. M. Regina Castro is a Professor of Medicine in the Division of Endocrinology at the Mayo Clinic in Rochester, Minnesota. She has been an active member of the ATA for almost 25 years and has demonstrated exceptional commitment, dedication, and leadership within the ATA through multiple roles. Dr. Castro has served on the ATA Board of Directors (2014-18); chaired the Patient Education and Advocacy Committee (2015-19) after having served as a committee member for nearly 10 years (2005-14); co-chaired the Diversity, Equity and Inclusion Task Force (2019-20); led the ATA Women in Thyroidology task force as its President (2020-21), and co-chaired the ATA 2021 spring satellite symposium titled The Year in Thyroidology. In addition, she has supported multiple additional ATA activities toward the goal of further the organization's goals and mission. She was a member of the ATA website's advisory group (2006-09); chaired the fellows' track sessions for the 2010 annual meeting; advocated for trainees through her membership of the fellows' education committee (2010-14); was board liaison to the Clinical Affairs Committee (2014-15); on the editorial board of Thyroidology for Patients (2007-2014); participated in the ATA 2016 and 2019 strategic planning retreats; and was a member of the organization's award committee (2017-18) and the program committee for the 2018 annual meeting. For the ATA's flagship journal, Thyroid, Dr. Castro was a valued editorial board member from 2008-21, providing valuable expertise and working to maintain the high rigor of the society's primary publication for over a decade.
Although the depth of Dr. Castro's contributions to the ATA has been exceptional, what makes her stand out is the consistency of her service to the ATA throughout the over two and half decades of her membership. The value of her contributions, leadership, and extensive involvement in the ATA has inspired many trainees and early career members to become more involved in the activities of the organization. She has become an inspirational role model to many; Dr. Castro is able to provide a lived experience of how serving and supporting the ATA has been instrumental to the success of her career. She has been and remains a strong advocate particularly for women rising up to leadership positions within the ATA and is most deserving to be named the 2022 ATA Woman of the Year.