American Thyroid Association Satellite Symposium: The Spectrum of Thyroid Cancer, from Surveillance to Systemic Therapy
Friday, March 16, 2018, 11:15 AM – 5:30 PM
McCormick Place West, Chicago, IL
(Prior to the start of ENDO 2018)
Revisit this webpage for updates as available
The management of differentiated thyroid cancer is becoming increasingly complex as clinicians and patients strive to develop individualized management plans designed to achieve excellent outcomes without subjecting the patients to excessive therapy or testing. The dramatic increase in the incidence of low risk papillary thyroid cancers has caused us to re-evaluate our traditional therapeutic approaches such that many low risk patients may be more than adequately treated with thyroid lobectomy (and even without immediate surgical intervention in selected patients). On the opposite end of the spectrum, advances in our understanding of the molecular biology of thyroid cancer and the success of several systemic therapy trials has opened up new avenues of therapy for high risk patients with advanced disease. Through a combination of lectures, panel discussions, and case-based presentations, we will examine the most important, and often controversial, management issues faced by clinicians across the full spectrum of differentiated thyroid cancer.
ATA 2018 Spring Satellite Symposium Agenda
ATA 2018 Spring Satellite Symposium Agenda for saving and printing  (PDF File, 144 KB)
View the ATA 2018 Spring Satellite Symposium Faculty
View the ATA Spring 2018 Satellite Symposium Program Committee 
Registration for the ATA Satellite Symposium is available as part of the 2018 Endocrine Society (ENDO) Annual Meeting online registration at http://www.endocrine.org/endo-2018/register. To register for the ATA program using the print ENDO registration form, click here.
Post-Meeting Satellite Program Webcast: A webcast of available satellite presentations will be available at http://sessions.thyroid.org for purchase for $129 beginning on or around early May 2018. 4.25 enduring CME credits are available with purchase and completion of online program. Please revisit the ATA website for updates as available.
Accreditation Statement: ATA's joint CME provider for this activity, the Endocrine Society, is accredited by the Accreditation Council for Continuing Medical Education to provide continuing medical education for physicians. The Endocrine Society has achieved Accreditation with Commendation. The Endocrine Society designates this live activity for a maximum of 4.25 AMA PRA Category 1 Credits™ and 4.25 ABIM MOC Points. Physicians should claim only the credit commensurate with the extent of their participation in the activity.
Target Audience: The 2018 Spring Satellite symposium is open to the community of endocrinologists, internists, surgeons, oncologists, basic scientists, nuclear medicine scientists, pathologists, trainees, nurses, physician assistants and other healthcare professionals who wish to broaden and update their knowledge of the thyroid gland and thyroid cancer.
Learning Objectives: Upon completion of this educational activity, learners will be able to:
Describe the major changes in the 2015 ATA Guidelines on Thyroid Nodules and Differentiated thyroid cancer
Discuss how the changes in the 2015 ATA Guidelines on Thyroid Nodules and Differentiated thyroid cancer will change their current management practices.
Describe the major factors that should be used to determine if active surveillance is a viable management option in differentiated thyroid cancer.
Explain the importance of multidisciplinary team communication in initial and ongoing risk stratification.
Describe appropriate surgical approaches to the management of low risk differentiated thyroid cancer.
Describe appropriate patient selection for the use of radioactive iodine as either ablation or adjuvant therapy.
Illustrate a risk adapted approach to the follow-up of patients with differentiated thyroid cancer.
Identify criteria that can be used to determine if a patient has radioactive iodine refractory thyroid cancer.
Explain the indications, risks, and benefits of systemic therapy in radioactive iodine refractory thyroid cancer.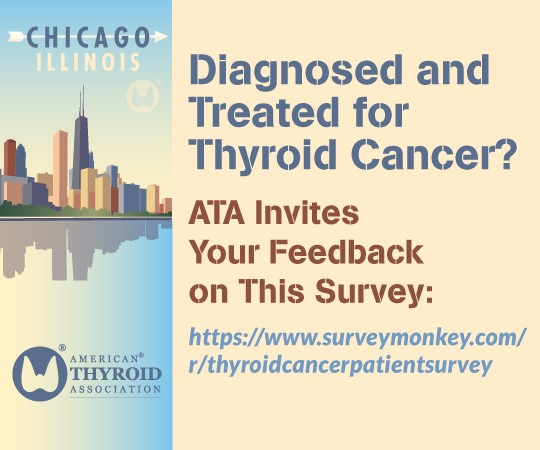 Maintenance of Certification (MOC) Points: Successful completion of this live CME activity, which includes participation in the evaluation component, enables participants to earn up to 4.25 MOC points in the American Board of Internal Medicine's (ABIM) MOC program. It is the CME activity provider's responsibility to submit participant completion information to Accreditation Council for Continuing Medical Education (ACCME) for the purpose of granting ABIM MOC credit. The Endocrine Society is providing MOC credits for this ATA activity. As such, in order to earn and report MOC points to the American Board of Internal Medicine, you must provide your board-certification information in your Endocrine Society educational profile. To update or create an Endocrine Society Educational Profile, please visit https://www.endocrine.org/training-and-education/continuing-medical-education/education-profile?ReturnURL=http%3A//education.endocrine.org/netforum&userToken=%7Btoken%7D. Maintenance of Certification points are not available for the enduring CME webcast of the symposium.
ATA Thyroid Cancer Patient Survey: ATA is collecting information and opinions from patients about their experience with thyroid cancer to better inform medical providers about how patients experience the challenge of thyroid cancer diagnosis and treatment. ATA encourages anyone with a history of thyroid cancer to take this survey, feel free to disseminate this survey link broadly, and encourage others to take the survey. We also encourage all thyroid healthcare professionals to share this survey with their patients. Preliminary survey results will be compiled and discussed by thyroid leaders at the live American Thyroid Association Satellite Symposium: The Spectrum of Thyroid Cancer, from Surveillance to Systemic Therapy on Friday, March 16, 2018 in Chicago, IL. Subsequently, final survey results will be published and made available online with free access to the public. Your responses are anonymous and should only take a few minutes to complete. Please click here to take the thyroid cancer patient survey.
Save the Date for the 88th Annual ATA Meeting
ATA Thyroid Research Work and Impact