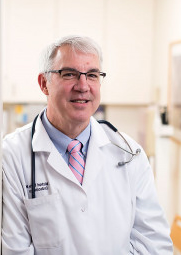 October 1, 2018—The American Thyroid Association (ATA) announces with pleasure that the 2018 Lewis E. Braverman Distinguished Award recipient will be Dr. R. Michael Tuttle, currently Clinical Director of the Endocrinology Service and Attending Physician at Memorial Hospital for Cancer and Allied Diseases in New York City. Academic positions include Member, at Memorial Sloan Kettering Cancer Center (MSKCC) and Professor of Medicine at Weill Medical College of Cornell University, both in New York City.
The Braverman Distinguished Award is presented annually to an individual who: demonstrates excellence and passion for mentoring fellows, students, and junior faculty; has a long history of productive thyroid research; and is devoted to the ATA. Dr. Tuttle will give the Braverman Lecture, entitled "Common Clinical Thyroid Cancer Questions in Need of Better Answers" on October 6 at 10:45 am, during the ATA Annual Meeting, which is held this year from October 3 to 7 in Washington, DC.
Dr. Tuttle has demonstrated his teaching and mentoring excellence in training medical students, interns, residents, and fellows during his entire career. Many of his past fellows have gone on to national and international prominence in thyroid cancer research, treatment, and education. To quote one of his fellows, now an assistant professor from Saudi Arabia, he learned from Dr. Tuttle that "it is OK to change my practice and admit to do so if studies proved new evidence…. I learned how to communicate with colleagues and other working staff in a delightful way. He was always considerate and open to new ideas." Another cancer physician writes that after his fellowship with Dr. Tuttle he "gave multiple lectures around the country [Israel] that helped change the 'one size fits all' approach to a more risk-adapted, personalized approach." Through hundreds of invited lectures, meetings, and grand rounds, as well as his almost 300 publications, Dr. Tuttle has reached even more medical students, fellows, and peers with his emphasis on minimalism in treatment.
Dr. Tuttle's research has had major clinical impact over the years on the care of thyroid cancer patients. His laboratory's work confirmed that a recurrence staging system effectively predicts the risks of recurrence and persistent disease and that these risk assessments can be used productively to tailor follow-up recommendations for individual patients on a case-by-case basis, rather than using generalized treatment methods. Another of his mentees comments, "Thanks to everything learned with Dr. Mike Tuttle…the quality of life of patients with diagnosis and thyroid cancer in Chile is significantly higher."
An active member of the ATA since 1997, Dr. Tuttle has served on multiple committees, such as Clinical Affairs, Standards of Care, and Membership, among others. He was Program Chair of the 2014 Annual Meeting and a member of the Board of Directors from 2007 to 2011. He was key in drafting the ATA Guidelines on the Management of Thyroid Nodules and Thyroid Cancer and continues to be active on that committee, and he currently is Chair of the ATA's Medullary Thyroid Cancer Registry Consortium. In addition, Dr. Tuttle has been a reviewer for the ATA's journal Thyroid (as well as many other journals) and was Associate Editor of Thyroid from 2013 through 2015. He has attracted many new members to the ATA with his great enthusiasm for the study of thyroid disease.
Dr. Tuttle earned his BS in biology magna cum laude from Northern Kentucky University and his MD cum laude from the University of Louisville School of Medicine, KY. He spent his internship and residency in Internal Medicine at Dwight David Eisenhower Army Medical Center, Augusta, GA, where he was awarded "Outstanding Graduating Resident." He held a Clinical Fellowship in endocrinology, a Research Fellowship in endocrinology and molecular biology, and then was Staff Endocrinologist, all at Madigan Army Medical Center in Tacoma, WA. His hospital positions thereafter were at Walter Reed Army Medical Center and then the Department of Medicine, Memorial Hospital for Cancer and Allied Disease, NYC, where he is now Attending Physician and Clinical Director of the Endocrinology Service. At the same time, his teaching and research positions have led him through the professional ranks at Memorial Sloan Kettering Cancer Center and the Weill Medical College of Cornell University.
Dr. Tuttle continues to leave a significant impact in the thyroid cancer field through his valuable mentoring, research, and contributions to the ATA.  That commitment, combined with his dedication to his patients and students, makes him a very worthy recipient for the highly sought after and prestigious, 2018 Lewis E. Braverman Distinguished Award.
 ###
The American Thyroid Association (ATA) is the leading worldwide organization dedicated to the advancement, understanding, prevention, diagnosis, and treatment of thyroid disorders and thyroid cancer. ATA is an international membership medical society with over 1,700 members from 70 countries around the world. Celebrating its 95th anniversary, the ATA delivers its mission of being devoted to thyroid biology and to the prevention and treatment of thyroid disease through excellence in research, clinical care, education, and public health. 
These efforts are carried out via several key endeavors:
The publication of the highly regarded professional journals Thyroid®, Clinical Thyroidology®, and VideoEndocrinology
Annual scientific meetings
Biennial clinical and research symposia
Research grant programs for young investigators
Support of online professional, public, and patient educational programs
Development of guidelines for clinical management of thyroid disease and thyroid cancer
 Further information about the ATA® annual meeting can be found https://www.thyroid.org/88th-annual-meeting-ata/ and research grants program https://www.thyroid.org/media-main/ and patient information https://www.thyroid.org/thyroid-information/.  The ATA promotes thyroid awareness and information online through Clinical Thyroidology® for the Public and extensive, authoritative explanations of thyroid disease and thyroid cancer in both English and Spanish. The ATA website serves as the clinical resource for patients and the public who look for reliable information on the Internet. Every fifth year, the American Thyroid Association joins with the Latin American Thyroid Society, the European Thyroid Association, and the Asia and Oceania Thyroid Association to cosponsor the International Thyroid Congress (ITC).