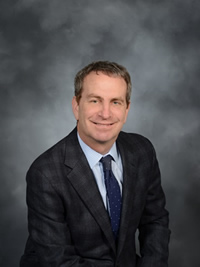 October 4, 2018—The American Thyroid Association (ATA) is pleased to announce that the 2018 Sidney H. Ingbar Distinguished Lectureship Award recipient will be Dr. Anthony N. Hollenberg, currently the Sanford I. Weill Chair, Weill Department of Medicine, at Weill Cornell Medicine and Physician-in Chief at New York-Presbyterian – Weill Cornell Medical Center. Dr. Hollenberg was formerly Chief of Endocrinology, Diabetes and Metabolism at Beth Israel Deaconess Medical Center and Professor of Medicine at Harvard Medical School.
The Ingbar Award recognizes an established investigator who has made outstanding contributions to thyroid-related research over many years. The award honors the memory of Dr. Sidney H. Ingbar, a brilliant innovator who was once Chief of the Beth Israel Thyroid Unit as well as Chief of Endocrinology, Diabetes and Metabolism at Beth Israel Deaconess Medical Center, a position Dr. Hollenberg recently held. The award is conferred at the ATA Annual Meeting, held this year from October 3 to 7 in Washington, DC. On Friday, October 5, at 1 pm, Dr. Hollenberg will deliver the Sidney H. Ingbar Distinguished Award Lecture, titled "New Insights into Thyroid Hormone Action."
Dr. Hollenberg is recognized internationally for his consistent research contributions in studies of the molecular action of thyroid hormones. He was among the first to identify that thyrotropin-releasing hormone (TRH) neurons in the hypothalamus serve as integrators of metabolic input, setting thyroid hormone levels within the context of body weight. He was also among the first to identify the role of specific co-repressors in negative regulation by the thyroid and helped to establish the idea that hormone sensitivity is due to the quantity of co-repressors present. He has had an independent research laboratory at Beth Israel Hospital since 1993 and been funded continuously by the NIH since 1995. In addition, he founded the Thyroid Nodule Clinic at BIDMC 16 years ago to enable clinicians, radiologist, and cytologist to practice together, enhancing clinical care for patients with nodules.
In addition to groundbreaking research in thyroid hormone receptor action and function, Dr. Hollenberg has more recently begun a new program in his laboratory focused on the development of functioning thyroid follicular cells from embryonic stem cells, working in conjunction with the Kotton lab at Boston University School of Medicine.
Dr. Hollenberg received his MD from the Faculty of Medicine at the University of Calgary, Alberta, after earning his AB degree cum laude in biochemical sciences from Harvard College. He spent his internship and residency at BIDMC, after which he was Chief Medical Resident there for one year. Overlapping that appointment and continuing after it, he was Clinical and Research Fellow in Endocrinology as Massachusetts General Hospital (MGH). At the same time, he has risen from Instructor to Professor of Medicine at Harvard Medical School and has held—and continues to hold—numerous administrative positions at the local, national, and international levels. He has been a welcomed speaker at symposia, seminars, society meetings, and medical schools around the world for almost 20 years.
In addition to his research and academic activities, Dr. Hollenberg has served in an editorial capacity for the New England Journal of Medicine, Proceedings of the National Academy of Sciences, Endocrinology, Journal of Biological Chemistry, and many other journals and been on the editorial boards of Endocrinology and Molecular Endocrinology. Over 100 publications and book chapters have Dr. Hollenberg's signature and he has mentored and trained well over 100 graduate students and laboratory trainees. He received the ATA's Van Meter Award and the British Endocrine Society's Pitt Rivers Award, among others.
Through his sophisticated research, innovations, public speaking, and publications, Dr. Hollenberg has contributed significantly and continuously to the well-being of those with thyroid disease. The Ingbar Distinguished Award is most appropriately awarded to him this year.
 ###
The American Thyroid Association (ATA) is the leading worldwide organization dedicated to the advancement, understanding, prevention, diagnosis, and treatment of thyroid disorders and thyroid cancer. ATA is an international membership medical society with over 1,700 members from 43 countries around the world. Celebrating its 95th anniversary, the ATA continues to deliver its mission of being devoted to thyroid biology and to the prevention and treatment of thyroid disease through excellence in research, clinical care, education, and public health.  These efforts are carried out via several key endeavors:
The publication of the highly regarded professional journals Thyroid, Clinical Thyroidology, and VideoEndocrinology
Annual scientific meetings
Biennial clinical and research symposia
Research grant programs for young investigators
Support of online professional, public, and patient educational programs
Development of guidelines for clinical management of thyroid disease and thyroid cancer
The ATA promotes thyroid awareness and information online through Clinical Thyroidology for the Public and extensive, authoritative explanations of thyroid disease and thyroid cancer in both English and Spanish. The ATA website serves as the clinical resource for patients and the public who look for reliable information on the Internet. Every fifth year, the American Thyroid Association joins with the Latin American Thyroid Society, the European Thyroid Association, and the Asia and Oceania Thyroid Association to cosponsor the International Thyroid Congress (ITC).