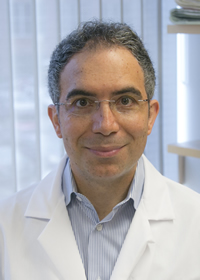 2018 Van Meter Lectureship "The role of a new thyroid-specific long non-coding RNA (lincRNA) in drug resistance and iodine metabolism in BRAFV600E thyroid cancer" presented by Carmelo Nucera, MD, PhD
October 11, 2018—The American Thyroid Association (ATA) announces with pleasure that the 2018 Van Meter Award has been presented to Dr. Carmelo Nucera, currently Assistant Professor in the Department of Pathology and at the Cancer Center and Cancer Research Institute of Beth Israel Deaconess Medical Center (BIDMC), Harvard Medical School. He is also an Associate Member at the Broad Institute of Harvard and MIT and Faculty member at the Center for Vascular Biology Research (CVBR) at BIDMC, which is dedicated to "improve human health by using genomics to advance our understanding of the biology and treatment of human disease, and to help lay the groundwork for a new generation of therapies."
The Van Meter Award recognizes outstanding contributions to research on the thyroid gland or related subjects by an investigator who is age 45 or under. Dr. Nucera has given the prestigious Van Meter Lecture on October 4 at 8:05 am, during this year's ATA Annual Meeting in Washington, DC from October 3 to 7. The award winner and the title of his lecture are kept secret until the time of the presentation.  Dr. Nucera spoke on "The role of a new thyroid-specific long non-coding RNA (lincRNA) in drug resistance and iodine metabolism in BRAFV600E thyroid cancer".
Dr. Nucera was born in Reggio Calabria (Italy), and received his MD summa cum laude in 2000 from the Medical and Surgery School at the University of Messina, Italy, where he also spent his residency in Endocrinology and Metabolic Diseases. During his residency he coordinated a local unit doing ultrasound screening of thyroid nodules, for the Ministry of Italian Scientific and Technological Research. He was also a Research Fellow and Coinvestigator at the Regina Elena Cancer Institute and Gemelli Medical School University Hospital in Rome, where he studied cloning techniques, molecular and cellular biology techniques, and transgenic mouse models for maternal thyroid hormone action during embryo-fetal development. At the Institute of Endocrinology of the University of Catania, he studied DNA automated sequencing and RNA extraction techniques for human thyroid tumors.
Dr. Nucera received his PhD in Experimental Endocrinology and Metabolic Diseases funded through the Italian Ministry of Scientific Research and Education, and completed his thesis on "novel mechanisms of BRAFV600E-driven thyroid cancer progression" at the Division of Endocrine Surgery at Massachusetts General Hospital (MGH), and at BIDMC at Harvard Medical School.
He was also a post-doctoral research fellow at the same Division at MGH/Harvard. In the years following, Dr. Nucera acted as Attending Physician-Scientist at courses, workshops, and symposia, primarily at Harvard Medical School but also at the ATA.
His academic appointments have included Instructor in the Division of Cancer Biology and Angiogenesis in the Department of Pathology at BIDMC and, for the past five years, Assistant Professor in the Division of Experimental Pathology at the same institution at Harvard Medical School.
Dr. Nucera is primarily engaged in translational thyroid cancer research, as well as in teaching and tutoring medical students, post-docs, PhD students, and College students. He currently focuses on biomarker discovery such as regulatory long intergenic non-coding RNAs (LincRNA) and murine preclinical and co-clinical trials for targeted therapies for super-precision medicine. He is actively developing an independent research program at the BIDMC/Harvard, focused on a preclinical/translational model of patient-derived thyroid cancers and the role of the BRAFV600E gene mutation in metastatic thyroid cancer. Since his residency, Dr. Nucera has investigated the cellular details of thyroid tumors. His goals have been, among others, to:
Determine the role of the BRAF gene mutation in human thyroid cancer microenvironment
Understand the autocrine and paracrine pathways by which BRAFV600E (serine/threonine-protein kinase) and tyrosine kinase VEGFR2 (one of the vascular endothelial growth factors) promote aggressiveness in papillary thyroid cancer
Assess the role of stem-cell like pericytes in the mechanisms of drug resistance to targeted therapies in BRAFV600E thyroid cancer
Unravel the clonal evolution of BRAFV600E thyroid cancer treated with targeted therapies
Among the many mentees he has formally supervised are several post-doctoral research fellows, with whom he has collaborated on research studies and papers. For the past decade, Dr. Nucera has given presentations to his medical colleagues, nationally and internationally, concerning the details of his cellular research, thyroid cancer research, tumor modeling, targeted gene therapies, and clinical trials. As principal investigator (PI), he has successfully advanced many basic and clinical-translational projects and collaborations. His research expertise has been enhanced by his teaching experience at Harvard Medical School, resulting in his obtaining major grants as PI from the NIH and National Cancer Institute.
Dr. Nucera has served on the ATA Research and Internet Communications Committees and is a member of the Annual Thyroid Congress Program for the ATA. He has been recently nominated basic research Chair of the ATA Research Committee for 2018.
He is a reviewer for dozens of medical journals, including the New England Journal of Medicine, Frontiers in Oncology, the Journal of the National Cancer Institute, and the ATA's Thyroid. He is an Associate Editor for both Frontiers in Endocrinology and Discoveries. And he has received frequent honors and prizes for his research since medical school.
In his relatively brief career, Dr. Nucera has achieved much more in his research into thyroid oncology and gene therapy than many people over a lifetime. That commitment makes him a very worthy recipient for the prestigious 2018 Van Meter Award from the American Thyroid Association.
 ###
The American Thyroid Association (ATA) is the leading worldwide organization dedicated to the advancement, understanding, prevention, diagnosis, and treatment of thyroid disorders and thyroid cancer. ATA is an international membership medical society with over 1,700 members from 43 countries around the world. Celebrating its 95th anniversary, the ATA continues to deliver its mission of being devoted to thyroid biology and to the prevention and treatment of thyroid disease through excellence in research, clinical care, education, and public health.  These efforts are carried out via several key endeavors:
 The publication of the highly regarded professional journals Thyroid, Clinical Thyroidology, and VideoEndocrinology
Annual scientific meetings
Biennial clinical and research symposia
Research grant programs for young investigators
Support of online professional, public, and patient educational programs
Development of guidelines for clinical management of thyroid disease and thyroid cancer
 The ATA promotes thyroid awareness and information online through Clinical Thyroidology for the Public and extensive, authoritative explanations of thyroid disease and thyroid cancer in both English and Spanish. The ATA website serves as the clinical resource for patients and the public who look for reliable information on the Internet. Every fifth year, the American Thyroid Association joins with the Latin American Thyroid Society, the European Thyroid Association, and the Asia and Oceania Thyroid Association to cosponsor the International Thyroid Congress (ITC).