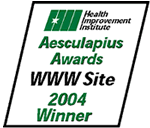 (FALLS CHURCH, VA)—The American Thyroid Association (ATA) is the recipient of the 2004 Aesculapius Award — given by the nonprofit Health Improvement Institute (HII) to promote excellence in health communications — for its web site, www.thyroid.org.
The ATA's web site, designed by Intertwine Systems Inc., was singled out for the top prize among eight others for its excellence in providing patients, the public, and health professionals with timely and accurate information on thyroid diseases and thyroid cancer.
"Americans need reliable information about lifestyle and health care choices presented in an appealing way," said HII President and Founder Dr. Peter G. Goldschmidt. "The Aesculapius Awards are designed to promote and encourage excellence in the communication of good information about healthy lifestyles, disease prevention, health care treatments, and other health topics."
Other web sites recognized include:
American Academy of Neurology – www.thebrainmatters.org
American Speech-Language-Hearing Association – www.asha.org
Dana-Farber Cancer Institute – www.danafarber.org
National Cancer Institute – www.cancer.gov
Society for Women's Health Research – www.womenshealthresearch.org
Center for Substance Abuse Prevention – bblocks.samhsa.gov
National Mental Health Information Center – www.mentalhealth.samhsa.gov
U.S. Department of Health and Human Services, Education, and Justice – www.sshs.siinhsa.gov
A panel of judges, representing the health care, television, and multimedia fields, evaluated the web sites. The annual award is named for the ancient Greek God of Healing, Aesculapius. HHI, based in Bethesda, Md., established the award in 1997 to promote informed consumer lifestyle choices and health care decisions.
Founded in 1923, the ATA is a professional society of 900 U.S. and international physicians and scientists who specialize in the research and treatment of thyroid diseases. The Association is dedicated to promoting scientific and public understanding of the biology of the thyroid gland and its disorders, so as to improve methods for their prevention, diagnosis, and management. The ATA fosters excellence in research, patient care, and education of patients, the public, and the medical and scientific communities while guiding public policy about the prevention and management of thyroid diseases.
# # #