American Thyroid Association's 2017 Stanbury Medal to Be Awarded to James A. Fagin, MD
The ATA announced the John B. Stanbury Thyroid Pathophysiology Medal recipient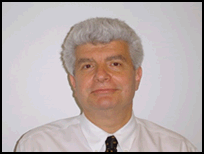 October 16, 2017—The American Thyroid Association (ATA) announces with pleasure that the 2017 John B. Stanbury Thyroid Pathophysiology Medal will be awarded to James A. Fagin, MD. Dr. Fagin specializes in research of the pathogenesis of thyroid cancer at Memorial Sloan-Kettering Cancer Center in New York, where he is Chief of Endocrinology and a member of the Human Oncology and Pathogenesis Program.
The Stanbury Medal recognizes outstanding research contributions, conceptual or technical, to the understanding of thyroid physiology or the pathophysiology of thyroid disease, which have had a major impact on research or clinical practice. The medal is conferred at the ATA Annual Meeting, held this year from October 18 to 22 in Victoria, British Columbia, just prior to the Sawin Historical Vignette on Friday, October 20 at 4:00 pm.
Dr. Fagin received his MD from the University of Buenos Aires School of Medicine. His postdoctoral training included an internship at Rawson Hospital in Buenos Aires, then a position as Senior House Officer and Medical Registrar in General Medicine at several hospitals in London. Next, he was a Fellow in the Endocrinology and Nuclear Medicine Unit at Hospital Italiano in Buenos Aires, a Research Fellow in Endocrinology at VA Wadsworth Medical Center in Los Angeles, and a Research Scientist at Cedars-Sinai Medical Center (CSMC) in Los Angeles.
While at CSMC, Dr. Fagin developed an interest in the growth of pituitary tumors and the role of paracrine regulation of insulin-like growth factors. He later investigated these topics in his own lab, where he began to focus on the genetic basis of thyroid cancer. He was the first to establish that benign and malignant thyroid tumors were clonal, including many of the tumors arising within multinodular goiters, which until that point were thought to be primarily hyperplastic nodules.
Dr. Fagin played a leading role in determining the mechanisms of RET recombination in post-Chernobyl pediatric thyroid cancers, through his mentorship of, and subsequent partnership with, Dr. Yuri Nikiforov. He continued to research radiation-induced thyroid cancer and identified a comprehensive set of fusion events associated with the disease, several of which had not previously been discovered. Other research projects followed, many supported by NIH, National Cancer Institute, and American Diabetes Association grants. Most recently, Dr. Fagin has turned his attention to the pathogenesis of poorly differentiated and anaplastic thyroid cancers.
Over the years Dr. Fagin has been welcomed as a national and international speaker at pathology and endocrinology conferences and as an invited professor at universities worldwide. He has presented his research findings in more than 150 publications in prestigious journals and over 50 books, of which he is the author or coauthor. In addition, he has mentored dozens of graduate students, clinical and postdoctoral fellows, and junior faculty members in their research projects.
Dr. Fagin served the ATA as President in 2011, the ATA Board of Directors, as Co-chair of the Annual Meeting Program Committee, Chair of the Research Committee and contributed to the society in many other leadership roles since he joined in 1991.  He was an author on the ATA Guidelines for management of medullary thyroid cancer in 2014.  He was awarded the Sidney H. Ingbar Distinguished Lectureship in 2008.
Dr. Fagin's research productivity, his continued contributions to the understanding of the pathophysiology of thyroid disease, along with his mentorship and the ability to translate his findings for the world, all make him a superb awardee for the Stanbury Medal.
###
The American Thyroid Association (ATA) is the leading worldwide organization dedicated to the advancement, understanding, prevention, diagnosis, and treatment of thyroid disorders and thyroid cancer. ATA is an international membership medical society with over 1,700 members from 43 countries around the world. Celebrating its 94th anniversary, the ATA continues to deliver its mission of being devoted to thyroid biology and to the prevention and treatment of thyroid disease through excellence in research, clinical care, education, and public health.  These efforts are carried out via several key endeavors:
The publication of the highly regarded professional journals Thyroid, Clinical Thyroidology, and VideoEndocrinology
Annual scientific meetings
Biennial clinical and research symposia
Research grant programs for young investigators
Support of online professional, public, and patient educational programs
Development of guidelines for clinical management of thyroid disease and thyroid cancer
The ATA promotes thyroid awareness and information online through Clinical Thyroidology for the Public and extensive, authoritative explanations of thyroid disease and thyroid cancer in both English and Spanish. The ATA website serves as the clinical resource for patients and the public who look for reliable information on the Internet. Every fifth year, the American Thyroid Association joins with the Latin American Thyroid Society, the European Thyroid Association, and the Asia and Oceania Thyroid Association to cosponsor the International Thyroid Congress (ITC).