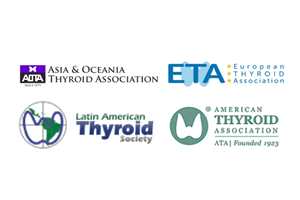 Please join us in extending our thoughts and sympathies to the Chinese people. The ITC represents to us all the beating heart of the World Thyroid Community and a wonderful occasion to meet in a unique environment of shared aims, friendship and excellent science.
The four sisiter societies advise delaying making travel plans. Deadlines for abstract submissions and early bird registrations have been extended and announced on the conference website (www.itc2020.org). We appreciate how difficult the situation is for the ITC organizers and that the situation may place all their creative and meticulous planning in jeopardy.
Please follow the updates on the websites of AOTA, LATS, ETA, and ATA. 
Bulletin regarding the 16th ITC – Joint Statement of AOTA, LATS, ETA, and ATA (PDF file, 123 KB)
American Thyroid Association Bulletin regarding Travel to China (PDF file, 86 KB)