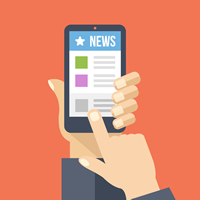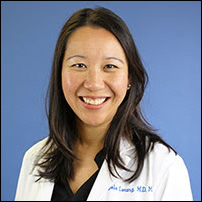 The American Thyroid Association (ATA®) is pleased to announce that Dr. Angela M. Leung has been selected as the new Editor-in-Chief of the ATA monthly journal Clinical Thyroidology®, as of 2019.
Clinical Thyroidology is one of the ATA official journals distributed electronically. This highly valued abstract and commentary publication provides a broad-ranging look at the clinical thyroid literature. Experts in the field summarize the most cutting-edge, relevant articles of which clinicians should be aware and provide insight into the relevance and impact of each article on patient care.
Dr. Leung was selected based on her abilities to promote the growth, quality, reputation, and scholarship of this important ATA publication. She will continue the strong leadership of Dr. Jerome Hershman who, as EIC for 8 years, has led the diverse editorial board dedicated to making Clinical Thyroidology indispensable to clinicians and scientists interested in thyroid diseases.
Dr. Leung is a Health Sciences Clinical Assistant Professor of Medicine at the David Geffen School of Medicine, University of California Los Angeles (UCLA) and at the Greater Los Angeles VA Healthcare System. She is also an Associate Program Director of the UCLA/VA endocrinology fellowship training program. Since 2012, she has written regular commentaries for Clinical Thyroidology for the Public and, since 2014, reviews of papers in the current literature for Clinical Thyroidology as an Associate Editor. She also serves on the editorial board of Thyroid, the official peer-reviewed ATA journal.
Dr. Leung has been a member of the ATA since 2006 and has chaired committees focused on the scientific meeting program and on public health. For ATA annual meetings since 2006, she has served as a poster judge, been a moderator or speaker, served on the 2016 Program Committee, and co-chaired the program of the 87th Annual Meeting of the ATA.
She is also a current member of the Endocrine Society and the American Association of Clinical Endocrinologists (AACE). Dr. Leung has served on the Endocrine Training Support Committee and Abstract Review Subcommittee for the AACE. She has been a reviewer of trainees' abstracts and a poster judge for Endocrine Society annual meetings, and most recently has worked with the Endocrine Society to consult on a multidisciplinary, international toxicologic review of thyroid disruptors. She serves on the editorial boards of the AACE's Endocrine Practice and of the Journal of Clinical and Translational Endocrinology and since 2013 has co-edited the annual thyroid issue of Current Opinion in Endocrinology, Diabetes, and Obesity.
Dr. Leung received her BA in biochemistry from Occidental College in Los Angeles, her MD from Boston University School of Medicine, and her MSc in epidemiology from Boston University School of Public Health. Between obtaining her MD and beginning studies for her MSc, she spent six years in postdoctoral training at the BU School of Medicine, first as an Intern and Resident, then as a Clinical and Research Fellow in the Section of Endocrinology, Diabetes, and Nutrition, and finally as a Fellow in the BU Clinical Research Training NIH K30 Program.
Following her training and fellowships, she was appointed Instructor of Medicine, then Assistant Professor of Medicine at BU School of Medicine. For the past five years, she has held an Assistant Professor appointment at the UCLA David Geffen School of Medicine. Along with her academic appointments have come Dr. Leung's clinical appointments in the Section of Endocrinology, Diabetes, and Nutrition at Boston Medical Center; the Division of Endocrinology at Harvard Vanguard Medical Associates (Quincy, MA); the Division of Endocrinology, Diabetes, and Metabolism in the VA Greater Los Angeles Healthcare System and to the same-named division in the UCLA Health System.
Dr. Leung has received numerous honors and awards that have recognized her academic, clinical, and research activities. She has lectured nationally and internationally on both clinical topics and on her research in the various fields of thyroid disease, published over 80 papers, reviews, and book chapters, provided online media interviews, and has participated in multiple national oral and poster abstract presentations. Dr. Leung has completed research projects focusing on thyroid disease, iodine nutrition, thyroid disruptors, thyroid cancer, and other topics that have been supported by the NIH.
Dr. Leung will begin her 3-year term as Editor-in-Chief on January 1, 2019.
###
The American Thyroid Association (ATA) is the leading worldwide organization dedicated to the advancement, understanding, prevention, diagnosis, and treatment of thyroid disorders and thyroid cancer. ATA is an international, individual membership organization for over 1,700 clinicians and researchers from 43 countries around the world, representing a broad diversity of medical disciplines. It also serves the public, patients, and their families through education and awareness efforts.
Celebrating its 95th anniversary, ATA delivers its mission through several key endeavors: the publication of highly regarded monthly journals, Thyroid®, Clinical Thyroidology®, VideoEndocrinology, and Clinical Thyroidology for the Public; annual scientific meetings; biennial clinical and research symposia; research grant programs for young investigators; support of online professional, public, and patient educational programs; and the development of guidelines for clinical management of thyroid disease. Find out more about ATA at www.thyroid.org.