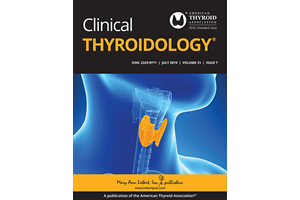 FREE ACCESS  to these articles from the July issue, which includes a Special Focus on Thyroid Cancer, through July 29, 2019.
Read Now:
Greetings From the Editor of Clinical Thyroidology
Angela M. Leung

ASCO 2019 — What's New in Thyroid Oncology?
Jochen H. Lorch
This editorial marks the introduction of a new, exciting collaboration between the American Thyroid Association (ATA) and the International Thyroid Oncology Group (ITOG). In it, Dr. Jochen Lorch, a medical oncologist and member of both the ATA and ITOG, discusses the scientific research related to thyroid cancer presented at the recent annual meeting of the American Society of Clinical Oncology (ASCO) in Chicago (May 31–June 4, 2019).
Not So Fast: Nuclear Medicine Societies Espouse Collaboration while Countering Swing of the 131I Pendulum in Differentiated Thyroid Cancer
Lisa A. Orloff

The Controversy Continues Regarding the Management of Subclinical Hypothyroidism
Daniel J. Toft

Modulating the TSH Receptor with High Specificity Gets a Step Closer Toward Use in Clinical Practice
Marius N. Stan and J. Paul Banga