American Thyroid Association's 2017 Lewis E. Braverman Distinguished Award Lecture Delivered by Julie Ann Sosa, MD, MA, FACS
ATA selects Lewis E. Braverman Distinguished Lectureship Award recipient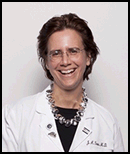 October 16, 2017—The American Thyroid Association (ATA) is pleased to announce that the 2017 Lewis E. Braverman Distinguished Lectureship Award recipient is Julie Ann Sosa, MD, MA, FACS, Professor of Surgery and Medicine in Oncology, Duke Cancer Institute and Duke Clinical Research Institute. The Braverman Award recognizes an individual who: demonstrates excellence and passion for mentoring fellows, students, and junior faculty; has a long history of productive thyroid research; is devoted to the ATA.
At the ATA annual meeting in Victoria, British Columbia, Dr. Sosa will deliver the Braverman Lecture at 1:00 pm on October 19, 2017. Her lecture title is "Retelling the Story of Thyroid Cancer—Rising Incidence, Mortality, and Maybe an Explanation."
Dr. Sosa received her MD from the Johns Hopkins University School of Medicine and completed her internship and residency in General Surgery at Johns Hopkins Hospital. For 10 years she worked at Yale University School of Medicine, first as Assistant Professor of Surgery, then as Associate Professor, then as Director of the Clinical and Health Services Research Group in the Division of Endocrine Surgery, and finally as Leader of the Clinical Research Program in Endocrine Cancers at Smilow Cancer Hospital. She began her work at Duke University in early 2013 and has continued following her passions at that institution.
She has been tireless and selfless in her commitment to her trainees. At Yale and Duke, she has mentored more than 60 individuals, with many of whom she has collaborated on scientific presentations, articles, and book chapters. These mentees have gone on to successful academic and research careers. At Yale she developed a reputation among medical students as the ultimate mentor for anyone interested in building a solid foundation in research and publications. Dr. Sosa expected hard work, absolute commitment, and excellence, and she supported and guided her mentees through impactful research worthy of publication. Of her more than 250 publications, 166 have a learner as co-author, with 140 of those having the mentee as first author.
Dr. Sosa has published extensively on the management of patients with benign and malignant thyroid disease. Recently she was lead investigator on a paper published in the Annals of Surgery (the highest impact surgical journal) that was first to determine the number of total thyroid-ectomies per surgeon per year associated with the lowest risk of complications for patients. The manuscript was declared the most viewed paper published in 2016 in that journal. She is also the principal or coinvestigator of three current thyroid-related investigations, has been involved in a great many more, and has been involved in clinical trials for patients with thyroid cancer.
Since joining the ATA in 2006, she has served as Program Chair of the 2013 Annual Meeting and on the ATA Board of Directors, currently treasurer-elect, and as an active member on committees such as nominating, membership and guidelines policies.  She has served as faculty for many annual meetings, participated in strategic planning and presented at the Ridgway Trainee Conference.  She is a coauthor on the ATA's clinical guidelines for managing patients with hyperthyroidism; differentiated thyroid cancer; and anaplastic thyroid cancer.
Dr. Sosa contributes on editorial boards as well as in leadership roles and faculty for other medical and surgical societies devoted to care of the endocrine patient.
Dr. Julie Ann Sosa embodies the spirit of the Lewis E. Braverman Distinguished Award in her passion for selfless mentoring of others, her long and valuable intellectual efforts in the field of thyroid research, and her energetic devotion to the ATA.
###
The American Thyroid Association (ATA) is the leading worldwide organization dedicated to the advancement, understanding, prevention, diagnosis, and treatment of thyroid disorders and thyroid cancer. ATA is an international membership medical society with over 1,700 members from 43 countries around the world. Celebrating its 94th anniversary, the ATA continues to deliver its mission of being devoted to thyroid biology and to the prevention and treatment of thyroid disease through excellence in research, clinical care, education, and public health.  These efforts are carried out via several key endeavors:
The publication of the highly regarded professional journals Thyroid, Clinical Thyroidology, and VideoEndocrinology
Annual scientific meetings
Biennial clinical and research symposia
Research grant programs for young investigators
Support of online professional, public, and patient educational programs
Development of guidelines for clinical management of thyroid disease and thyroid cancer
The ATA promotes thyroid awareness and information online through Clinical Thyroidology for the Public and extensive, authoritative explanations of thyroid disease and thyroid cancer in both English and Spanish. The ATA website serves as the clinical resource for patients and the public who look for reliable information on the Internet. Every fifth year, the American Thyroid Association joins with the Latin American Thyroid Society, the European Thyroid Association, and the Asia and Oceania Thyroid Association to cosponsor the International Thyroid Congress (ITC).