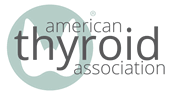 FOR IMMEDIATE RELEASE
FROM MARY ANN LIEBERT, INC., PUBLISHERS
New Rochelle, NY, August 17, 2016—New evidence-based recommendations from the American Thyroid Association (ATA) provide guidance to clinicians in the management of patients with all forms of thyrotoxicosis (excessively high thyroid hormone activity), including hyperthyroidism. Appropriate treatment of thyrotoxicosis requires an accurate diagnosis, and the 124 recommendations presented in the new 2016 Guidelines help define current best practices for patient evaluation, diagnosis, and treatment. The Guidelines, published in Thyroid, a peer-reviewed journal from Mary Ann Liebert, Inc., publishers and the official journal of the ATA, are available free on the Thyroid website.
The "2016 American Thyroid Association Guidelines for Diagnosis and Management of Hyperthyroidism and Other Causes of Thyrotoxicosis" were coauthored by an international task force of expert clinicians and researchers in the field of thyroidology. Led by Chair Douglas Ross, MD, Massachusetts General Hospital, Boston, MA, the task force provides a solid foundation of knowledge on the scope, potential causes, and clinical consequences of thyrotoxicosis. The Guidelines include recommendations for evaluating patients and diagnosing and managing the different types of disease, how to handle thyrotoxicosis in pregnancy, and how to select and implement the various treatment options such as surgery, radioactivity, and antithyroid drugs.