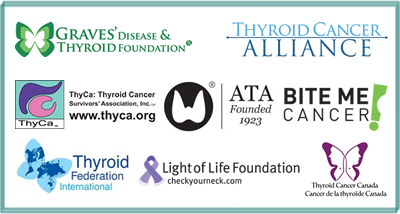 Thyroid Disease and You
…
Do you have any concerns about your thyroid function? Have you or a family member been diagnosed
with thyroid disease or have you noticed
a lump in your neck?
The American Thyroid Association and our Alliance Partners Invite Thyroid Patients and their Families to join us for the:
2018 ATA Alliance for Thyroid Patient Education Health Forum
Saturday , October 6, 2018
2:00 pm – 4:00 pm
Marriott Marquis Washington, DC
901 Massachusetts Ave NW – Tulip Room, Mezzanine Level
Washington, DC 20001 | Phone: 844-203-5027
ATA Physician Members and our ATA Alliance Partners are available to meet with thyroid patients and their families during the forum. This program is free and open to the public, please register/confirm your participation here.
Who should attend?
Please come if you have questions, symptoms, or concerns about a thyroid problem. We invite anyone who has had an overactive or underactive thyroid, thyroiditis, a thyroid nodule, thyroid cancer, or a family history of thyroid problems or related d isorders, including rheumatoid arthritis, juvenile diabetes, or pernicious anemia. Free educational materials will be available for all.
Reservations requested. Walk-ins welcome. E-mail thyroid@thyroid.org with any questions or requests for additional information.
Flyer for printing, saving, and posting (PDF File, 232 KB)