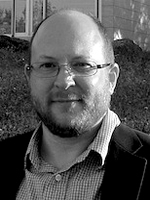 Jason E. Coleman, PhD

University of Florida
Gainesville, FL
Bio
Supported by ATA
The American Thyroid Association has awarded a 2017 Research Grant to Jason E. Coleman, PhD, Assistant Professor of Pediatrics at the University of Florida in Gainesville. Dr. Coleman's project, "Effects of Early Hypo- and Hyperthyroidism on Long-Term Cortical Circuit Plasticity," will study the effects of hypothyroidism and hyperthyroidism during pregnancy and the long-term consequences on brain function and behavior in offspring.
We already know that the developing fetus relies on a maternal supply of thyroid hormone for normal brain development. However, the more complex changes that arise from thyroid hormone imbalances are not well understood. Many long-term disturbances in brain function are likely the result of subtle changes in brain connections in the cerebral cortex, where information from the outside world is processed to drive behavior. To better understand how thyroid hormones contribute to long-term neuropsychological problems in affected children, it is critical to determine when and where cortical connections are vulnerable to perturbations in thyroid hormone levels and how adaptive behaviors are affected. By examining hormonal effects in the mouse visual cortex, Dr. Coleman expects to 1) determine how the timing and duration of hypo- and hyperthyroidism affect the expression of select genes involved in thyroid hormone signaling to the developing brain and 2) determine how well the visual cortex can adapt to new experiences and how this adaptability in turn affects learning ability.
Dr. Coleman received his PhD in neuroscience from the University of Florida. He has over 10 years of experience in research investigating the visual system and in the development and use of viral vectors for gene transfer for studying the nervous system. At UF, he has established a successful research program studying the effects of perinatal insults on long-term neural structure and function and has already obtained competitive funding from the NIH and NSF.
______________
Dr. Motoyasu Saji, Chair, ATA Research Committee, says, "The ATA research grant program supports young scientists in thyroid-related research, including clinical, translational, and basic areas. Every year we receive over 50 grant applications from various countries. We are excited to see young thyroid researchers who attack current clinical problems and basic scientific questions using state-of-the-art technologies, new ideas, and new views. Many current leaders in the ATA were award recipients, which shows how important this program is for us. We hope these grants will be gateways to success in their careers as thyroid researchers and that the recipients will become leaders in the next generation of the ATA. Finally, we appreciate all the support we receive from members and various organizations, including thyroid cancer survivors, which makes it possible to create this excellent program."
The American Thyroid Association (ATA) has awarded 92 thyroid research grants totaling over $2.4 million since the inception of the Research Fund. In addition, the ATA rigorously manages the selection of research projects and the distribution of over $1.8 million generously donated to the ATA specifically for research grants from: ThyCa, the Thyroid Cancer Survivors' Association, Inc.; Bite Me Cancer; and the Thyroid Head and Neck Cancer Foundation.
The Thyroid Cancer Survivors' Association, Inc. (ThyCa), has provided funding since 2003 in support of 67 special research grants totaling $1,881,250 focused on thyroid cancer and medullary thyroid cancer. ThyCa is supporting three research grants in 2017 and four renewing grants. ThyCa is a member of the ATA Alliance for Patient Education. Find out more at www.thyca.org.
Bite Me Cancer (BMC) is our newest grant funder, supporting seven thyroid cancer grants since 2014 for a total of $201,250. BMC will be supporting a new thyroid cancer grant in 2017 and one renewing grant. BMC is a member of the ATA Alliance for Patient Education. Find out more at www.bitemecancer.org.
###
The American Thyroid Association (ATA) is the leading worldwide organization dedicated to the advancement, understanding, prevention, diagnosis, and treatment of thyroid disorders and thyroid cancer. ATA is an international, individual membership organization for over 1,700 clinicians and researchers from 43 countries around the world, representing a broad diversity of medical disciplines. It also serves the public, patients and their families through education and awareness efforts.
Celebrating its 94th anniversary, ATA delivers its mission through several key endeavors: the publication of highly regarded monthly journals, THYROID, Clinical Thyroidology, VideoEndocrinology, and Clinical Thyroidology for the Public; annual scientific meetings; biennial clinical and research symposia; research grant programs for young investigators; support of online professional, public, and patient educational programs; and the development of guidelines for clinical management of thyroid disease.
Find out more about ATA at www.thyroid.org.