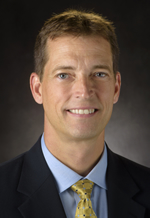 Brian P Danysh, PhD

The University of Texas MD Anderson Cancer Center
Houston TX
Bio
Supported by ATA
The American Thyroid Association has awarded a 2017 Research Grant, funded by Bite Me Cancer, to Brian P. Danysh, PhD, Instructor in Endocrine Neoplasia and Hormonal Disorders at the University of Texas MD Anderson Cancer Center. Dr. Danysh's project is entitled "Novel Alternative Pathways and Mutational Hotspots in Papillary Thyroid Cancer With Acquired Resistance to BRAF Inhibitors."
The BRAF gene is the most frequent mutation found in papillary thyroid cancer (PTC) and is associated with shorter life expectancy. Drugs targeting the BRAF gene are initially effective, but have proven to be less useful over the course of a patient's treatment as the cancer cells find ways to overcome the drug's effectiveness. The goal of this project is to lay the groundwork for the development of new drugs that will extend the lives of people with aggressive forms of thyroid cancer. To that end, the research will investigate the mutations that arise during a patient's treatment that allow cancer cells to continue growing and determine whether the drugs used may be themselves facilitating new gene mutations.
As with melanoma, it appears that acquisition/selection of novel resistance-promoting mutations under kinase-inhibitor therapies appears to occur in PTCs. Therefore, it is imperative to devise treatments to replace or complement current targeted-therapy protocols. The development of new therapies lies in the discovery and analysis of novel mutations and their downstream pathways.
Dr. Danysh received his PhD from the University of Delaware and carried out postdoctoral training at Rice University, Houston, TX, where he collaborated with physicists in the use of nanoparticles and laser irradiation to selectively destroy cancer cells, and at the University of Texas MD Anderson Cancer Center. His current research at MD Anderson involves working with clinicians to examine the mechanisms of acquired inhibitor resistance, with the goal of discovering novel therapeutic targets to recurrent metastatic thyroid cancer.
______________
Dr. Motoyasu Saji, Chair, ATA Research Committee, says, "The ATA research grant program supports young scientists in thyroid-related research, including clinical, translational, and basic areas. Every year we receive over 50 grant applications from various countries. We are excited to see young thyroid researchers who attack current clinical problems and basic scientific questions using state-of-the-art technologies, new ideas, and new views. Many current leaders in the ATA were award recipients, which shows how important this program is for us. We hope these grants will be gateways to success in their careers as thyroid researchers and that the recipients will become leaders in the next generation of the ATA. Finally, we appreciate all the support we receive from members and various organizations, including thyroid cancer survivors, which makes it possible to create this excellent program."
The American Thyroid Association (ATA) has awarded 92 thyroid research grants totaling over $2.4 million since the inception of the Research Fund. In addition, the ATA rigorously manages the selection of research projects and the distribution of over $1.8 million generously donated to the ATA specifically for research grants from: ThyCa, the Thyroid Cancer Survivors' Association, Inc.; Bite Me Cancer; and the Thyroid Head and Neck Cancer Foundation.
The Thyroid Cancer Survivors' Association, Inc. (ThyCa), has provided funding since 2003 in support of 67 special research grants totaling $1,881,250 focused on thyroid cancer and medullary thyroid cancer. ThyCa is supporting three research grants in 2017 and four renewing grants. ThyCa is a member of the ATA Alliance for Patient Education. Find out more at www.thyca.org.
Bite Me Cancer (BMC) is our newest grant funder, supporting seven thyroid cancer grants since 2014 for a total of $201,250. BMC will be supporting a new thyroid cancer grant in 2017 and one renewing grant. BMC is a member of the ATA Alliance for Patient Education. Find out more at www.bitemecancer.org.
###
The American Thyroid Association (ATA) is the leading worldwide organization dedicated to the advancement, understanding, prevention, diagnosis, and treatment of thyroid disorders and thyroid cancer. ATA is an international, individual membership organization for over 1,700 clinicians and researchers from 43 countries around the world, representing a broad diversity of medical disciplines. It also serves the public, patients and their families through education and awareness efforts.
Celebrating its 94th anniversary, ATA delivers its mission through several key endeavors: the publication of highly regarded monthly journals, THYROID, Clinical Thyroidology, VideoEndocrinology, and Clinical Thyroidology for the Public; annual scientific meetings; biennial clinical and research symposia; research grant programs for young investigators; support of online professional, public, and patient educational programs; and the development of guidelines for clinical management of thyroid disease.
Find out more about ATA at www.thyroid.org.