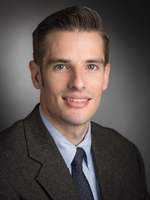 Glenn J. Hanna, M.D.

Dana-Farber Cancer Institute / Brigham & Women's Hospital
Boston, MA 02215
Bio
Supported by ATA
The American Thyroid Association has awarded a 2017 Research Grant, funded by the Thyroid Cancer Survivors' Association, Inc. (ThyCa), to Glenn J. Hanna, MD. Dr. Hanna is a Staff Physician at the Dana-Farber Cancer Institute (DFCI)'s Center for Head & Neck Oncology, as well as an Instructor in Medicine at Harvard Medical School. His project, "Correlating the circulating immune profile with response to dual-immune checkpoint inhibition in advanced thyroid cancer," will evaluate:
How immune cells surrounding an advanced thyroid tumor compare to those circulating in the bloodstream
Whether changes in blood levels of key immune parameters may predict whether an individual patient with such a tumor will respond to immunotherapy
Deaths from thyroid cancer mortality appear to be increasing in the United States. Patients with advanced and incurable thyroid cancers have few options beyond traditional chemotherapy and oral targeted therapies that aim to slow the progression of the disease. But among many other cancer types, we are seeing significant benefits from immunotherapies that unleash normal immune mechanisms against cancer cells.
Immune-checkpoint inhibitors—cancer treatment drugs that prevent immune cells from being turned off by cancer cells—have demonstrated clinical benefit in a wide range of solid tumors. So far, this effect includes a small number of advanced thyroid tumors. We now wish to discover predictors of response or resistance in this set of patients, through clinical trials. Dr. Hanna's study will open an investigator-sponsored, phase II study of the effect of two combined immune-checkpoint inhibitors on advanced thyroid cancer.
In patients treated with the combined drug, the study will detail the tumor microenvironment and correlate that profile with a new immune checkpoint profiling assay. Also, by correlating the patients' circulating immune signature with their immunotherapy response at various points in time, the study group will be able to analyze treatment benefit more cost-effectively than with repeated tumor biopsies. These efforts should enable researchers to identify those patients most likely to benefit from immune checkpoint inhibitors.
Dr. Hanna completed his residency training in internal medicine at Beth Israel Deaconess Medical Center and his fellowship training in hematology and medical oncology at the Dana-Farber Cancer Institute in 2016. He earned his medical degree from Georgetown University School of Medicine in 2010, where he graduated summa cum laude, a member of Alpha Omega Alpha Honor Society, and the Kober Medalist for academic excellence. Dr. Hanna also graduated summa cum laude from the University of Florida. He joined the faculty of the Center for Head & Neck Oncology at the DFCI in 2017.
______________
Dr. Motoyasu Saji, Chair, ATA Research Committee, says, "The ATA research grant program supports young scientists in thyroid-related research, including clinical, translational, and basic areas. Every year we receive over 50 grant applications from various countries. We are excited to see young thyroid researchers who attack current clinical problems and basic scientific questions using state-of-the-art technologies, new ideas, and new views. Many current leaders in the ATA were award recipients, which shows how important this program is for us. We hope these grants will be gateways to success in their careers as thyroid researchers and that the recipients will become leaders in the next generation of the ATA. Finally, we appreciate all the support we receive from members and various organizations, including thyroid cancer survivors, which makes it possible to create this excellent program."
The American Thyroid Association (ATA) has awarded 85 thyroid research grants totaling over $2.4 million since the inception of the Research Fund. In addition, the ATA rigorously manages the selection of research projects and the distribution of over $1.8 million generously donated to the ATA specifically for research grants from: ThyCa, the Thyroid Cancer Survivors' Association, Inc.; Bite Me Cancer; and the Thyroid Head and Neck Cancer Foundation.
The Thyroid Cancer Survivors' Association, Inc. (ThyCa), has provided funding since 2003 in support of 67 special research grants totaling $1,881,250 focused on thyroid cancer and medullary thyroid cancer. ThyCa is supporting three research grants in 2017 and four renewing grants. ThyCa is a member of the ATA Alliance for Patient Education. Find out more at www.thyca.org.
Bite Me Cancer (BMC) is our newest grant funder, supporting seven thyroid cancer grants since 2014 for a total of $201,250. BMC will be supporting a new thyroid cancer grant in 2017 and one renewing grant. BMC is a member of the ATA Alliance for Patient Education. Find out more at www.bitemecancer.org.
###
The American Thyroid Association (ATA) is the leading worldwide organization dedicated to the advancement, understanding, prevention, diagnosis, and treatment of thyroid disorders and thyroid cancer. ATA is an international, individual membership organization for over 1,700 clinicians and researchers from 43 countries around the world, representing a broad diversity of medical disciplines. It also serves the public, patients and their families through education and awareness efforts.
Celebrating its 94th anniversary, ATA delivers its mission through several key endeavors: the publication of highly regarded monthly journals, THYROID, Clinical Thyroidology, VideoEndocrinology, and Clinical Thyroidology for the Public; annual scientific meetings; biennial clinical and research symposia; research grant programs for young investigators; support of online professional, public, and patient educational programs; and the development of guidelines for clinical management of thyroid disease.
Find out more about ATA at www.thyroid.org.